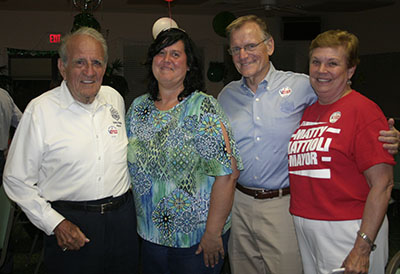 Incumbent Matty Mattioli won his third two-year term as mayor of Royal Palm Beach Tuesday, narrowly winning a four-way race.
Mattioli, who has served as an elected official in Royal Palm Beach for 20 years, outpolled his nearest competitor, community activist Felicia Matula, by just 28 votes.
Mattioli took 723 votes (37.17 percent) to Matula's 695 votes (35.73 percent), according to unofficial results from the Palm Beach County Supervisor of Elections office. Former Councilwoman Martha Webster placed third with 417 votes (21.44 percent), and businesswoman Laurel Bennett drew 110 votes (5.66 percent). A total of 1,945 residents cast votes.
Mattioli campaigned on the platform that he wanted to see several projects to fruition, including the completion of the 600,000-square-foot Aldi grocery store regional distribution center and the General Tire Company distribution center, both of which he worked with the Palm Beach County Business Development Board to bring to the village.
"I'm gratified that the people had enough faith in me to let me continue in the work that I started out to do," he said. "I told them that I was running only to finish these projects, and I'll never run for mayor again."
Mattioli was first elected to the Royal Palm Beach Village Council in 1994. He was elected mayor in 2010 and re-elected two years later.
Mattioli told the Town-Crier that he expected the outcome to be close but was surprised by the result.
"I thought it would be close, but I didn't think it would be that small," he said. "It was a surprise to me, but I won, so, as people say, be happy."
Mattioli said the win brings to an end a year of angst knowing he would face another election.
"I've got a ton of bricks off my shoulders, and I meant what I said in my campaign that I wanted two years to finish these two or three projects that will be coming on sometime this year," he said.
Mattioli added that he thought he had accomplished something by bringing business to the village that will mean hundreds more local job opportunities. "It produces jobs and an economic boost for the community," he said.
He also looks forward to further improvements to Commons Park and continuing to support the completion of the State Road 7 extension to Northlake Blvd.
Mattioli said he is relieved that the economy appears to be creeping back up, which means the village should be on sound economic footing without having to touch its considerable reserves.
"If Aldi and the tire place and the other places keep going, the additional ad valorem tax will be enough to balance our budget," he said.
Matula, who works as chief financial officer for Pinnacle Hotel Management, said it hurt to lose by so small a margin after a campaign that included bringing more people to the polls.
"I ran a good, clean, fiscally responsible campaign," she said. "I did everything I could, and it was up to the 28 or 30 people to come out and vote, and it didn't happen."
She thinks she put her best foot forward. "I don't think there is anything else I could have done differently to change the outcome besides knocking on doors and encouraging them to vote, because this, to me, was a lack of people coming out to vote," Matula said. "To lose by 28 votes hurts, probably more than losing by 200 votes."
Matula said her campaign was the same as in 2012, when she ran a grassroots campaign that included qualifying by petition.
"I raised very little money," she said. "I did this to be fiscally responsible and to try to get people involved. It just goes to show to people who don't vote that every vote counts."
ABOVE: Mayor Matty Mattioli celebrates his re-election victory Tuesday night with his daughter, Lori Kostelansky, Vice Mayor Jeff Hmara and Carolyn Hmara.