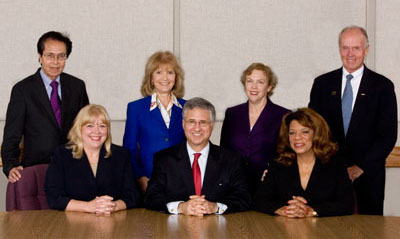 The Palm Beach County Commission agreed Tuesday to hold roundtable discussions on the future of the 22,000-acre agricultural reserve south of Wellington.
The decision came after a full-day workshop hearing from farmers and nurserymen who want more property rights, and taxpayers and environmentalists who contend that the ag reserve should not be changed.
A group of farmers and nurserymen called for the workshop, saying smaller property owners cannot take advantage of incentives that larger property owners have, adding that they are being denied the sale of what they consider their "retirement investment."
Other speakers countered that taxpayers had approved a $100 million bond issue to protect the ag reserve.
Palm Beach County staff explained that existing policies provide for infill and development, as well as policies to protect the environment.
Palm Beach County Agricultural Extension Director Audrey Norman said the ag reserve is among the top 10 agricultural zones in the nation, with a unique environment that seldom freezes, and soil qualities and a long growing season that allows for a great variety of produce.
Norman noted that recent freezes resulted in the loss of 3,700 acres of produce in other agricultural areas, but in the ag reserve, not one acre was damaged.
Locally grown produce feeds the rest of the country in winter, with a total impact of $2.6 billion in revenue, including sugar cane, rice, sod, nursery plants and equestrian uses.
The agricultural industry employs 13,000 to 15,000 workers from pickers to managers, accounting for about $350 million in annual wages.
Norman added that much of the produce varieties can be planted several times each season. Agricultural infrastructure is already in place with seven packing facilities in the ag reserve for local distribution, and demand for locally grown produce is at an all-time high. She also pointed out that when farmland is taken out of production for development, it is virtually impossible to restore.
The county developed its Ag Reserve Master Plan in 1999, the same year voters approved the $100 million bond issue to preserve agricultural areas.
Principal Planner Isaac Hoyos said the Ag Reserve Master Plan was intended to support farmers by creating entitlement options, support the voter-approved bond issue and provide a basis for land preservation in the county's comprehensive plan. He said of 10,000 development units approved in the ag reserve, 5,000 remain to be built.
In 2012, the county commission held a workshop that reaffirmed its support for the ag reserve and provided instructions for staff to allow packing plants and enhance provisions for green markets, but no direction to accommodate additional development requests. The county has received several recent requests to change the ag reserve to allow additional commercial locations.
Attorney Mark Perry, representing a number of farmers and nurserymen at the workshop, asked for the opportunity to have continued dialogue to consider revision of policies.
Perry said he had selected several nurserymen and farmers to state their case.
Grower Jim Alderman said smaller farmers are not entitled to provisions that allow larger farmers to transfer underlying development rights in return for subsidies.
Ken Tuma of Urban Design Kilday Studios added that the current policy allows owners of a minimum of 150 acres to transfer development rights. "Some cannot participate," Tuma said. "We want to allow the minimum size to be smaller."
Steve Thomas of Thomas Produce said his family has been farming for more than 60 years. He said the soil quality in the ag reserve is good, but it is not unique, and exists in other locations, including Martin and St. Lucie counties.
Thomas added that policies, including the North American Free Trade Agreement, has allowed the dumping of crops from other nations, which has harmed the local market. Encroaching development in the ag reserve has also made farming in the remaining areas more difficult, he said.
Commissioner Steve Abrams said he had been to Thomas' farm, which has been hemmed in by development approved under terms of the bond issue.
Alderman added that he is sandwiched between two shopping centers, and trucks have to make a dangerous U-turn to get into his farm.
He asked to be able to rezone that property commercial and move his farm to land he owns west of State Road 7. Alderman added that with new regulations for food safety, he wants to build a totally enclosed packing house.
Tim Linkous, owner of Valico Nursery in the ag reserve, said in the past 40 years, he has been through hurricanes, tornadoes and floods, and the risks are no longer worth the reward. He said it is economically unfeasible to lease his land due to competition from the county, which charges less to farm on land it owns.
"I own the land, and I never took a dime from a county resident," he said. "Our land is our retirement. We worked hard for it."
Sheila Calderon with the Loxahatchee chapter of the Sierra Club was among several environmentalists seeking to preserve the ag reserve. She pointed out that she was among a large majority of voters who approved a bond issue to protect the ag reserve.
"Here we are again," Calderon said. "It is more than the ag reserve, it is a matter of preserving the whole ecosystem. We know everything the ag community supports. Do we need another bond issue? We need to do something to preserve the land."
Retired Palm Beach County Extension Service Director Clayton Hutcheson said farmland needs to be preserved, but farmers also need to be protected.
"There is a demand for houses enough to make developers salivate," Hutcheson said. "When we think about the situation and what we might need to do, some of the proposals might have merit, but when you develop around farm areas, it can have negative impacts on farmers."
He added that the county's master plan is working and seems to be holding up. "Changes should be approached with trepidation," Hutcheson said.
Attorney Lisa Interlandi with the Everglades Conservation Center and 1,000 Friends of Florida said allowing further development in the ag reserve would be contrary to the county's master plan.
"Its purpose was not to allow farmers to develop, it was to preserve agriculture," she said. "One of the worst things is to make this a receiving area for development. What is proposed today is really to maximize profits."
Before they broke for lunch, Commissioner Shelley Vana suggested a roundtable discussion with all parties involved and, after several more hours of input that afternoon, other commissioners agreed.
Commissioner Mary Lou Berger, who put Tuesday's workshop on the agenda, said she had no idea it would have such a response.
"It might take more than one round table, but I agree with Commissioner Vana," she said.
ABOVE: The Palm Beach County Commission.