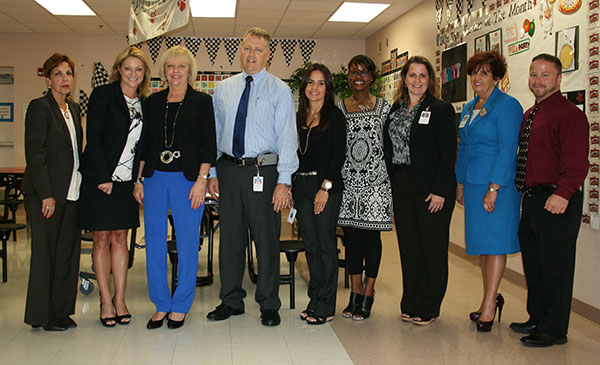 Panther Run Elementary School will have a full-fledged gifted program next year, with each grade level having at least one gifted class.
The decision was announced Tuesday, March 25 at a meeting attended by about 100 current and potential students and parents. The full-time gifted program will replace the part-time program currently at the school. It was a decision many Panther Run parents had long been requesting.
The announcement was made by Panther Run Principal Pamela Strachan and Area 3 Superintendent Dr. Matthew Shoemaker.
Gifted program coordinators from Panther Run and the school district also attended the meeting, as did Binks Forest Elementary School Principal Michella Levy. Binks Forest, also home to a full-time gifted program, is where many gifted students zoned for Panther Run have ended up.
"We currently have more than 150 students who are gifted-eligible, between the two schools," Shoemaker said. "This school has the capacity — we have five or six unused classrooms, plus we have the expandability of being able to accommodate portables."
The school is also already home to five certified gifted teachers. "We also look at community support," Shoemaker said. "Obviously, by looking around here, we have community support."
The big question was whether current students in the gifted program at Binks Forest will be grandfathered in and allowed to stay there until they move on to middle school. Shoemaker said that they would, and special accommodations will be made for siblings.
"Siblings are grandfathered as well," he said. "They will be able to go to Binks if you have a currently enrolled gifted student."
For students currently enrolled in the gifted program at Binks Forest, siblings will be grandfathered in. If the children will not be attending the school at the same time, that will not apply.
For example, parents with a third-grader and a kindergartner, the kindergartner is grandfathered in and can attend Binks Forest until he or she graduates. Both also have the option to attend Panther Run, or one could be at each school. For parents with a gifted fifth-grader at Binks Forest and an incoming kindergartner, then the would-be kindergartener is not grandfathered in.
"The sibling does have to be gifted," Strachan noted.
The school district will continue to provide bus transportation for one year for students who are slated for Panther Run but attend Binks Forest. Those students will have the option to continue their elementary education at Binks Forest after that time, but parents will have the responsibility of bringing children to and from the school.
The new gifted classes will mirror those at Binks Forest, and both schools will offer support in making the transition seamless.
"We will have at least one gifted class for each grade level. I already know of two grade levels where there will be two," Strachan said. "The important thing for you to know is that these classrooms will mirror what is currently in place in Binks. You have to give us some time for growing pains, but I can promise you we will have one class per grade level, kindergarten through fifth grade."
This change will end the current part-time gifted program at Panther Run, which takes students in the gifted program out of their regular classes for special classes one day a week. Parents have argued that this disrupts not only the schedules of the gifted students, but also those of the other students.
In the next week, a survey will go out to parents asking whether they will continue to send their students to Binks Forest or will be attending Panther Run next school year.
Strachan explained that the school does not immediately plan to add classes. For now, at least one class in each grade will be changed into a gifted class. Additional classes could be added in the future.
All of the information will be available on Panther Run's Edline page next week. Panther Run is located at 10775 Lake Worth Road. For more about the program, call the school at (561) 804-3900.
ABOVE: A number of school and district officials attended Tuesday's meeting. Among them were (L-R): Area 3 ESE Coordinator June Aversano, Binks Forest Elementary School Principal Michella Levy, Panther Run Elementary School Principal Pamela Strachan, Area 3 Superintendent Dr. Matthew Shoemaker, Panther Run Assistant Principal Edilia De La Vega, Area 3 Director Dwan Moore-Ross, Binks Forest Assistant Principal Karen Berard, ESE Gifted Specialist Dr. Rosemary Daniels and ESE Associate Director Kevin McCormick.