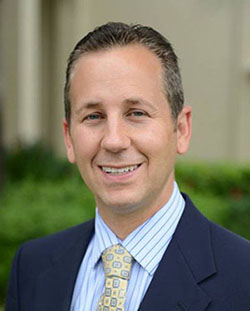 Education activist Matt Kurit is hoping voters will share his vision for the community and elect him to Seat 3 on the Wellington Village Council next week.
Kurit faces incumbent Vice Mayor Howard Coates in the Tuesday, March 11 election. Also on the ballot, Seat 2 incumbent Councilwoman Anne Gerwig is being challenged by Sharon Lascola.
Originally from Ohio, Kurit moved to West Palm Beach when he was 7 years old and attended North Shore High School — later Palm Beach Lakes High School — where he was student body president his senior year.
Kurit holds a bachelor's degree in marketing from Ohio State University and a master's degree in business administration from Florida Atlantic University. For the past 13 years, he has worked with Johnson & Johnson as an executive sales representative.
He moved to Wellington in 2004 with his wife, Kathy, and two daughters.
"We wanted to find a nice place where our kids could get a good education, with a good parks and recreation system, and an active community," Kurit recalled. "That was what brought us to Wellington. We fell in love with the school system out here."
He was appointed to Wellington's Education Advisory Board in 2008 and served for four years. Additionally, he has been a coach for recreation teams and had been active with the Wellington Runners Club.
If elected, Kurit said he would focus on maintaining green space, supporting local schools and helping to maintain property values — goals that he said go hand in hand.
Kurit said Wellington needs to guard its green space against development. "I want to maintain a small-town atmosphere," he said. "I wouldn't want to give up any more green space. Developers look at green space differently than most residents do. Maybe we could direct developers to revitalize some of our commercial areas."
He said it's important that the village does what it can to support local schools. "A lot of the reason people moved here is the same reason I moved here," Kurit said. "Having good schools will not only maintain property values, but help increase them."
One of the top issues in the campaign, he said, is the council's recent decision to remove fluoride from drinking water — and the deciding vote was cast by Coates.
"I'm strongly against them removing fluoride from the water," Kurit said. "I do work in the medical community, and a lot of what I do is based on scientific data."
He stands behind the data supporting fluoridation. "I think it was a big mistake," Kurit said. "From comments I've received, about 80 percent of the residents are upset about it."
Another major issue has been plans for the Wellington Community Center. Kurit said he isn't sure whether he would have voted to move the Wellington Tennis Center, but that he understands the need for more space at the municipal complex.
"I know how it is when people go out on weekends to the amphitheater or the green market," he said. "It can be a nightmare trying to find a parking space."
Kurit said his decision would have depended on cost and the benefits to residents.
"If we can build a new, state-of-the-art tennis center only five minutes away, and it wouldn't cost an exorbitant amount, I might be for it," he said. "It would be more effective that trying to maintain the current building for another 10 years."
Regarding the performance of Village Manager Paul Schofield, Kurit said he couldn't rate his performance until he has worked with him. "I know of a lot of issues, but I don't know if they fall on Paul's feet," he said. "There was the snafu with K-Park; I know taxpayer money was wasted. Someone is responsible for that."
Kurit supports Wellington's continued effort to improve transitional neighborhoods. "I think it's worth the expense to make sure neighborhoods are safe," he said. "We're moving in the right direction, though I think more can be done. There are still areas where there are pockets of crime."
He suggested working with the Palm Beach County Sheriff's Office to increase policing efforts. "There will always be crime, unfortunately, but we have to make sure we're doing everything we can," Kurit said.
Wellington has considered the idea of a medical arts district, but plans have fallen by the wayside. Kurit said he would be willing to look at proposals should the plans be revitalized. "I want to make sure it fits with what Wellington is trying to accomplish," he said. "There is a big equestrian community out here. We could gear it toward a vet program, which would be beneficial."
He also said he would like to see new proposals for the K-Park property on State Road 7. "One thing I think would be great is something in line with a miniature version of CityPlace — something like what they have in Delray Beach," Kurit said. "It could have a nice movie theater, a bowling alley and other things. It's the perfect location."
He said any plan for the site would need careful scrutiny. "It's our only place left for development," Kurit said. "I would listen to ideas. It would be great to have recreational space on a portion of it — maybe something like the Morikami [Museum]."
Wellington Presbyterian Church announced earlier this year that it would be closing Wellington Christian School and selling its property to an unnamed buyer. The site might need a zoning change. Kurit said he'd want to see a project there that fits with the surrounding community. "It goes back to the small-town atmosphere," he said. "I don't want to see something destroy it."
In past years, Wellington has been plagued by lawsuits surrounding the Equestrian Village property. Kurit said he's optimistic that the relationship between Wellington and show promoter Mark Bellissimo has improved.
"I'm hoping I can work with both entities and keep an open dialogue," he said. "My biggest concern is that if you let something like this fester, it becomes a bigger problem. If you don't address it, then these things implode. As a council person, my job is to make sure I don't become beholden to one side or the other."
He said he is supportive of the equestrian community and hopes the village can move past any ill-harbored feelings.
"It brings value to the whole community," Kurit said. "We all benefit from the equestrians. My goal is not to take one side or the other."
Further, Kurit said that if there are disagreements, he would deal with them with respect. "If I don't agree with someone, it doesn't mean I can't be amiable," he said.
Wellington and its elected officials have been the subject of several investigations by the Palm Beach County Commission on Ethics and the Office of the Inspector General. Kurit said that although the office may receive false complaints or ones that are political in nature, it's important that it investigate wrongdoing.
"We need to open up government and have people see what is going on," he said. "At the same time, we don't want it used as a weapon. I don't know how fair it is to say that the office is being nefariously used. You want to make sure you don't give up the right for people to look at the government. If someone is doing something incorrect, it deserves to be known."
Though some have suggested that Kurit is running on a slate with Lascola, he said that is not the case.
"I'm my own candidate," he said. "The perception that is being put out there is that because the Democratic Party is supporting our candidacies, we are on a slate. We are completely separate, but happen to be supported by some of the same entities."
He said although he has gotten support from fellow Democrats because of his activity with the party, he doesn't consider the election to be partisan.
"I'm happy to get Republican support as well," he said. "Nobody cares if I'm a Democrat or Republican if they have a pothole on their street they want fixed."
Asked whether the influx of outside money into Wellington's municipal election is an issue, Kurit said that voters don't vote based on the amount of money a candidate has raised.
"Residents will vote based on how they feel about a candidate," he said. "I'm pretty comfortable with the amount of money I've raised locally. It's more difficult when you're not the incumbent."
He said that although his work schedule has been hectic of late, his job would not affect his ability to serve. "I did have to go to New Jersey for part of the campaign for a leadership conference," he said. "I think it's something that will benefit all residents."
Ultimately, Kurit said he would be a representative who acts in the best interest of residents.
"I will do what is in the best interest of all citizens, work to maintain a small-town atmosphere and make sure we're doing what we can to help our schools," he said. "It's something I'm very passionate about."