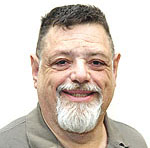 'I' ON CULTURE
I found a lot more in NBC's The Blacklist than I expected. Unlike other similar shows, it is fiendishly complex and lacks the simple foundation that ensures that the good guys stay good and the bad guys stay bad. On shows such as Castle, Bones and NCIS, the regular cast, stars and supporters, are the good guys. They may have some issues, but you know in the long run you're on their side. There is nothing like that at all in The Blacklist.
Raymond Reddington (James Spader) is one of America's Most Wanted, but he arranges to be arrested so that he can work for the government to take down people who are far worse, those on his "blacklist." He has been an arranger of deals for top criminals and knows who the best ones are, those who can commit major crimes and get away with them, often because no one is aware that a crime has been committed. The FBI has a fit over this, but it does want him to help take down the other bad guys. Harold Cooper (Harry Lennix), assistant director of the FBI Counterterrorism Unit, decides to go along with Reddington's one implacable demand, that a young agent named Elizabeth Keen (Megan Boone) work with him. She is new to the group, but somehow there is a connection that means something to Reddington. Her husband Tom (Ryan Eggold) is a teacher and very wholesome. The man put in charge of Reddington, FBI Special Agent Donald Ressler (Diego Klattenhoff) is a stickler for rules and hates the assignment.
But nothing is exactly as it seems. Reddington has an enormous number of connections to bad guys and often uses them in ways that seem to make them richer. Agent Keen turns out to have an interesting background that might just have had some larceny in it. And one of the key supporting players, Meera Malik (Parminder Nagra), a CIA security agent, turns out to be a mole and betrays them before being shot. Several key people have managed to die unexpectedly and violently. Reddington has his trusty Mr. Kaplan (Susan Blommaert), a woman who is expert at cleaning up shooting scenes. And, yes, it is "mister." The most interesting of all the ambivalent characters is husband Tom Keen. In the first episode, his wife uncovers a hidden strongbox with fake documents about him. Over the next ten episodes, however, despite Reddington's concerns, he keeps demonstrating his loyalty, pushing his wife to go for a normal life while the two adopt a baby. Finally, in about the 14th episode, we learn that something is amiss, although it will certainly take time before a whole lot is revealed.
The ambiguities are what make this show so interesting. A typical hour on most similar series has a single plot line. We watch the good guys bickering a bit to keep things amusing, but things work out. On this show, there have already been three major betrayals, a half-dozen possible betrayals and a lot of secrets. Many people who were regulars have been murdered.
Plots and villains get really convoluted. A woman who is greatly honored for fighting international white slavery turns out to be the main person behind it. Several FBI and CIA people are moles, including at least one top official. The government at times is pro-Reddington and at times against him. After he is kidnapped, a top official cuts off the hunt for him until she finds out that the bad buys have had her under surveillance. FBI man Ressler and Reddington are constantly at odds but save each other's lives at great risk to themselves. After Reddington escapes his kidnappers and disappears for a bit, he is put back on the Most Wanted list. Agent Keen's adopted father, who dies (of natural causes for a change), has some secrets she does not know and Reddington might. People who seem nice often have dark secrets, and we are just getting to know some of them.
So, if you like the kind of complex dramas they put on HBO and Showtime, this is a show you'll really like. It reminds me a lot of Homeland before that show went nuts in its second season, and that is very high praise. You can catch up using On Demand or by going to the show's web site and watching. This is a good one.