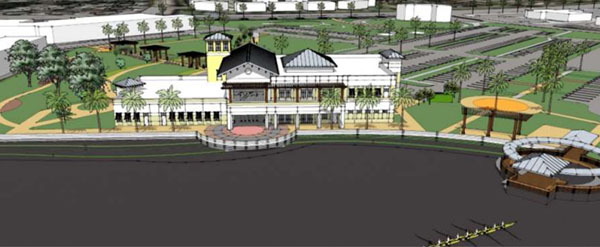 The Wellington Village Council will vote next week whether to accept a $12.5 million contract to rebuild the Wellington Community Center and the Wellington Tennis Center — a contract $1.3 million cheaper than originally proposed.
"The final number we came up with was $12,550,000," Director of Operations Jim Barnes told the Town-Crier Wednesday.
According to a staff report, the village will also cover an additional $63,400 agreement with Alexis Knight Architects, approximately $81,000 in permits and regulatory fees, and $100,000 in builders risk insurance, bringing the project total to about $12.8 million. The council will vote on the matter at its Tuesday, March 25 meeting.
Council members voted last year to tear down and rebuild the community center and move the tennis center to a 15-acre site on Lyons Road, but the village hasn't secured a contract for construction. Bids came in over budget, prompting council members to ask for further negotiations.
Last month, the council reaffirmed its desire to move the tennis center — despite opposition from tennis center members — and asked Wellington staff to try to reach a contract with Pirtle Construction that cut costs but not services.
Meanwhile, the council also rejected plans from local residents who asked that the tennis center remain at its current location, using the recently purchased Lake Wellington Professional Centre as a way to expand the building and parking space.
Pirtle Construction had originally proposed a contract of $13.8 million, far over Wellington's initial budget of $10.5 million.
When the bids came in, council members asked staff to negotiate with Pirtle Construction, which was the low bidder. Staff was originally able to negotiate an approximately $12 million contract, but not without making some sacrifices.
Council members asked staff to be sure a reduction in cost did not result in reduced services, and Barnes said it does not.
"The main thing that came out were some minor tweaks in the building," Barnes said. "The consensus was that council did not want to see a reduction in programming, so we sat down a few more times with Pirtle to discuss it. We were able to make decisions by going back and forth, instead of having Pirtle designing in a vacuum, like they did for the bid."
Pirtle's original bid included some extra costs, above and beyond the council's initial requests — most notably, a tennis center with 23 instead of 21 courts. Barnes said that was scaled back to the original proposal.
"The big-ticket items include taking two courts out, which is in line with the original programming request, and changing some of the lighting for courts," Barnes said.
The village will substitute Musco lighting with TechLight lighting for the courts, as well as eliminate a perimeter trail.
There will be room for future courts at the tennis center, but they will not be completed as part of the contract, Barnes said.
Barnes said Wellington also saved by agreeing to provide the risk insurance in lieu of the contractor, costing about $100,000, and receiving a guaranteed sales tax savings.
"At a minimum, if we're not able to save even more, we'll see a $200,000 savings in sales tax," Barnes said. "I think we got a pretty good deal. We didn't cut space, we didn't cut programming, but we were able to negotiate the contract down."
Because the project is design-build, the contract of $12.5 million would be a "guaranteed maximum price" for the project, Barnes said. "If it comes in under budget, we share in that savings," he said.
According to a Wellington staff report, approximately $10.2 million is currently available in Wellington's capital improvement fund for the project.
Council members are also expected to vote whether to transfer $2.5 million from the general fund reserves to cover the cost, as well as $100,000 from reserves for the insurance.
ABOVE: An artistic rendering of the proposed new Wellington Community Center as seen from Lake Wellington.