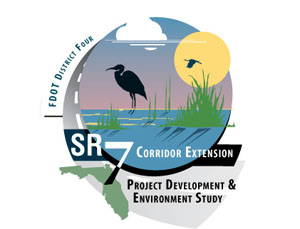 The Western Communities Council has retained a lobbyist to continue the fight for the completion of State Road 7 to Northlake Blvd. at the state and national levels, where the City of West Palm Beach continues to try to stop the project.
WCC Administrator Tanya Quickel said the law firm Lewis, Longman & Walker has been retained as the council's State Road 7 lobbyist. "They actually have already begun working," Quickel said.
Indian Trail Improvement District Supervisor Michelle Damone said she had spoken with lobbyist Terry Lewis, who told her that he had met with Palm Beach County Legislative Affairs Coordinator Todd Bonlarron and that they'll be working jointly.
"Todd was pleased that Terry is on our team, so that will bring additional opportunities in the future on our trip to Washington," Damone said, explaining that they had met with state senators in reference to financing that's available for the project, and she will be meeting with officials from the Florida Department of Transportation in Tallahassee.
Damone said Lewis would be in touch with her at least once a week with updates.
"I thought that was a good start, considering they had just come on board a little over a week ago," she said.
All the parties in the WCC committed to the cost of the $30,000 lobbyist contract. Wellington, Royal Palm Beach and the Indian Trail Improvement District each committed $10,000, while Loxahatchee Groves committed to $5,000.
Both Royal Palm Beach Councilman David Swift and Wellington Village Manager Paul Schofield said they will be in Tallahassee at the beginning of April in the event that local officials are needed to meet with legislators.
Swift asked for specifics on how the board is going to make the case for the road.
"If this is a health, safety and welfare issue, what information do we need to provide to make the case?" Swift asked, explaining that he had planned to talk to Palm Beach County Fire-Rescue officials about response times in the western communities. "They obviously are planning for the future with all the development that's going on in western Palm Beach County."
Damone pointed out that there is a West Palm Beach fire station near the Ibis community that has an interlocal agreement to work in unincorporated county areas if the need arises, and she might be able to get a letter of support for the extension from the firefighters union, expressing the need for connectivity in emergencies.
Swift said he would also continue discussions he has had with PBCFR officials in Royal Palm Beach on the need for connectivity.
Swift also pointed out that the South Florida Water Management District emergency staff had trouble getting pumps and other equipment where they needed it during the flooding from Tropical Storm Isaac.
Swift said the Central Palm Beach County Chamber of Commerce might be able to help show the economic importance of the extension.
"We need to put together some numbers on that," he said. "They have the information, and we need to gather what they have. It seems to me they would have the best handle on that information."
Damone said she had met with chamber CEO Wayne Burns and Executive Vice President Mary Lou Bedford, seeking some sort of commitment, and they said they would consult the membership.
Damone said the chamber is currently undergoing a reorganization and might need some time to provide information.
"They're going to have a whole new board, and [Burns] might need some extra time, but Mary Lou is on top of it," Damone said. "I think she's gathering it and knows what we need. She has some of that information, but she might need to update it."
Damone said she thinks the extension project will have strong state and county support.
"The issue is really at the federal level," she said. "The other issue that was identified is to make sure that funding remains. If you remember, that was [West Palm Beach Mayor Jeri] Muoio's strategy, to remove the funding — stall the project long enough to remove the funding."
Swift and Damone agreed that Palm Beach County Engineer George Webb has much of the critical information that is needed to move the extension forward to Northlake Blvd.
The county is currently extending SR 7 from Persimmon Blvd. to 61st Street North, which will connect to Royal Palm Beach Blvd. Completion of the one-mile, $4.6 million project is anticipated by early 2015.
The county also built the 3.5-mile SR 7 extension from Okeechobee Blvd. to Persimmon Blvd., which opened in April 2009.
The $80 million, four-lane extension from 60th Street to Northlake would run along the south edge of Ibis, then north along the eastern edge of Ibis and the western edge of the Grassy Waters Preserve to Northlake.