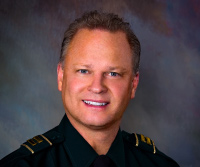 Commanders of the local Palm Beach County Sheriff's Office substations discussed their respective districts at a meeting hosted by County Commissioner Jess Santamaria on Wednesday, April 16.
Capt. Jay Hart (above), commander of PBSO District 8 in Wellington, said his village is the safest municipality in Palm Beach County, statistically speaking.
The department has several special programs in the works, including a crackdown on illegal use of Section 8 housing.
"It's not as widespread a problem as people think it is," Hart said. "It's actually a very good program for what it is meant to do. Unfortunately, there are some issues with Section 8 housing that prevent the good people from actually getting into those homes. The problem is that when you do have a family get into that home, maybe they're not following the rules, it seems to deteriorate the entire neighborhood."
Hart's substation has set up a program so that anytime someone is arrested on a felony charge, his or her name is run through the Palm Beach County Housing Authority's list of Section 8 clients. If the arrestee is part of the program, then the PBSO starts the paperwork to evict that person and possibly anyone else living there.
"We feel that as long as we can keep control of that, and we know who is living in those homes, then we can kind of contain that and keep the good people who actually deserve to live in there," Hart said.
District 8 also made a recent change in its street team, putting a different sergeant in charge.
"As a result of that change, in the last four months, we have made 75 drug arrests; we've arrested 76 different individuals; we've confiscated 1,977 grams of marijuana, which equates to about 4.3 pounds; and seized about $5,000 in cash," he said.
The team is also working on illegal pill problems, which Hart said is a major contributor to crime.
Crime in Wellington was at its worst in 2009. Since then, the crime rate has declined each consecutive year. "We are on track for 2014 for it to go down for the fifth year in a row," Hart said.
As of that evening, Hart cited declines in all categories: robberies were down 14 percent; sexual assaults, 25 percent; shootings, 33 percent; vehicle burglaries, 27 percent; residential burglaries, 15 percent; stolen vehicles, 20 percent; and construction burglaries, 67 percent.
Business burglaries rose, however — up 57 percent, or seven burglaries, five of which occurred at the Village Park concession stand.
"We've actually stayed in that concession stand all night long with our undercover guys," he said. "Unfortunately, it did not get hit that night, but we are doing whatever we can to protect that."
Hart credited the Wellington Village Council for giving the department everything it needs to do its job.
Lt. Ulrich Naujoks represented PBSO District 9 in Royal Palm Beach, which is commanded by Capt. Paul Miles.
Naujoks noted that most of the calls the department answers are not crime-related.
"Most of the calls we receive on a daily basis don't really have to do with crime at all," he said. "I'm very proud to say that. A lot of villages can't."
Most of the calls the office receives are about traffic. "They are people speeding through neighborhoods, whether it be La Mancha or Counterpoint, or whether it be some of the [problem] intersections," he said.
The Royal Palm Beach substation recently initiated a selective traffic enforcement program as a result of a traffic analysis showing that three village intersections were the most dangerous for traffic accidents: Southern Blvd. at Crestwood Blvd., Southern Blvd. at State Road 7 and Okeechobee Blvd. at State Road 7.
Naujoks noted that the accidents aren't necessarily fatal incidents. "They just happen to be the ones that merit more attention than others," he said.
To fight this, the substation assigned a recently allocated motorcycle unit, along with the existing motor unit and a cruiser, to enforce traffic laws at those intersections. The goal, however, is on education, not ticket writing. "We're not out there to start writing tickets," he said. "We're out there to educate people with warnings."
District 9 also employed its electronic message board at Royal Palm Beach High School, and more recently at Southern Blvd. at Al Packer Ford, where it displays messages to westbound traffic such as "Don't text and drive," "Speed kills" and "Wear your seat belt."
The department has also tried to address the problem of vehicle burglaries. "That's a result of kids," Naujoks said. "They're walking around through some of our developments. They're checking the vehicles for unlocked doors. If they find them, they go in them and take whatever might be in there. If they don't, they move on 'til they find one."
The department recently investigated eight vehicle burglaries matching the same method in the Counterpoint Estates neighborhood and has focused enforcement there.
The department also enforces a truancy program to pick up students who are not supposed to be out of school and return them to school. Truancy has been found to be a big contributor to burglaries.
"We are number one for having picked up and returned truants back to their respective schools," Naujoks said.
District 9 supports youth through numerous activities, including the recent safety fair at Royal Palm Beach High School and its Police Athletic League boxing program, which is open to all youth in the county.
The department has a community outreach coordinator who organizes activities such as "Shop with a Cop" and food drives during the holidays. "We are very active in any way we can participate in the community and make the village and surrounding villages a better place to live," Naujoks said.
Lt. David Combs, commander of PBSO District 15 serving The Acreage and Loxahatchee Groves, said his district encompasses about 150 square miles and 44,000 people.
"It's a little bit different in that we are a rural district, as opposed to Wellington and Royal Palm Beach," Combs said. "It's an interesting challenge, and it's quite different than the rest of the sheriff's office… The good news is District 15 is a wonderful place to live. There is a very low crime rate, and we have very little personal crime. Most of the crime in District 15 is property crime."
Although District 15 does not have as large a staff as others, it initiated a program in the past few years that reduced its primary problem of residential burglaries by about 50 percent.
"We've been able to get the crime in check," he said. "We have excellent men and women serving District 15. There aren't as many of us as some of the other districts because we are a rural district, but there is a lot of talent and a lot of dedicated people who serve there."
Combs said crime in general is down in District 15 and protection is improved.
"Our economy was very definitely a desperate situation," he said. "There were many houses that had been abandoned, but the economy is changing and things are getting better."
He said the next big challenge for District 15 is the anticipated growth.
"We stand in District 15 on the precipice of unbelievable expansion," Combs said. "We have a brand-new college campus, Palm Beach [State] College going in on Southern Blvd. at B Road in the Town of Loxahatchee Groves, and this is quite a crown for our area. In addition to that, we have a tremendous amount of housing coming to our area, and like all things, there will be some good and some bad."
At least 5,000 additional homes have been approved in District 15 in two different developments, the Callery-Judge property, which was sold to Minto with approval for up to 3,000 homes, and up to 2,000 homes at Highland Dunes near Palm Beach Aggregates.
"Those houses will bring more people to our community, and those people will bring with them the prerequisite other things such as grocery stores, gas stations and restaurants," Combs said. "My job as commanding officer of District 15 is to prepare a policing model that will serve the folks not only once they get here, but as they arrive."