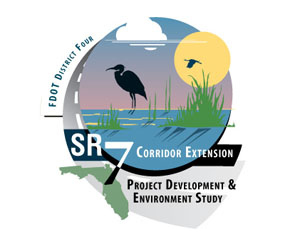 The Royal Palm Beach Village Council heard a status report April 17 on the planned State Road 7 extension to Northlake Blvd. from Indian Trail Improvement District Supervisor Michelle Damone.
Damone, ITID's representative on the Western Communities Council, has led the effort to see that the road is extended to Northlake Blvd., as has been planned for decades.
With funding from area municipalities, the Western Communities Council recently hired the law firm of Lewis, Longman & Walker at a cost of $30,000 to do lobbying, primarily at the federal and state levels to see that approved funding remains. The City of West Palm Beach continues to try to stop the road.
"Some interesting things have been going on," Damone said. "The Florida Department of Transportation has anticipated that they will be going over litigation with U.S. Fish & Wildlife and the Federal Highway Administration, so in their anticipation, they are looking at additional alignments."
She said that suggested alternative alignments on 130th and 140th avenues, as well as Seminole Pratt Whitney Road, adversely affect Acreage residents.
"They're anticipating litigation, and they're trying to save some time, but they're going to prove their case in advance and be proactive instead of reactive and show all options," Damone said.
She pointed out that the proposed alternate alignments are unrealistic. "There's a lot of eminent domain and easements that we just don't own," she said. "These are costly, expensive alignments. They're anticipating that they'll say, 'We agree with you,' and the alignment that we've all supported in the western communities is the best one."
Damone said the primary goal is to assure that approved financing remains secure. "That's what I'm concerned about — the City of West Palm Beach and what they are trying to strategize and do," she said.
The $80 million, four-lane extension from 60th Street North to Northlake Blvd. would run along the southern edge of the Ibis community, then north along the eastern edge of Ibis and the western edge of the Grassy Waters Preserve to Northlake.
She said the county has finished construction of the SR 7 extension from Persimmon Blvd. up to 60th Street North and has started building west to Royal Palm Beach Blvd. as a temporary reliever until the state's extension is complete.
"They started with some landscaping, and it's starting to look like a road," Damone said. "I've heard that they're going out to bid on it and getting a permit on it. That should be completed by summer, so State Road 7 is moving forward. It really has taken a collaborative effort and the support of everyone. I think if we stand together as one, we stand strong."
Councilman David Swift thanked Damone, Wellington Village Manager Paul Schofield, Wellington Councilman Howard Coates and Loxahatchee Groves Councilman Jim Rockett for their work on the SR 7 project.
"They have been very helpful, very supportive," he said. "Michelle has been up to Tallahassee several times now working on this, and we have other folks who also have traveled up there. Thank you for your good work. I appreciate it."
Councilman Richard Valuntas asked whether FDOT anticipated litigation from the federal government and Damone said it has, explaining that FDOT received a letter from the U.S. Fish & Wildlife Service in April 2012 registering concern about environmental impacts to snail kites.
"The City of West Palm Beach suddenly became an environmentalist, and there were some snail kites about four miles east of the alignment that's approved," Damone said. "We just need to [assure] Fish & Wildlife that they'll be safe and secure in their nests."