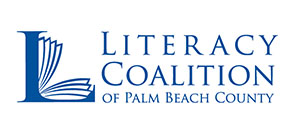 Literacy Coalition of Palm Beach County CEO Kristin Calder explained the wide array of services her organization offers throughout the county at the Royal Palm Beach Education Advisory Board meeting Monday.
Each year, the Literacy Coalition helps 25,000 individuals, children and families get the help that they need to achieve basic reading skills. The organization is celebrating its 25th anniversary this year.
"One in seven adults in Palm Beach County lack basic literacy skills," Calder said. "What that means is they're not able maybe to read a bus schedule, or able to read a medicine bottle, or not able to read basic instructions, or a letter that they may receive in the mail."
Calder said the organization oversees 10 direct service programs at 110 sites throughout the county. "Some of those sites are actually here in Royal Palm Beach. We provide literacy skills in the workplace through community education. We help adult students prepare for their GED."
The organization also helps local businesses with problems they may have in training employees.
"Right now, we are just completing a program with the City of West Palm Beach with their sewer route control," she said. "We have one of our teachers learn how to operate the manual, the instructions for the employees, and then we train the employees how to actually conduct this program and this service. It was more than just teaching somebody how to read. It really is teaching somebody how to communicate and to process information they need to successfully do their job."
Calder noted that the organization's children's literacy programs provide crucial skills young students need to be successful.
"The Literacy Coalition has several programs," she said. "We provide reading partners through Budding Readers, where we share books with 3-year-old children to help them blossom into lifelong readers. We have actually done that with the YWCA Childhood Development Center here in Royal Palm Beach."
The coalition also has two after-school programs, including the Afterschool Reads program, which is offered throughout the county. "We have strategies to work with grades K through five in 15 after-school programs."
The coalition also sponsors the Turning Bullies Into Buddies program.
"When I first joined the Literacy Coalition, I thought, 'Well, it's a great cause to take on bullying, but what does that have to do with the Literacy Coalition?' Once they explained it to me, it is a character-based program through literature. It helps the kids realize the message you're trying to deliver by telling them a story," Calder explained.
Calder noted that the popular Pink Shirt Day is one of the promotional events of Turning Bullies Into Buddies hosted by the Literacy Coalition.
The coalition has two family literacy programs to help adults learn how to help their children read.
"We're very proud of these programs because they work not only with the adults, but also with their children, and often it's the adult who wants to help their child, and that's how they get involved with our program," Calder said. "We have our Parent-Child Home Program where we provide visits a couple of times a week, and we take books one week and toys the next. The tutor helps both the child and parent with reading skills by not only reading, but looking at colors and pointing out shapes and objects."
The Glades Family Education Program focuses on literacy, English and communications skills.
"We have students who started out working in the fields," Calder said. "One who is our shining star, Laura Calderone, started out as a student because she wanted her daughter to learn. She came through the program, and she just recently graduated from Palm Beach State College. She is now a teacher at our Glades Family Education Program and is a real inspiration for all of the adult students that are there."
Another program is Reach Out and Read, which is a partnership with pediatricians. "We currently have partnered with 32 clinics and all the pediatricians and pediatric offices throughout the county," she said.
The program provides books to the pediatricians so that when children come for their wellness visits, they will also get a book as a gift. "Sometimes it might be the only book a child receives in their home for the year," Calder said.
An interesting aspect of the program is that the pediatrician can watch how the child interacts with the book and assess the child's development, even if there is a language barrier, by observing what the child does with the book.
Through the Literacy America program, the coalition hires 40 young people who work for $12,000 a year to work in schools, including Royal Palm Beach High School, with struggling students.
"They have fantastic outcomes working with students who are at risk in terms of not being able to graduate, and also providing additional assistance as volunteer tutors," Calder said.
Learn more about the organization at www.literacypbc.org.