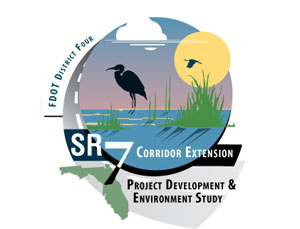 Members of the Wellington Village Council voted unanimously Tuesday to kick in an additional $5,000 to support lobbying efforts for the State Road 7 extension.
Last month, the Western Communities Council retained the law firm of Lewis, Longman & Walker to lobby in support of the extension to Northlake Blvd. at the state and national levels, Village Manager Paul Schofield explained.
The City of West Palm Beach — whose mayor resides in the nearby Ibis community — has been lobbying state and national agencies to stop the project. Wellington, along with other area communities, agreed last year to spend an initial $5,000 toward a lobbyist.
"The Western Communities Council has asked that members contribute $10,000," Schofield said. "We have already approved $5,000. This would be an additional $5,000."
The Village of Royal Palm Beach and the Indian Trail Improvement District have already pledged to support the funding.
"State Road 7 is important, and we're recommending approval," Schofield said.
Councilwoman Anne Gerwig said the extension is important to the community.
"I think it's worth this amount of support, maybe more," she said. "It's not just a quality of life issue, it's a safety issue. Getting that corridor open is something we should all be supporting."
Councilman Matt Willhite agreed.
"This proposal has been on the books for approximately 40 years," he said. "It has come to more light since some municipalities have annexed in other areas. Now they're concerned about water quality."
But Northlake Blvd. already runs through the natural area that stores water for West Palm Beach, he said.
"The argument that it's somehow going to contaminate the City of West Palm Beach's water supply is false," he said. "All you have to do is drive down Okeechobee Blvd. east of I-95 and you're driving through the same water resource they're concerned about."
Getting the extension will be a benefit to Wellington, Willhite said. "It will help with the traffic and hopefully attract more businesses," he said. "During a time of emergency, it will be a way for traffic to head north. It will help in a multitude of areas. To sit back and have it dictated to us what is going on in our own community is inappropriate. I will support this."
Considering the amount of money West Palm Beach has spent on lobbying, Willhite said the Western Communities Council needs to put forward a strong effort.
"Ten thousand dollars is nothing for Wellington to put into this when other communities are spending hundreds of thousands of dollars to fight this," he said. "Hopefully we'll be successful in this challenge."
During public comment, former County Commissioner Ken Adams noted that he was chairman of the Palm Beach County Commission when plans for the Ibis community were first proposed.
"Each property owner, before they could get their building permit, had to sign an agreement that they knew this road was coming… and that they would not object to it," he said. "That was a requirement for the project being built."
The need for the extension became clear after Hurricane Andrew, Adams said.
"One of the things that the governor noted was that I-95 and the turnpike were simply a parking lot," he said. "As far as you could see in either direction, there wasn't a thing moving. The only movement we saw was a smaller road on the west side of the county, going northward."
Now, he said, property owners have gone back on their pledge.
"The NIMBY factor is alive and well," Adams said. "This road does not belong to Ibis. It never did, and I hope this council will do everything in its power to see that it's extended."
Resident Bart Novak said the council should be wary of the planned Avenir project to the north, which could use the SR7 extension as an outlet for more development. "We need to think about that," he said.
Willhite made the motion to approve the measure, which passed unanimously.