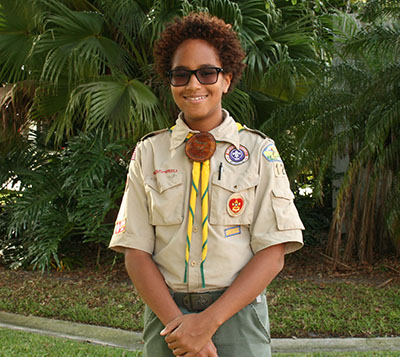 Wellington Boy Scout Troop 125 will be delivering donation bags to local neighborhoods on Saturday, April 12 from 8 a.m. to 2 p.m.
Donations are being collected for the Foster & Adoptive Parents Association of Palm Beach County, a group that provides a safe home for children who have entered the foster care system for reasons such as abuse, neglect and abandonment.
The requested donation items are new socks and underwear, as those are the biggest need. Other optional items include deodorant, body wash and luggage.
Volunteers from the troop of 50 boys will be leaving about 1,000 bags out for residents to donate items.
The bags will then be collected on Saturday, April 26 from 8 a.m. to 2 p.m. The bags will be gathered at St. Peter's United Methodist Church, located at 12200 W. Forest Hill Blvd. in Wellington, where individuals can drop off their bags between 8 a.m. and 2 p.m. outside in the parking lot. If you did not receive a bag, you can still donate.
The project began when scout Dwight Smith heard about the organization from his parents and decided to make helping the Foster & Adoptive Parents Association of Palm Beach County the focus of one of his requirements needed to advance from Life Scout to Eagle Scout.
"I had no idea people were experiencing these kinds of things in the world," Smith said. "Even just regular people at school, I'm sure they wouldn't realize people are going through these things. Even though it's so simple, to provide them with clothing, it's surprising that they're low on such basic necessities. I thought that I should help."
Arlene Smith, Dwight's mother, is thrilled with his project choice.
"I like it because there's a great need, and we didn't realize there was such a great need for underwear for children," she said. "It's not just little children — it's up to 18 years old in foster homes. He's doing something for other children, which is good."
The Boy Scouts of America are always looking for suggestions for projects, and nonprofit organizations are welcome to contact Jenny Blickle, the Everglades District advancement chair for the Gulf Stream Council of the Boy Scouts of America, if there is a need that may be suitable to an Eagle Scout project.
"One of the requirements in going for his Eagle rank is to plan, develop and lead a service project for a qualified beneficiary that is of significant effort," Blickle said. "Boy Scouts always do acts of service, and they don't do it for the recognition, they do it to help others."
Upon learning about the Foster & Adoptive Parents Association of Palm Beach County, Smith has become aware of the foster system and the hardships that others go through. If nothing else, he requests that individuals visit www.fapapbc.org to learn more about the organization and see how they can help.
For additional information about Smith's project, or to have your bag picked up, call (561) 429-5085 or e-mail dwight.smith20@yahoo.com.
To learn more about Troop 125, visit www.troop125.net. To contact Blickle with project suggestions, call (561) 271-0157.
ABOVE: Scout Dwight Smith is organizing the collection project.