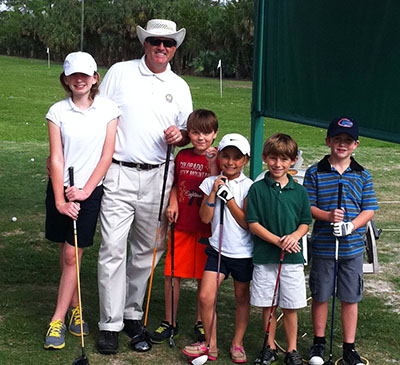 The Kevin Perkins Golf Academy will be celebrating its 20th edition of summer junior golf camps starting Monday, June 9 at the Binks Forest Golf Club in Wellington.
The Kevin Perkins Golf Academy first began its well-known summer camp in 1995, while Perkins was the director of golf at the Palm Beach Polo Golf & Country Club.
"It is hard to believe that we will be doing our 20th edition of the camp next month," said Perkins, a PGA master professional. "We have had so much fun and have really enjoyed all the energy and great times we have spent with all the wonderful kids over the last 20 years."
Perkins said running the camp has been a great privilege.
"It has been amazing. I remember when we put together our first camp at Palm Beach Polo, and we had Bruce Rendina's boys in attendance, and Carlo Bilotti's boys also joined us," he recalled. "Wow, here we are 20 years later and still teaching the kids our great game and having them keep us young."
The Junior Summer Golf Camp is open to boys and girls ages 7 to 17. It will take place weekly from June 9 through Aug. 15. Each weekly camp is conducted Monday through Friday from 9 a.m. to 1 p.m. daily.
The summer camp is conducted at the Binks Forest Golf Club, located at 400 Binks Forest Drive in Wellington.
For more information about the camp and other programs provided by the Kevin Perkins Golf Academy, visit www.kevinperkinsgolfacademy.com or call (561) 301-3783.
ABOVE: PGA Master Professional Kevin Perkins with campers at his summer junior golf camp, which is returning for its 20th year.