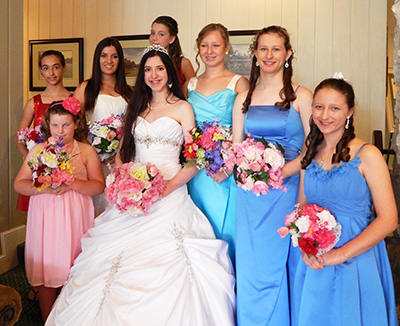 The Spirit of Liberty Chapter of the Daughters of the American Revolution celebrated spring with their Mother's Day Tea and inaugural Debutante Presentation on Saturday, May 10 at the Mayacoo Lakes Country Club.
The ladies topped off their finery with festive hats, while the debutantes were presented to society wearing traditional white gowns. Presiding over the event was Regent Margaret Engelhardt.
This year's debutantes were Talia Fradkin and Samantha Ciminera.
Wellington resident Fradkin is a member of the Chief Tiger Tail Society of the Children of the American Revolution and has held numerous state officer positions in addition to receiving the National Junior American Citizenship Award. Fradkin is the Florida Virtual School Student of the Year and recipient of George Bush's Daily Points of Light Award. She is an active volunteer in her community and enjoys tutoring students in algebra, geometry and chemistry.
Ciminera is active in cheerleading and is a member of the National Honor Society. She is a two-time recipient of the President's Award for Achievement.
Younger girls also made an appearance wearing a variety of pretty spring colors as junior debutantes. Included in this group were Erin Elizabeth Berish, Davina Hollingsworth, Chloe Isabella Skorupa, Ava Spurlin, and Amy and Christine Obranic.
ABOVE: (Front row) Junior Debutante Davina Hollingsworth and Debutante Talia Fradkin; (back row) Junior Debutante Ava Spurlin, Debutante Samantha Ciminera, and junior debutantes Chloe Skorupa, Erin Berish, and Amy and Christine Obranic.