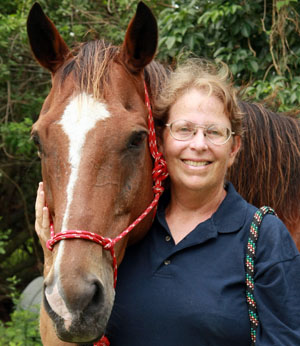 TALES FROM THE TRAILS
Rene Gasser is a man who loves his horses. Born in the Swiss town of Schaffhausen, he was destined to work and perform with horses. His love of all things equine began at an early age and stemmed from a family history of horsemanship and showmanship going back seven generations. Gasser's great-grandmother was an accomplished horse trainer and performer, his great-grandfather was a highly decorated military horseman.
I watched Gasser and the other members of his troop perform in the "Gala of the Royal Horses" on Wednesday, April 23 at the South Florida Fairgrounds, and it was his obvious love of and pride in his horses which, to me, made the show that much better. Throughout the evening, he constantly petted each horse and praised him, frequently exclaiming: "Bravo! Good boy!"
And they were all boys, 10 stallions and three geldings, black or gray: Friesians, Lipizzaners, Andalusians and an Arabian with incredibly thin legs.
"The horses are chosen for their beauty, their presence, their temperaments," Gasser said. "They need that 'wow' factor, where people want to watch them. That's my favorite part of the show, when the audience reacts to them. One of the highlights is when Ringo, one of our Andalusians, performs the capriole. He really flies, and the reaction is amazing."
Indeed, Ringo's capriole, near the end of the show, was remarkable. Working in-hand, Gasser had the horse demonstrate the Airs Above the Ground, including the levade, the courbette and the mezair. In the capriole, Ringo leapt straight up then kicked his hind legs back.
The youngest performer was only 6. Havano, one of the Andalusians, is relatively new to the show.
"It's unusual to have a horse this young performing," Gasser acknowledged. "But he has such high potential, and he does wonderfully. We went to see him eight or nine months ago, and we were so in awe when we watched him that we forgot to film him. We had to have him."
Gasser's daughter, Katarina Gasser, is one of the riders in the show, carrying on the family tradition and enjoying the experience just as much as her dad does. All of the riders appeared to love what they were doing.
"We look for riders with a nice seat and soft hands," Gasser explained. "They also have to have presence as a performer and sit proudly. It's a big challenge to find riders with those gifts. We also partner each rider with just the right horse."
And they have to be willing to travel. They arrive in a location on a Monday, take Tuesday off, then school Wednesday through Friday and perform on weekends. They work for three months, then take a month off. Not only the horses and all the tack, costumes and portable stalls travel with them, but they bring along their floor as well, which covered the arena and the entire backstage stall area, so the horses always felt comfortable and at home.
"It's an inch and half thick, rubber, and very cushioning," Gasser explained. "I developed it myself. It preserves the horses' joints and ligaments. It weighs 15 tons and takes up a whole semi."
An hour before the show started, people who had bought VIP tickets were invited to participate in a meet-and-greet session. Three riders and horses walked around the arena and stood by the rail, posing for pictures, answering questions, inviting people to pet the horses, while classical music played quietly in the background.
"We've never seen these breeds before," said Melinda Jones, who had driven down from Port St. Lucie with her husband, Wynn. "It's wonderful to see them in this area."
"I grew up with horses; I was a real cowboy," Wynn added. "A lot of years and a lot of stitches. These horses are magnificent. I'm looking forward to a good show."
The show began at 7 p.m., and the venue was nicely filled. The parade of stallions introduced the breeds and gave some historical notes. The stallions worked alone, in pairs and in groups, sometimes ridden, sometimes in-hand. One of the more interesting acts involved Gasser working with three riders, showing how the horses are trained. Each horse was at a different level.
"It's important not to do too much," he said. "A good trainer knows when to stop, and you must reward them often. Anything forced is not beautiful. You must have your horse's trust and understanding."
The show was well-received, and the performers were available afterward to sign programs.
"Bringing these horses to the world is what we're all about," Gasser said. "I like them to experience these magnificent horses and share our joy in them. The response is just fantastic. I'm always grateful."
Learn more at www.galaoftheroyalhorses.com.