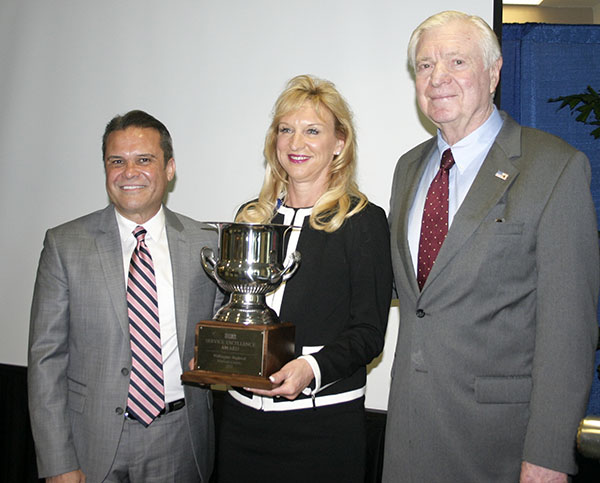 Alan B. Miller, founder and CEO of Universal Health Services, presented the UHS Excellence Award to Wellington Regional Medical Center on Wednesday, May 7.
The award is given annually to one of the 26 acute-care hospitals in the UHS family.
Miller said the excellence program was developed by UHS as an adjunct to professional service awards that are given by outside professional organizations.
"There are a number of criteria for the service excellence program," Miller said to several hundred staff and local officials attending the ceremony. "It's related to physician satisfaction scores, patient satisfaction scores and employee engagement — to be sure that the whole team is functioning the same way at a high level for the patient. I am very delighted that this hospital and all of you have been singled out to win this award."
Miller said the coveted award is extremely competitive and highly sought out within the UHS system.
"I have nothing to do with which hospital is selected," he said. "There is a very important group that determines this distinction, but I'm not involved with it. While my name is around this hospital in a few places, the award is yours. You have earned it."
WRMC CEO Robbin Lee accepted the award on the hospital's behalf. "We are just thrilled today to receive this award," she said. "We know that it is a reward that we all have earned. To get this award is one of the most amazing moments of my career."
Lee presented Miller with a Baccarat crystal vase finished with a gold image of a Thoroughbred horse. She also gave UHS Regional Vice President Frank Lopez a star to signify his support of the hospital.
All the directors were given certificates for their accomplishments.
ABOVE: WRMC CEO Robbin Lee (center) accepts the award from UHS Regional Vice President Frank Lopez and CEO Allen B. Miller.