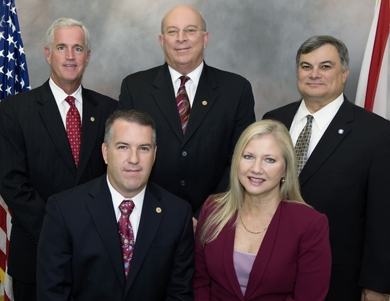 The Village of Wellington began crafting out a vision for its future this week. Discussing plans for everything from senior housing to community revitalization, parks and recreation to growth and development, Wellington Village Council members met Wednesday to begin laying out plans.
"The question is, how do we make sure we remain a vibrant, attractive community?" Village Manager Paul Schofield said.
The meeting, which spanned more than six hours, gave council members the chance to dig into some of Wellington's key issues, and more sessions will be scheduled for further discussion.
One of the major issues discussed was how Wellington can help its seniors age in place. Though council members discussed many options for housing, they ultimately directed staff to poll seniors and decide what level of "affordable housing" Wellington needs.
Schofield noted that the senior population (age 62 and older) in Wellington has risen to nearly 12 percent of the village's population.
"That population is growing," he said. "The Senior Advisory Committee is pushing for affordable senior housing. The two age-restricted communities we have right now are very in demand."
During the recent housing slump, Schofield noted that Buena Vida had the lowest foreclosure rate in the village. Similarly, housing in the Mayfair community is in large demand.
Director of Community Services Nicole Evangelista said that Wellington plans to roll out more community programs aimed at helping seniors.
"We're beginning an aging-in-place project," she said. "We want to give seniors the opportunity to live in the homes of their choice. We plan to provide a grant for improvements outside the home, whether that means a new coat of paint or other improvements. That will be coming forth to the council when we approve our annual action plan."
Councilman Howard Coates said Wellington has to decide what measures it can take to help on this issue.
"What can we really do?" he asked. "Buena Vida is not a product of Wellington. It's a private development coming in and doing what they have done."
Coates didn't want to see Wellington attempt to build affordable housing for seniors on its own, but thought the village should encourage private development to accommodate the village's senior population.
"I think our focus should be on what we can do to have private enterprises come in," he said. "I don't think we can do it ourselves. We don't have the capacity."
The second issue, he said, is where to locate such developments. He said two options are the Wellington Christian School site, if it does not become a charter school as planned, and the K-Park property on State Road 7.
"I'm not suggesting K-Park become a senior housing community," he said. "But when you look at what resources we have, we don't have a lot of options. I don't want to sacrifice our existing neighborhoods."
Councilman Matt Willhite said Wellington needs to first decide what kind of senior housing it wants. "Are we talking about communities like Century Village where they have different amenities?" he asked. "Or are we talking about ALFs [assisted-living facilities]?"
Schofield said assisted-living facilities often inquire about moving into Wellington and aren't the issue. "What is an issue now is people who are past retirement age, on fixed incomes and want to downsize," he said. "Where do they live? They want to stay in Wellington, but they need to live someplace more affordable."
Affordable housing is typically characterized as costing less than 25 percent of one's gross income, Schofield said. "If you look at some of the low-end rentals in Wellington, that is the sort of cost you are looking at," he said.
But Councilwoman Anne Gerwig disagreed, noting that many seniors want to own their homes.
"Our seniors don't want rental housing," she said. "Even if they are downsizing, they want to own. Many of them want to stay in their own homes."
Willhite agreed. "I think they want to own something," he said.
Evangelista said that about 81 percent of Wellington's seniors own their own homes.
Mayor Bob Margolis noted that Wellington launched a senior task force in 2008, which identified housing as a key issue. "They want to age in place, but not necessarily in their own homes," he said. "For some of them, maintaining their home has become a burden."
Margolis suggested looking at organizations that provide help for seniors to age in place.
But Gerwig was concerned that if Wellington uses public funds or grants to build senior housing, it will have to accommodate low-income residents from throughout the region.
"If we're getting grants and public dollars, we can't control who lives there," she said. "Our seniors aren't telling me they want to live in government-subsidized housing."
Schofield agreed that Wellington can't control who lives in government housing. "If government dollars are used, then we can't regulate who lives there," he said.
Gerwig stressed that the village's most successful senior communities — Mayfair and Buena Vida — were built at the impetus of developers.
"I don't see our role as providing funding, but in encouraging developers to build housing for seniors," she said. "If we can offset development costs because they are meeting a need, they might build it."
Vice Mayor John Greene said Wellington should identify areas that might be good for senior development, but not necessarily build it.
"If we step in to do it, I think it will miss the mark," he said. "We can look at ways to subsidize programs for our seniors, but I think making a significant investment in land or development is overstepping our role."
Director of Operations Jim Barnes noted that some seniors may not want traditional senior communities. "One of the reasons we were picked as one of the best places to retire is because of our senior activities and amenities," he said.
Willhite said his goal is for diverse housing options. "I don't want to see a bunch of assisted-living facilities," he said.
Coates said the 10 acres behind the Hampton Inn, near the Mall at Wellington Green, could be a great place for senior housing, and Margolis and Greene agreed.
"It's the perfect location," Margolis said. "It's across the street from the hospital and within walking distance to the mall."
Greene said trams could run from the complex to the mall, and he noted it was close to the NuVista assisted-living facility.
But Gerwig said she didn't think that was the right location. "I wouldn't want to live in a mall parking lot," she said.
Coates asked staff to look at some of the multifamily housing already planned for State Road 7 to see if senior housing could be incorporated.
Schofield suggested that staff poll seniors about their needs and return to the council with suggestions. "We can see what Wellington seniors want," he said.