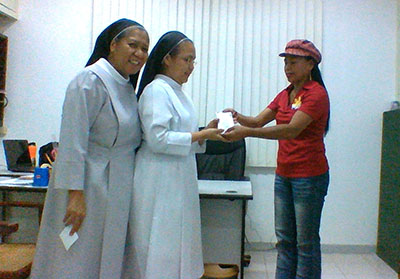 The public is invited to attend the 15th annual Philippine Summer Festival, hosted by the Philippine American Society (PAS) of Palm Beach County.
The festival will take place Saturday, June 7 from 10 a.m. to 5 p.m. in Yesteryear Village at the South Florida Fairgrounds.
This year's festival, with a theme of "Barrio Fiesta," is dedicated to the 16 million Filipinos who were affected by Typhoon Haiyan (known as Typhoon Yolanda in the Philippines). The storm was one of the strongest tropical cyclones ever recorded, and was the deadliest to ever hit the island nation.
Festival attendees can watch traditional dancing demonstrations, see heritage clothing worn by local Filipinos, taste authentic cuisine, listen to Filipino music, hear speeches about the country's culture, and take part in a special dedication and moment of silence for the 6,200 victims whose lives were lost in the typhoon. Children can watch and participate in traditional Filipino games. Admission is $5 per person, with children ages five and under admitted free. Money raised from the gate fee will go to ongoing typhoon relief and financial aid scholarships.
Filipinos around the world will celebrate the country's Independence Day five days after the festival on June 12. This year's festival also gives recognition to this part of Philippines history.
PAS President Marlyn Sepanik personally visited the affected area in the Philippines to participate in typhoon relief efforts in April. While there, she presented donations to Divine Word Hospital in the typhoon-wrecked Philippine city of Tacloban, on behalf of PAS.
"Seeing the damage firsthand was horrifying," Sepanik said. "But it gave me a greater understanding of how deep the need continues to be in our mother country. We are proud to continue to support our people, many of whom are still suffering the after-effects of the storm."
To date, the PAS has given more than $25,000 to typhoon victims, through the help of personal donations by concerned local Filipinos in the Palm Beach County community, and multiple fundraisers, such as an auction, garage sale, fun-run and Zumbathon.
"Every year, we strive to make the summer festival a family-friendly, fun event that celebrates our heritage and shares our rich culture," Sepanik said. "This year, in particular, we aim to unite all Filipinos and community supporters under the same goal of assisting typhoon victims."
Vendors and sponsors for this year's festival are still welcome. Call Mercy Abellana at (561) 315-2316 for info. For more about the festival, call Sepanik at (561) 289-0837, Christina Regino at (561) 723-9323 or Conchita Mateo at (561) 386-1209.
ABOVE: PAS President Marlyn Sepanik presented a donation to the Community of Benedictine Sisters of Divine Word Hospital.