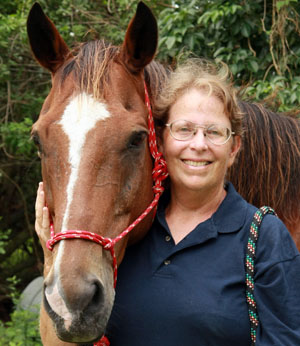 TALES FROM THE TRAILS
Summer vacation is almost here. It's the time of year parents dread and kids crave. There are lots of options for filling all those empty hours, and one of them is a riding camp.
Before choosing one, it's important to do your homework. Start by talking with your child and finding out what she (or he) would prefer in terms of riding opportunities and other activities. Be realistic about riding ability, and make sure the camp offers horses and programs that will meet her needs. If she owns her own horse, would she be able to bring it?
Safety is paramount to every other consideration. What are the staff's qualifications? What's the staff-to-camper ratio? What's the camp's safety record? Another important factor is cost. Can you sign up for one day, or is a week or two the minimum?
There are quite a few riding camps in the area. Here are just a few.
Melissa Mazer is a working student at Snaffle Bit Farm in Loxahatchee Groves. This year, she was selected by owner Sharon Andersen and head trainer Douglas Bruce to run the summer camp, June 9-13 and June 23-27, from 9 a.m. to 2 p.m. It costs $220 per week or $50 per day and accepts children ages 7 to 18.
Horses are matched with the rider's ability, and students ride an hour each day. The rest of the camp time is devoted to learning about the horse, grooming, care, tack, safety, crafts, a snack break and water activities. At the end of each week, there's a pony painting and pizza party.
"I have 31 years of riding experience in hunter/jumpers and have competed on the horse show circuit for many years," Mazer said. "I value the importance of educating people on horse care and basic instruction. I feel that safety, organization and knowledge are three key aspects to running a summer camp. During the school year, I'm a school nurse for Palm Beach County."
Mazer said that when choosing a camp, parents should look for a safe, reputable farm.
"Having a highly educated staff and riding instructor on the property makes a huge difference," she said. "The child should have an interest in camp activities, because a high interest level will allow for better learning and a more enjoyable time. The best way to find out if a child is comfortable at a camp is to bring her out to the facility, meet us and take a tour. If a child hasn't had much time around horses, this is a good way to get her a bit more comfortable with the camp setting. Also, the parent can get a feel of the child's true interest level. Snaffle Bit Farm is a beautiful facility. Our trainer, Douglas Bruce, is an 'R' judge in hunters and equitation and has a stellar reputation in the equestrian community. His knowledge and expertise have guided many riders to success. If students are looking to pursue riding after camp, Doug offers lessons and training to beginner through advanced riders, and we compete on the show circuit from small local shows through WEF."
For more information, call Snaffle Bit Farm at (561) 818-1391 or visit www.snafflebitfarm.com.
Sandi Johnson runs Jupiter Equestrian Camp, set for June 6 through Aug. 15, 9 a.m. to 2 p.m., for children 5 and older. The options include riding five days a week ($350), three days a week ($250) or one day a week ($175), plus all the other camp activities: grooming, tacking up, riding games, horsemanship, swimming, boating, fishing, nature hikes, arts
and crafts, activities with petting zoo animals, and riding bareback in the lake. The daily rate for all activities and riding is $75.
"We have 32 horses and ponies of all levels," Johnson said. "Our professional staff includes three trainers and an activity director. Safety is always our first concern. We encourage anyone interested in our camp to stop by. We're looking forward to a spectacular summer."
For more information, call Jupiter Equestrian Camp at (561) 373-3952 or visit www.jupiterequestriancamp.com.
The Staffordshire Equestrian Center in Boca Raton offers five sessions, June 9-13, June 23-27, July 7-11, July 21-25 and Aug. 4-8, for children ages 6 to 14. It is held 8:30 a.m. to 2 p.m. and follows the U.S. Pony Club curriculum. Owner Sarah Hyers is a USHJA-certified trainer.
"We're kind of different," Hyers said. "We offer a lot of riding and horse-related activities that stress having a lot of good, old-fashioned fun. Our kids go outside and play. This is not the place to wear nice, clean clothes."
Taking care of horses is important to the program.
"In addition to grooming and riding, we're cleaning stalls and water troughs, painting fences — all the stuff you have to know about if you plan to keep horses," Hyers said. "Our camper/counselor ratio never exceeds four-to-one, and we have a barn buddy system, so no camper is ever alone."
What to look for? "Well-fed, friendly horses with their heads hanging over the stall doors," Hyers said. "A neat and tidy barn. A knowledgeable, qualified, experienced staff that has had background checks done. Come out and visit us, any day, any time."
For more information, call Staffordshire Equestrian Center at (561) 445-3946 or visit www.staffordshireequestriancenter.com.
Linda Smith owns Happy Endings Farm in Wellington. Its camp for children 6 through 18 runs June 9 through Aug. 15. They take up to 10 campers daily, and offer English and jumping riding, horse care and grooming, arts and crafts, and seminars by local farriers, vets and equine massage therapists. Fees are $300 per week or $75 per day.
"Safety is our top concern," Smith said. "We also have pony play time for children under 5. It runs Saturdays from 9 a.m. to 1 p.m. and is a great way to introduce little ones to riding and horsemanship. When making sure a camp is a good fit for your child, I'd suggest taking a lesson. You should look for well-behaved horses and instructors who have empathy for the children. No yelling!"
For more information, call Happy Endings Farm at (561) 436-0854 or visit www.happyendingsfarm.com.
Lori Cooper owns Casperey Stables in Loxahatchee Groves. The camp for children ages 7 to 14 runs in two-week sessions, June 9 through Aug. 15, from 9 a.m. to 3 p.m. Children have three riding opportunities each day, along with horse care, horseback games, and arts and crafts. The last day of camp is a horse show and family cookout.
"We're very safety-oriented, licensed and insured," Cooper said. "Our instructors are not just horse-smart, but also great with kids. We have kids of all abilities, from rank beginners to those bringing their own horses. Our horses are all hand-picked for their willing dispositions. I'd advise parents to stop by, check our safety record, maybe take a lesson. Bottom line, you have to feel comfortable leaving your child where they'll be safe and have fun."
For more information, call Casperey Stables at (561) 792-4990 or visit www.caspereystables.com.