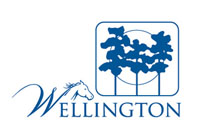 Struggling to maintain a balance between Wellington's growing equestrian industry and preserving the area's character, members of the Wellington Village Council asked its staff this week to draft recommendations for changes to the Wellington Equestrian Preserve.
At a workshop Tuesday, May 20, council members asked village staff to bring forward specific issues so that the council can craft out a future vision for the Wellington Equestrian Preserve.
"We just want a starting point," Councilman Howard Coates said.
In the two-hour discussion, council members stressed the need to balance the competitive equestrian industry that is already here with the interests of more casual, year-round residents who wish to have access to bridle trails and other safe places to ride without congestion.
"We want to help benefit the industry, but we need to make sure we're balancing that," Councilman Matt Willhite said. "We don't want to choke what's already out there."
Wellington Projects Manager Mike O'Dell told council members that there are 1,703 parcels on more than 8,000 acres of land that is privately owned in the Equestrian Overlay Zoning District (EOZD). About 240 parcels are vacant.
Of the remainder, 729 of the properties are used for equestrian purposes, and 636 that are single-family homes with no barn or other equestrian use.
O'Dell said there is the possibility for the number of properties with equestrian uses to double, effectively doubling the intensity of the equestrian preserve.
"There are 815 stables with 9,257 permanent stalls," O'Dell said. "We average between 2,500 and 3,000 temporary stalls during season. Right now, we have in permitted use 12,300 stalls during peak season."
Councilwoman Anne Gerwig asked for clarification. "Are you suggesting that number can double?"
O'Dell said there is that possibility, though it is not likely.
"I want you to understand that although not all parcels that are vacant or single family will convert, we could raise another 4,000 to 6,000 stalls," he said. "We could go from 12,000 stalls during season to something between 16,000 and 18,000 stalls."
Mayor Bob Margolis asked how that translates to the number of horses in Wellington.
O'Dell said his staff estimates that about 3,000 to 4,000 horses live in Wellington year-round, with that number jumping to 6,000 horses by Dec. 1 each year. At the peak of the season, from January through March, about 12,000 horses reside in Wellington.
"We're equating one stall to one horse," he said.
Gerwig asked whether that accounts for the horses being trailered in from outside of Wellington.
"We can't tell how many are day visitors," O'Dell said. "You can see horse trailers coming in on a regular basis, but it's difficult to monitor that number."
The Palm Beach County Property Appraiser's Office values the Equestrian Preserve Area at roughly $1.76 billion, with $1.23 billion in taxable value, O'Dell said.
Among the decisions the council will have to make, he said, are ways to manage growth, expand bridle trails and manage manure.
When the EOZD was created in 1999, O'Dell said the goal was to preserve and protect the neighborhoods, conserve open space for equestrian trails and promote green space by including clustered development. "The goal was to maintain the rural character and overall density of the area," he said.
He noted that the preserve has changed vastly since 1999, and council members would have to decide what exactly they want to preserve and protect.
"What specifically are we preserving?" O'Dell asked. "The horses? The land? The lifestyle? Or is it all of the above? We have to ask ourselves what we see for the future of the Wellington Equestrian Preserve."
Coates asked what the original vision for the equestrian industry in Wellington was.
"Within the original vision, how much focus was there on an equestrian industry?" Coates said. "From my standpoint, that seems to be out of everybody's control. There is an industry, whether it was envisioned or not, and it affects a very substantial number of people in this area. We have to deal with it."
Village Manager Paul Schofield said when the EOZD was drafted in 1999, the industry in Wellington was much smaller.
"What existed in 1999 was far less," he said. "There were only two significant venues, and they were significantly less intense than it is today."
Those venues included the Winter Equestrian Festival, which was then run by Gene Mische.
"Their best day all season was probably your average Wednesday or Thursday out there today," Schofield said.
There was also polo, which Schofield noted has grown substantially since then.
"It was not as intense as what is being played at the International Polo Club today," he said. "We have the same patterns as we did in 1999, but what has changed overall is the intensification."
Though the comprehensive plan amendment to create the EOZD did not address specific visions for the equestrian areas — such as limiting intensities or development — Schofield noted that Wellington has long tried to create an equestrian master plan.
"We've been trying to get it for 12 years," he said. "It always dies at the Equestrian Preserve Committee level."
Last year, a draft of an equestrian master plan made it to the council, but was voted down, Gerwig noted. "I lost that vote," she said.
Schofield said drafting one vision for the equestrian area is difficult because there are very diverse, vocal sects within the community.
"It's always died because of conflicts in the equestrian community," he said. "The equestrian industry we have today is very different than what was envisioned in 1996 [when Wellington was incorporated]. They didn't envision WEF would have 10,000 visitors per day."
Coates said that although he wants to honor the original vision for the equestrian area and preserve the lifestyle of year-round residents, he doesn't want to stifle the industry.
"If we cut industry off completely, then I believe the property will collapse," he said. "If you don't have the shows and polo, I don't believe people would stay in the higher-priced parts of this area. From my understanding, the closer you are to the venues, the higher your property value is."
Schofield noted that during the downturn, homes closer to the show grounds and other venues maintained their property values better.
"You don't want to kill the goose that laid the golden egg," Coates said. "We need a thriving industry."
Schofield said that although the EOZD has rules and regulations, they are vague and often manipulated for the benefit of whomever is using them. "There's more than one way to interpret them," he said. "People use this to their advantage because of the lack of specificity."
Crafting a more specific vision would help Wellington manage its future as an equestrian destination, whatever that future may be.
"You have to decide what your vision is for the equestrian community," Schofield said. "What do you want to preserve?"
Council members asked staff to present some options to the Equestrian Preserve Committee and the council for discussion, opting not to bring in a consultant.
"I'd like to see staff advise us as to what the issues are," Coates said. "At least we will have specific things submitted to us that we can decide on. I'm not in favor of going out to a professional group because I'm not sure any group would have a unique understanding of the issues in this community better than what the people on the committee bring to the table."