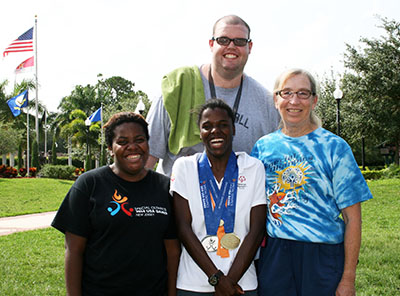 Danielle Hutton recently placed first in the 800-meter walk, second in the 400-meter walk and sixth in the 100-meter relay at the Special Olympics 2014 USA Games.
Hutton has been involved with the Special Olympics since she was 10 years old. Now 22, she has long been a dedicated athlete. Track and field, bowling and equestrian activities are Hutton's events of choice.
Since discovering that she had qualified for the national Special Olympics last year, Hutton increased her training schedule with longtime coach, Karen Woods.
Woods has been involved with the Special Olympics since the 1970s, when she helped establish a program in Venezuela, a country she was familiar with because of her work with the Peace Corps. Previously, Woods was the head coach at Western Pines Middle School, but since retiring, she is the assistant coach and the walking coach.
Qualifying for the Special Olympics is not an easy task, Woods explained. First, Hutton had to compete at county events. Then, there are the area events. If you don't compete at a county event, you cannot compete at an area event. For a chance at the state games, you must place first at the area games.
After qualifying at the area games, there is a random lottery to compete at the state games. For those who compete at the state games, their names are then placed in a second lottery to compete at nationals. The system is designed to give everyone an equal chance.
Hutton was chosen twice, with the second time earning her a plane ticket to New Jersey, the 2014 Special Olympics location.
Instead of the typical weekly practice, Hutton, along with friends Robin Talbert and Matthew Cherry, began a twice-weekly training regimen with Woods, who often brings along her Yorkshire terrier, Little Boy Wellington.
Hutton and Talbert met as pre-teens and became close friends. Cherry later joined the two friends to form a close-knit trio, and they enjoy the fresh air and sunshine that comes along with practice.
For the last decade or so, Hutton, Talbert and Cherry have competed at various Special Olympics events. Talbert, 22, enjoys equestrian events and swimming. Along with Woods, Talbert often trains and volunteers at the Vinceremos Therapeutic Riding Center in Loxahatchee Groves. Cherry enjoys walking, running and participating in softball leagues.
Though not competing with Hutton at the national Special Olympics this year, Talbert and Cherry continued to train. Talbert likes practicing with Hutton and Cherry because she wants to support Hutton, enjoys walking and enjoys the social aspect of training. Cherry likes to walk, sometimes run, and enjoys "just hanging out with the girls."
The three athletes call themselves the "Hip Hop Walkers" because they all enjoy hip hop music and dance for their post-workout cool-down.
The Hip Hop Walkers have an amazing support system encouraging them every step of the way. Only-child Cherry has the support of his parents, friends and coach, all cheering him along. Talbert also has three brothers encouraging her. And Hutton practically has a hockey team rooting for her, with 16 brothers and sisters.
Community, area and state games have given the trio many traveling adventures and the opportunity to make friends from different locations. Seeing friends at state tournaments is one of the best parts about competing, Hutton said.
The Special Olympics provided Hutton with her first experience flying.
Looking out the window was an experience for Hutton, who thoroughly enjoyed the trip to New Jersey, where she not only competed, but she also met friends new and old.
"I just want to emphasize how much our family appreciates what these guys have done for her. They're part of her team," said Gary Hutton, Danielle's father.
Given the opportunity, Hutton, beaming with pride, said she would definitely compete again, and that the intense training was worth the effort.
"I am very proud of her," Woods said. "Danielle is a very coachable young athlete and followed through with her workouts. Because of that, she got better at each stage, from county, through area, through state and then national games. Every time she got a little better, and her competitive spirit kept her going."
To learn more about the Special Olympics, visit www.2014specialolympics.org, www.specialolympicsflorida.org and www.facebook.com/AcreageAthletes.
ABOVE: Danielle Hutton (center) with friends Robin Talbert and Matt Cherry, and coach Karen Woods.