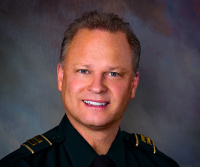 Despite several recent high-profile incidents, crime in Wellington is down overall.
Palm Beach County Sheriff's Office District 8 Capt. Jay Hart told members of the Wellington Village Council on Tuesday that Wellington has continued to see a decrease in crime, although traffic crashes continue to be an issue.
"Crime is down in Wellington 32 percent since 2009," Hart said. "I'm very proud of our deputies, and I think the numbers speak for themselves. You can still have one bad week, or one bad month, and the numbers will spike back up, but crime is down overall."
But several recent cases — the shooting death of a gas station clerk and bomb scares at a bank — have put Wellington in the headlines.
"It seems like everyone has a feeling of uneasiness," Councilwoman Anne Gerwig said. "I want you to let us know what you're doing to change that. I've heard people say, 'That's the way it is now,' and that's not acceptable. I know it's not acceptable to you."
On Friday, May 30, an unknown suspect shot and killed 22-year-old clerk Shihab Mahmud during an armed robbery at the Chevron gas station on Forest Hill Blvd. Gerwig noted that high-profile incidents like this are rare in Wellington.
"It was sort of a random occurrence," she said. "It's not something that happens here a lot."
Hart said detectives are hard at work trying to solve the case.
"We have put hundreds if not thousands of hours into this case," he said. "We have a suspect, but it's still an ongoing investigation. That's all I can say about it. But we are doing something."
Gerwig asked what could be done to prevent future incidents. "Are there any safeguards?" she asked. "Have you gotten the word out to other businesses that may be vulnerable?"
Hart noted that businesses such as gas stations must have at least two employees working or the doors to the business locked overnight. He said deputies are alerting business owners and more heavily enforcing the law.
"It's unfortunate that he was alone that night," Hart said. "Our deputies are going around and checking. If they go in and there's only one employee working, they are making sure the door is locked or having them call someone else in. I assure you, our deputies are out there every night working hard to prevent this from happening again."
On Tuesday, a bomb threat was called into the SunTrust bank on Forest Hill Blvd., causing the evacuation of it and nearby buildings. Gerwig noted there was a lot of confusion surrounding the incident.
"What are we supposed to do when we see that?" she asked. "How do we find out, as a citizen, what is going on? Is there an information line?"
Hart said unless the municipality has an alert system for residents, it is reliant on the news media and social media.
"We release a certain amount of information to the media, and you have to rely on the media to get it out to the public," he said. "In this case, we received a phone call that there was a bomb in the bank. We have to take those seriously. We did what we had to do to make everyone safe."
No one was injured in the incident, but a similar call was made Wednesday morning to the same bank.
Despite these recent incidents, Hart said that his deputies have been successful in cutting crime. The street team has been particularly successful in curbing drug crime, he noted.
"They have done a tremendous job," Hart said. "Over the last six months, we have made some great gains."
The unit has confiscated 3,000 grams of marijuana, 16 vehicles and $30,000 in cash and forfeitures, he said.
"We opened 80 new cases and arrested 81 suspects," Hart said. "I'm proud that this unit is out on the street doing what they need to do. They are working up the food chain from the dealers on up."
Wellington has also seen 30 burglary arrests in the first six months of the year, along with a 21 percent decline in burglaries, and a property crime rate that is 25 percent below the average.
"I think we're on track to beat the previous year's crime trends," Hart said.
Although deputies have been policing public parks, Hart said one concession stand at Village Park has been a target for burglars.
"We had three business burglaries, and all three were to the same concession stand," Hart said. "We set up deputies in the stand, but unfortunately they never hit while we were there. It seems to have stopped."
Gerwig noted that it seemed fewer vehicle burglaries were being reported. Hart said the arrest of two juveniles saw that rate go down.
"We had an uptick in break-ins," he said. "Once the juveniles were arrested, it has gone down again. But summer is here. It only takes one kid who goes out and breaks into 12 cars to challenge our numbers."
Deputies have also stepped up enforcement of commercial vehicles that travel through Wellington, making 69 stops in the past six months.
"We feel that has made a huge impact on truckers," Hart said. "When they know they're going to get stopped or inspected, they either stay out of the Village of Wellington or comply with the law. I feel confident if we stay on enforcement, we will see more of them choose to take State Road 7 and Southern instead of cutting through."
But traffic crashes continue to be a problem, Hart said, largely because of distracted driving.
"In the first part of the year, we were doing well," he said. "However, there has been an uptick in traffic crashes since March 31."
Hart said that crashes are up 29 percent, with 892 crashes compared with 665 at the same time last year.
"It's texting and driving," he said. "We know it. But until it's made a primary offense, it's very hard to enforce."
The goals for the remainder of the year are to continue to lower the property crime rate, push for traffic safety, monitor juvenile crimes and protect equestrian interests.
Hart said there have been several issues in equestrian areas, particularly with golf cart thefts.
"There have been a lot of golf carts stolen from the equestrian area," he said. "At the end of the season, they will load stolen golf carts up on a tractor-trailer, and then they're out of here."
ABOVE: PBSO Capt. Jay Hart.