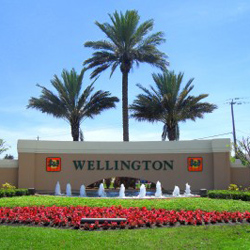 Trees in the Eastwood community blocking Wellington's canal right of way probably will be cut down this summer so workers can complete a canal maintenance project in the area.
Despite protests from some residents, members of the Wellington Village Council gave the go-ahead on the project, which is part of drainage improvements to help water flow throughout the village.
"At the end of the day, you recognize what has to be done," Councilman Matt Willhite said. "Work the best you can. Try to impact the residents as little as possible, but make sure the rest of our homeowners are not affected by the fact that the canal has to be worked on to improve drainage [throughout Wellington]."
During a presentation Tuesday night, Public Works Director Mitch Fleury told council members that village staff wants to dredge the canal and must remove any trees or other objects within 25 feet of the canal bank.
Trees, fences and bushes are blocking the way, some of them even growing atop major water mains, he said. "Even if it's just one tree on the canal, we won't be able to go down it," Fleury said.
Although Wellington owns the property within 35 feet of the canal, many residents have allowed plants and trees to grow, and some have put up fences blocking the easement.
"[Village Engineer] Bill Riebe asked for 35 feet — 25 feet is our compromise," Fleury said.
The village has already completed several similar projects in communities across Wellington and had only one complaint from a homeowner, Fleury said.
"But we haven't yet been to a neighborhood with these small lots," he said.
Of about 115 homes along the canal, Fleury said 41 of the properties have trees, fences or vegetation that are within the 25-foot buffer. The two canals in the Eastwood community provide drainage for about 1,000 homes, Fleury said.
He said his concern is that during a storm, trees could fall into the canal and cause a blockage.
"It isn't like it's an open-ended canal," Fleury said. "If something was to happen, it affects 530 acres and 1,000 homes."
But residents of the community asked the council to protect the trees and other foliage. Three residents spoke at the meeting, all opposed to cutting down trees along the canals.
"Many residents feel the trees are to be cherished for their beauty, their shade and their homes for our wildlife," resident Karen Holme said. "The trees are beneficial to preventing erosion and keeping our water clean."
Resident James Bowser said the need for canal dredging is overstated. "I don't think we need to dredge the canals," he said. "I think they have adequate capacity. There is sediment in the canals, but not enough to merit this. I appreciate what staff would like to do, and I agree that removal of invasive vegetation should be done. But dredging this canal… is more of a 'like to have' than a 'need to have.'"
Oren Brenner agreed, noting that the village would be doing a clear-cut, with no regard for the types or ages of the trees along the canal.
"I have two large oak trees roughly 18 feet from the canal," he said. "Those trees have great value. When we moved here… we bought the house because of the trees and the neighborhood. This isn't just a small item for us, it's our way of life."
He pointed to Wellington's accolades as a "tree city" and the laws the village has passed to protect green space.
"I would ask that the city adheres to the same restrictions it imposes on its residents," Brenner said. "We are not facing an imminent flood."
Councilwoman Anne Gerwig noted that many residents inherited the trees. "Most of the people living in these homes didn't even plant them," she said. "They don't want to have to pay to remove them."
Several council members asked whether Wellington could pay to move the trees.
"Has anyone requested that the trees be moved to their property?" Councilman Howard Coates asked.
Village Manager Paul Schofield said it may be possible.
"Typically, we cannot make an expenditure on private property," he said. "But as there seems to be a public purpose, I think we can do some transplanting."
Gerwig asked that staff look into it. "They are expensive trees," she said.
But Willhite said he didn't necessarily support using taxpayer money to move trees for private residents. "They are expensive to move, too," he said. "Each could cost a couple of thousand dollars."
Coates asked whether there is a plausible scenario where trees would not need to be clear-cut.
Schofield said there was not. "We have compromised," he said.
Coates reiterated that originally the request had been for 35 feet of clear-cutting. "So the compromise is 25 feet?" he asked.
Schofield said that was correct.
Gerwig said she would like to find a way to work around the trees.
"If there are trees we can work around, work around them," she said. "If you can help residents move them, then do that. This is not a situation they created. We have to work together to look for the best solution."
Though the current residents might not have created the issue, Willhite said they still have to deal with it.
"We want to work with residents, but you planted on our property," he said. "They have encroached onto the property. If we say we're not going to cut [the trees] down, how big will it be in another 10 years?"
Willhite said it's important that Wellington dredge the canals, and that it wouldn't be fair to take down some trees and not others.
"We can't pick and choose on which property we cut the trees down," he said. "It's not fair to the other residents if we cut down one tree and not another."
Council members gave consensus for Fleury to continue forward with the plan.
"I think you can see this council supports what you are doing," Mayor Bob Margolis told Fleury. "You are not the enemy."
Fleury said he was trying to do what was best.
"I would not be doing this if I did not think it was the best thing for Wellington," he said.