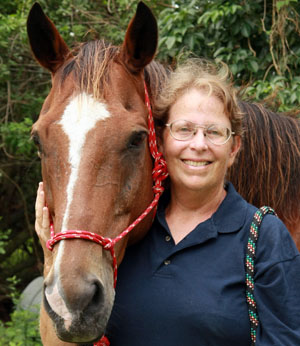 TALES FROM THE TRAILS
Onyx, a miniature horse, was in bad shape when she arrived at the Good Earth Farm in Loxahatchee Groves four years ago.
"She's in her 30s," owner Nancy Fried-Tobin said. "She was super-skinny, and we got some weight on her, but then, about a year ago, she developed choke. She had repeated bouts. The last attack was so bad, the vet almost put her down, but she pulled through. Now it's a permanent condition. The tiniest piece of food could kill her."
Choke is a condition where the horse's esophagus is blocked, usually by food. Although the horse is still able to breathe, it can't swallow, and may become severely dehydrated. A secondary condition, aspiration pneumonia, may also develop if food material and saliva accumulate in the pharynx, spilling into the lungs. Horses with dental problems, or who bolt or don't chew their feed thoroughly, are at risk of developing choke. Dry foods may cause choke, especially if the horse doesn't have free access to water.
Treatment includes feeding softened food for a few days, allowing the esophagus to heal, before gradually resuming a normal diet. Horses with recurring chokes may require a permanent diet change, and that's what happened with Onyx.
"She stays in a stall without shavings, only mats," Nancy explained. "When she goes out, she wears a muzzle so she can't graze. We feed her a smoothie made of pulverized Equine Senior and water mixed in a blender five times a day. It's a lot of work, but this old girl is very special. She deserves all the TLC."
What Onyx also needed was a special friend, so Nancy placed an ad on the Wellington WEF message board (www.wellington-wef.com). And who she found was Sophia Marano.
Sophia is 10 years old and lives with her family in Royal Palm Beach.
"I come to see Onyx every day for 30 to 40 minutes," Sophia said. "I braid her mane and paint her hooves and walk around with her. We walk everywhere. We take a little tour and go see the cows and chickens and other horses and the pond. I talk to her, tell her pretty things about her. I wish she could talk back."
In short, Sophia loves spending time with Onyx.
"She's very calm. Other horses want to run, or eat grass, or do things, but she doesn't. She's happy to walk around with me," Sophia said. "She whinnies to me when she sees me coming. She's my playmate. When I'm bored, I can come here anytime I want and spend more time with her. She's so cute and little. I wish she were bigger so I could ride her. There's another horse here that I do ride named Jordan. I'm going to lease Jordan for the summer. I'm going to ride him a lot and get him in shape. I'm going to take lessons on him and learn to jump. But I wish I could ride Onyx."
Sophia has support from her family. "We're
really thrilled coming out to the Good Earth Farm," said Robert Marano, Sophia's father. "I want to thank Nancy for giving us the opportunity. Sophia used to ride at a stable down in Boca, but we really like it here. It's a lot closer, of course, but it's also nice and quiet; a great way to get away from everything and enjoy a different, safe environment. It's a lot of fun, being here."
Onyx is only one of the Good Earth Farm's therapy equines. She, along with a few other minis and ponies, are used in hourly sessions every Monday and Tuesday from 9 a.m. to noon, through September.
"We've started this program for kids and adults," Nancy said. "Clients groom the ponies and take them for walks. We have an obstacle course they can do, or they can just wander around the farm. We're wheelchair-accessible as well. Some people read to the ponies or have a snack with them. One lady, who used to be a hairstylist, bathes a pony, shaves its muzzle and does its mane."
Being around horses helps with depression and other problems, she noted.
"You can focus better. Touching them grounds you and gives you pleasure," Nancy said. "And because they're so small, they're not at all intimidating. People can get overwhelmed by a large horse, but not with these. Anyone can benefit, and it's really affordable, only $20 a session plus a bag of carrots."
For more information, call Good Earth Farm at (561) 792-2666.