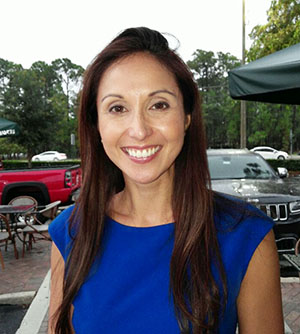 Attorney Michelle Santamaria, daughter of term-limited District 6 County Commissioner Jess Santamaria, qualified for the ballot Wednesday to run as an independent candidate in the race to succeed her father.
She joins Democrats Kathy Foster, Melissa McKinlay and Fred Pinto, and Republican Andy Schaller, in the race. As of Wednesday, only McKinlay, Schaller and Santamaria had qualified for the ballot. UPDATE: Foster qualified for the ballot on Thursday.
Santamaria said she is running because she thinks her experience, as a criminal prosecutor and work with local nonprofit organizations, makes her a good candidate.
"Originally, I wasn't going to run," she said. "I've given this a lot of thoughtful consideration. You may wonder why I'm running at this time. I've heard it from many people going back for years, and it's not until recently, hearing it from my own peers, from people in the county, and people unrelated to the county who have just known me forever. At this time, it is a great fit as far as my background as a criminal prosecutor."
Santamaria is an almost lifelong resident of Palm Beach County. She was born in Philadelphia, and her family moved to Palm Beach County when she was 9 months old.
She attended H.L. Johnson Elementary School and Crestwood Middle School. "I would have gone to high school here, but my family has been here for so long that there wasn't even a high school here," she said.
Her background as a criminal prosecutor in the county has given her a good look at public safety throughout the county and the issues it deals with, Santamaria said. She has also seen the challenges her father has faced, particularly in addressing inequities, illegalities and unethical practices in the county, and the struggles he has faced in establishing the Office of Inspector General to correct those practices.
"I've really seen what my father has gone through the last eight years, the good and the bad," she said. "It's amazing when people come up to me and say what great work he has done, and I'm really proud of that. We have the same core values because I am his daughter, but at the same time we are different in several ways."
She said although she and her father's styles are different, she loves the concept of an independent inspector general that he has had such a hard time implementing.
"I can see how it could be so frustrating, something that is so good," Santamaria said. "As a criminal prosecutor, I'm going to be on board with that concept of getting rid of corruption, having good ethics in Palm Beach County, and having someone to oversee and make sure that everyone stays in line."
Santamaria said she has difficulty understanding why numerous public officials have thrown obstacles in the way of the Office of Inspector General.
"We can't be Corruption County," she said. "That is not something that we want to be, but it will take people to stand up for what is right and support things that are positive for the community, specifically the inspector general."
Formerly with the State Attorney's Office, Santamaria now has her own business coaching witnesses how to testify in court.
"I saw from my trial experience, witnesses were having trouble on the stand and were getting manipulated by shrewd defense attorneys," she said. "I developed a class that would get rid of the mystery of what to expect in court from the prosecution, the defense, the judge and the jury."
It started out in Palm Beach County and grew statewide, then went national.
"The Federal Bureau of Investigation picked it up about a year and a half after I started the company," she said. "The FBI approached me and said, 'Hey, we'd like to bring you in to train our expert witnesses.' These are the best of the best FBI agents from across the country. I was very thrilled to take my company from my own hometown and develop it into a national company."
Santamaria has now trained hundreds of agents from across the country on how to provide effective testimony.
"I love trials," she said. "I went to Stetson Law School in St. Pete. It is the number one law school in the nation for trial advocacy, according to U.S. News & World Report at the time. I've always enjoyed public speaking, so when I got there, I tried out for the trial team."
Only 5 percent of those who try out earn a spot. "I was lucky enough to be selected," she said. "From there, I got into being a criminal prosecutor because my passion is trials."
Santamaria said she also likes wearing the white hat and doing what's right.
"It's a tough job being a criminal prosecutor," Santamaria said. "There's good, there's bad, it's tough work, but it's an admirable career."
Santamaria sees herself as a consensus-builder.
"As a prosecutor, we've got to talk to six members of the jury to try to educate them to the facts of the case, what happened and why a criminal defendant should be found guilty," she said.
Santamaria said she is not daunted in running for the county commission with no party affiliation in a heavily Democratic district on a ballot with national candidates because she intends to let people know who she is and what she represents.
"I have always been no party affiliation," she said. "When I first registered to vote, I didn't feel that any person could completely align with one side. Maybe you agree with one side on certain points and with the other side you agree on certain points. That's why I picked no party affiliation."
She said many people are dissatisfied with the party process.
"People are smart," Santamaria said. "People are reading up on things, and just because you're one party or another, if you start talking to people and ask them if they vote 100 percent with their party, or do you actually take a look at the facts, look at the candidates, and you decide? People are changing. They're fed up with the system the way it is."
ABOVE: Michelle Santamaria