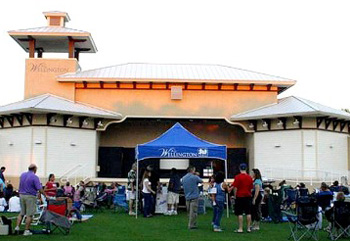 The Village of Wellington will be rocking through the ages all summer long with its new Tribute Concerts & Food Trucks series, beginning this weekend at the Wellington Amphitheater.
On Saturday, June 7, the free concert series will kick off with a focus on the 1950s, featuring a Frank Sinatra tribute followed by a '50s tribute by Viva. A fleet of food trucks will be serving up great food from 5 to 10:30 p.m., with music beginning at 6:30 p.m.
Twice a month, residents will have the chance to hear some of the best music from decades of the past, starting with the '50s, then grooving into the 1960s, 1970s and 1980s.
"It's going to be the best music of each of those decades," Cultural Programs & Facilities Manager Joe Piconcelli explained. "Each concert will feature a prominent singer from that decade, and then the band will come on and play some of the decade's top hits."
It will also be a return of Wellington's popular Food Truck Invasion, which brought the community out on Thursday nights during the winter season. Although the Thursday program is on summer hiatus, residents can still visit their favorite food trucks as part of the concert series.
"You can come have dinner and enjoy live music," Piconcelli said. "It's a great night out with family or friends."
Saturday night will kick off with a Sinatra tribute by Denny Artache at 6:30 p.m. Then, the classic rock 'n' roll group Viva will take the stage.
On Saturday, June 28, the series will continue with a tribute to the '60s. The night will begin with a hip-shaking tribute to Young Elvis, followed by a melody of hits from the decade by the Orange Sunshine Band.
Next month, residents can enjoy a '70s tribute on July 12, with the Almost Manilow tribute to Barry Manilow, followed by the Studio 54 Band. Wrapping up the series will be the 1980s, with Neil Zirconia's tribute to Neil Diamond, followed by the Lazy Bones Band with an '80s medley.
Wellington often pays tribute to famous bands with great concerts, but Piconcelli said he wanted to give residents something more this summer.
"Instead of a tribute to the original band, I decided to do a tribute to the decade," he said. "Each of these bands are spectacular, and they play all of the hits from that era."
The concerts are free and open to the public, while those hoping to indulge in delicious treats should bring money for food trucks.
"Bring your blankets, bring your chairs, but don't bring food — come hungry," Piconcelli urged.
For more information, and a complete schedule of Wellington Amphitheater events, visit www.wellingtonfl.gov or call (561) 791-4000.
ABOVE: The Wellington Amphitheater.