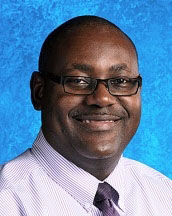 Palm Beach Central High School in Wellington will soon have a new principal. Darren Edgecombe, formerly principal at Gove Elementary School in Belle Glade, will be taking over for Butch Mondy, who is retiring.
"It's very exciting," Edgecombe said. "It's a career opportunity, a nice career path going back to high school — it's where I have my origins at, having taught high school for 17 years, and been an administrator and an assistant principal at a high school. It's sort of like coming back home."
Edgecombe feels that Palm Beach Central is on the right track, and he plans to keep it that way.
"I hope to simply take a great institution to a higher level, to continue to focus on academics, which is the main purpose, and to prepare students for college and a career once they graduate from high school," he said.
His fondest memory at Gove Elementary, and biggest accomplishment, he said, was returning the school back to an A rating. He, along with his team of teachers and the students, took the school from a C rating to an A.
"That was accomplished through working together as a team, making sure teachers utilized each other's levels of expertise, making sure they understood that we had to improve the school one student at a time, making sure the teachers used the data to drive their instruction, to make sure there were no minutes or seconds wasted in the classroom," Edgecombe said. "It was certainly a team effort, and the credit goes to the teachers."
Edgecombe believes in his students, as he wished Gove Elementary well as he embarks on his next assignment.
"I'll miss them," he said. "I have high expectations for them, and I look forward to hearing great things about them and reading great things about them and recognizing that they're the reason the school is successful. It's all about them and their education and their preparation for life."
Returning to his high school origins, Edgecombe expects the welcome challenges that come with moving to a new school.
"The job of a principal at any level is very difficult," he said. "It's very challenging, but it has tons of rewards. I expect it to be challenging, but I expect every year as a principal to be challenging. This is going to another level with different types of experiences, but I'm prepared for the task."
The transition should go smoothly, as Edgecombe and Mondy have been communicating frequently.
Mondy feels he is leaving Palm Beach Central is good hands.
"There's such a good base here — you've got good staff and great teachers, and the students are wonderful. Come on in and enjoy, because it's really an enjoyable place to be," Mondy said he has told Edgecombe about the school. "There's a feeling of looking forward to coming to school every morning."
Retiring ends Mondy's second time leading Palm Beach Central. After serving a stint as principal, he worked in the district office for a few years before returning for three years.
"Since I've returned, we've moved back up to an A and we've maintained that A," Monday said. "We have a great influx of high-rigor college-level courses that we're working with students now, and the success rate is very high… So, we're offering a lot more high-rigor courses that allow our students to compete not only nationally but internationally for the jobs and the college placements."
Some of Mondy's fondest memories of his time at Palm Beach Central involve the atmosphere at the school.
"The climate here is so wonderful, and a lot of it has to do, of course, with our teaching staff. The student government really does an amazing job with our climate and the feel of it all," he said. "Another one of the things I'll always remember is the amount of money we raised to help those less fortunate than us."
Mondy's recent farewell message to graduating seniors can be expanded to the entire school, he said. He told them "to not stop where they're at, to make sure they plan what they want to do and go out and take chances and make a difference in the world. They certainly have while they were here."
ABOVE: Darren Edgecombe.