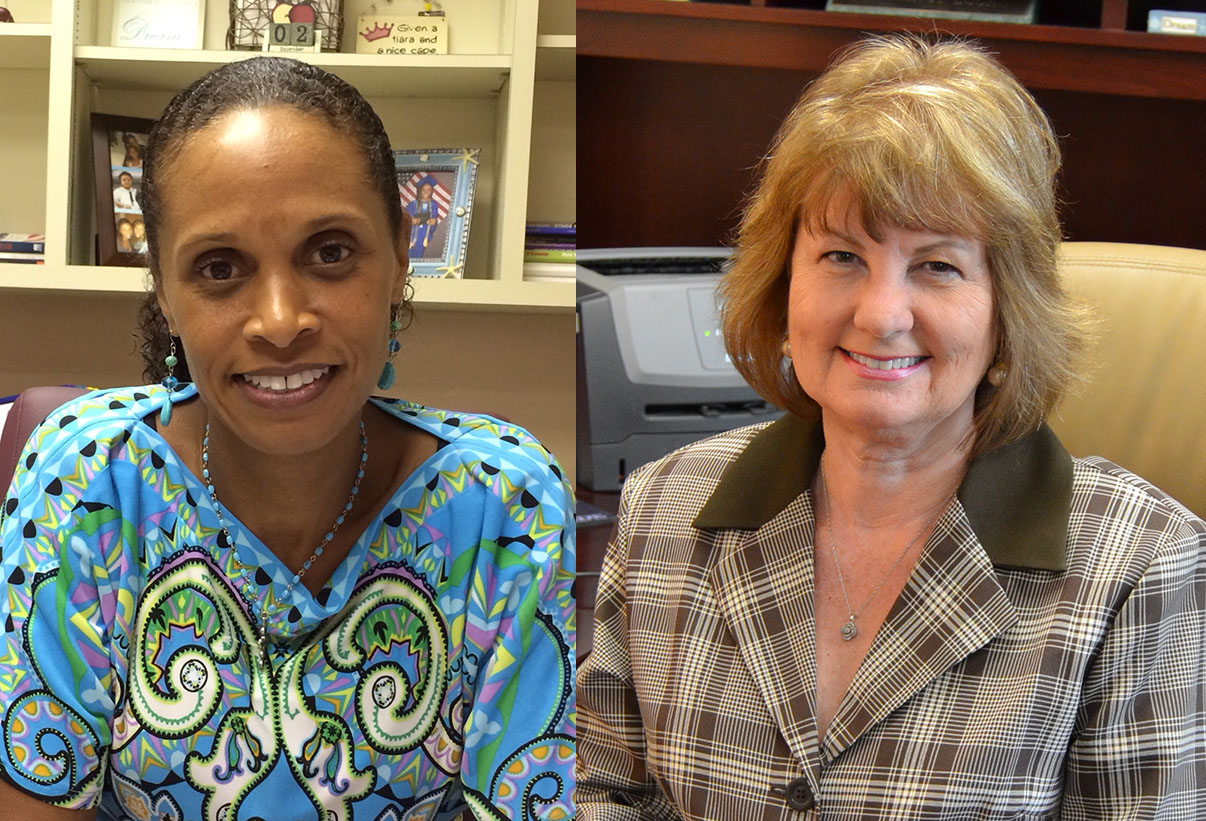 Wellington Elementary School and Emerald Cove Middle School will have new principals this coming school year.
Dr. Eugina Smith Feaman is moving from Wellington Elementary to Emerald Cove, where she will be replacing Dr. Nancy Lucas, who is retiring. Maria Vaughan, who has been working in the Area 3 office as an instructional support team leader, will take over for Feaman at Wellington Elementary.
After three years at Wellington Elementary, Feaman has quite a few memories and feels she is leaving behind a strong legacy.
"The school was already an excellent school," she said. "I think that the love that I have for the children and for them to succeed, and for the staff to succeed, and for the parents to see the success of their children — I think that's the legacy that I'll leave."
Under Feaman's leadership, the school moved from a B rating to an A, which she considers a great accomplishment.
The literacy night at the Wellington library this year provided a lasting memory for her. The school had a scavenger hunt there, and students came with their parents and grandparents to participate.
"With everyone coming together — staff members, community, parents, students — I think that's probably my fondest memory," Feaman said, recalling the smiles on the children's faces.
As she hands over the keys, Feaman wants to remind the students about her morning news segment, "Words of Wisdom." Her final words for the children are a reminder, "to make every day a great day, to make sure that they are doing the right thing, that they are trying their hardest and that they are giving their best every single day."
As principal, Feaman always tried to do what is best for the children, and that is a practice she recommends to Vaughan as she takes over as principal.
Wellington Elementary isn't going to be completely new for Vaughan, who is already acquainted with many of the staff, teachers, parents and students.
"I was at Wellington Elementary when Dr. Feaman was on maternity leave," she said. "I covered there for about three months."
Having had regular contact with the school, Vaughan is excited to be transitioning into its daily leadership.
"I don't expect there are going to be challenges we won't be able to meet," she said. "I very much believe in working as a team. I know the staff at Wellington Elementary, and I have a very strong faculty there. I know I have a lot of support with the community as well. Whatever challenges we face, we're going to be able to work through together."
Vaughan's initial goal is becoming more familiar with the staff, students and community before coming up with a strategic plan to move forward and continue what Feaman has begun, she said. After that, marketing the school will be the next task.
"I'd like to work on marketing the school and developing more relationships with the community and the business partners," said Vaughan, who served as assistant principal at H.L. Johnson Elementary School in Royal Palm Beach before her work as an instructional support team leader.
The new school year can't come quickly enough for Vaughan.
"I'm very excited about it. I'm excited to be working with children, because in my [current] job, I don't necessarily deal with kids," she said. "I am looking forward to working closely with the kids and watching them grow."
As Vaughan leaves the area office for Wellington Elementary, Feaman will be taking over at Emerald Cove after Lucas retires.
"It feels very sad in one way and very exciting in another way," Lucas said. "I've been at Emerald Cove for seven years and had the privilege of opening the school in 2007."
Having never stayed at a school for so many years before, Lucas found the time to adjust and improve the school satisfying.
"I feel good about the way it is," she said. "We still have areas that we can work on, but that's good. We'll just keep improving. We've worked hard on making the school better and not just sitting back with the status quo."
Looking back to the first year Emerald Cove opened, Lucas remembers fondly the dedication ceremony, which featured picnics, dancing, karaoke, lunch and desserts. Her favorite memory, though, has a beginning and an end.
"I think the first day we opened, and the first student who walked into the gates, and what we did that made it so memorable was that when he left three years later, he was the last one to leave the building at our last dismissal," Lucas recalled.
When Lucas leaves the school, after her own last dismissal, she plans to take an Alaskan cruise, move closer to her mother and continue with education in a different way.
"I plan to substitute teach," she said. "The teaching is not quite out of my system yet. I work on international accreditation for schools, and I'll be continuing in that effort, too."
Retiring is proving to be emotional and difficult for Lucas, who has come to think of the students as her own, and she considers it a privilege to have been their principal.
"I love the kids this age because they are very honest and they listen," she said of her middle school students. "This is the time when they really mold into young adults, and I consider it a privilege to be a part of that. Honestly, they are the reason that I come to school every day."
Lucas has one final lesson to teach the students. "I want them to know that their actions have consequences and that a lot of it is not so much being highly intelligent but being able to use that intelligence to do good in the world, be kind to others and know how to get along with others," she said.
Lucas is confident that Feaman will do an outstanding job as the new principal at Emerald Cove.
"I believe that she is a perfect match with her skills, her care for others and for children, and her experience in middle school," she said. "I can leave satisfied and at peace that she will do an outstanding job."
Feaman said she is ready for her new assignment.
"I'm very excited for the new challenge at Emerald Cove," she said. "I started teaching, here in the county, in middle school, and I'm very excited to go back to middle school now as a principal."
Like Lucas, Feaman believes the middle school years are crucial.
"I think middle school is such a formative time, and really, it's a time for educators to help them emotionally, socially and academically, as well," Feaman said. "I want to continue the success that they've had and continue to work with the children on being successful emotionally, socially and academically."
ABOVE: Maria Vaughan and Nancy Lucas.