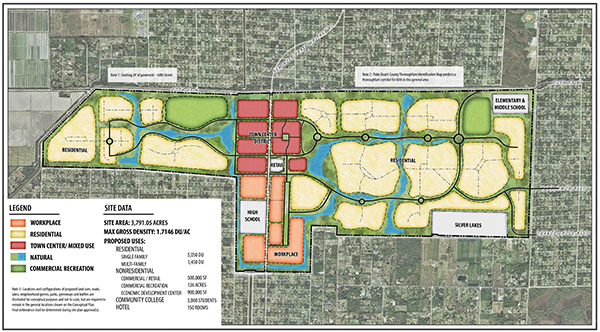 The Royal Palm Beach Village Council postponed approval of a resolution last week opposing the controversial Minto West project.
Minto Communities Inc. has requested comprehensive plan amendments from Palm Beach County that would allow for more than double the currently allowed intensity of use on the 3,900-acre former Callery-Judge Grove property.
The Palm Beach County Commission is expected to hold hearings on the project this summer and fall.
The site, which is designated by the state as an agricultural enclave, has current approvals for 2,996 homes and 235,000 square feet of commercial space. Minto recently applied to revise the comprehensive plan to allow 6,500 residential units and 1.4 million square feet of non-residential space on the site.
A resolution before the Royal Palm Beach council May 5 would have formally opposed the proposed amendments because it would negatively affect village residents.
Vice Mayor Dave Swift asked to have the resolution proposed by Mayor Matty Mattioli pulled off the consent agenda for discussion.
"I'm concerned that we have such an important topic to all the western communities on the consent agenda," Swift said. "This needs to be discussed by the council with information that we can have a dialogue."
Swift also asked why the village had not invited Minto representatives to make a presentation on the proposed development.
"We need to know how this development affects our roads, transportation and drainage systems, and what, if any, benefits this development could provide for our residents," Swift said. "My goal is to get the facts."
Swift said he would also like to have an experienced negotiator, such as Village Manager Ray Liggins, sitting at the table with county staff and other affected parties to address not only how Minto West will affect the area, but also other developments slated for construction, including GL Homes, Avenir and Highland Dunes.
"Bottom line is we need to support a regional planning approach to solve the traffic and drainage problems associated with these projects," Swift said. "The mayor's resolution does not do this."
Swift said that if the council felt it must pass a resolution opposing Minto West, he recommended one similar to the one approved recently by the Indian Trail Improvement District.
"I took the liberty of drafting an alternate resolution," Swift said.
That resolution strongly urged the county commission to take whatever action is necessary to address on a regional, multi-jurisdictional, cooperative basis the critical challenges posed by increased density and intensity of development in the western communities, especially the impact on the area's inadequate drainage and roads.
The proposed resolution goes on to request that affected municipal bodies join with the county to address the issues.
"I invited [Supervisor] Michelle Damone here tonight from Indian Trail, and this is pretty much the language that they have," Swift said.
Damone said that ITID developed the language at its last meeting. "We are really looking for a proactive way of approaching all of the western areas that are piecemealing it, because once Minto develops, there will be GL Homes and Avenir," Damone said. "We want a collective western communities effort… I think it's an excellent opportunity and a great partnership for us to all work together."
Mattioli said his resolution supports county staff's comments that Minto's proposed density increase exceeds traffic standards. Mattioli added that he, as well as the village manager, had met with Minto representatives.
"My resolution was we are against it," Mattioli said. "We have no problem with what they were already approved for, but no more."
Damone said the ITID resolution calls for a comprehensive approach. "Whatever occurs at Minto West will set precedent for Avenir and GL Homes, and anyone else who wants to develop," she said. "Indian Trail has already set our goals, and we are going to determine the level of service on our roads that we will allow. We are doing our own traffic impact study on 2,996 homes and 235,000 square feet [of commercial]. We are going to take the bull by the horns in our own community and set ourselves up to defend ourselves."
Nevertheless, she supported Swift's call to work together. "The resolution Vice Mayor Swift is referring to tonight is asking for us to work collectively together, and I have a comprehensive approach for the entire western communities," she said.
Swift added that ITID has hired attorney Martin Perry to represent its interests. "I can't think of a better representative for you, because he will get to the bottom of it, and he will get you what you guys need," Swift said.
Damone said the resolution calling for a comprehensive approach was actually Perry's idea.
Liggins said he had met with Minto representatives just that day, and they shared their proposed plan, which was forwarded to the council shortly before the meeting began.
"They are here sitting in the audience, and they are going to ask if the council would entertain a presentation from Minto at some future meeting," he said. "We could put it on our third Thursday meeting in July and give them an opportunity to present their project. That's what they are requesting."
Councilman Fred Pinto said he had met with Perry and said the resolution before them did not preclude a regional plan.
"Tonight is a focus issue for the village," Pinto said. "This is a focus issue representing our citizens. We understand the potential negative impact of a major development on our western border that would significantly increase traffic going through the middle of our town. This is not about precluding something else on a regional level."
Pinto said he would look to the Western Communities Council to approve a regional resolution.
Swift said he had not met with Minto or seen the plans.
"I do not believe the residents of the village have seen their plans and have not provided any comments to me whether they're for or against. That's my concern, and I would like them to come before us," he said.
Councilman Jeff Hmara also favored a regional approach, noting that previous commitments to road improvements by various entities had not been fulfilled.
"Let's talk about Roebuck Road," he said. "That's a perfect example of conditions placed on developments. How is that working for us? There's a lot of historical evidence that I think is right in front of us that says unless we do something to get the decision-makers' attention… there is a good chance that we will see a repeat of all of these commitments to road expansions going the same way as these others have."
Councilman Richard Valuntas said he did not have a problem with the resolution.
"It looks like we've been talking about this for about 25 minutes, and we haven't even heard from the public," Valuntas said. "It leads me to believe that it should be a regular agenda item. I really would like to get more input from our residents before I vote."
He added that he had not heard from Minto and would like to have the item put on the agenda for Thursday, July 17.
John Carter, vice president of Minto Communities Inc., asked that before the council votes on the resolution, it give his company the opportunity to discuss the planned development.
"We have done extensive community outreach," Carter said. "We have held resident meetings. We have met with interest groups, and there have been extensive revisions to our plans. Unfortunately, there has been a tremendous amount of misinformation circulating out there."
He said there is a good opportunity to leverage an estimated $50 million in impact fees to pay for infrastructure deficiencies in the area. Carter added that the drainage improvements the development could bring to ITID could increase its drainage capacity by more than 60 percent.
"My request before you tonight is to please provide us an opportunity," he said. "Yes, there are impacts we are bringing, but I think there are profound improvements that we can bring to the table."
He added that the resolution under discussion would preclude the improvements he had mentioned.
"You are shutting the door and you are closing the opportunity to collaborate on issues that will profoundly impact this region for the next 100 years," Carter said. "I would welcome the opportunity to allow us to present these issues."
Swift said there is a need to catch up with infrastructure improvements in The Acreage that had been overlooked by the county and had negatively affected Royal Palm Beach.
"Michelle has to deal with the fact that they are so far behind in drainage infrastructure, roads, etc…," Swift said. "Minto is the only thing out there that can help address their major deficiencies. You guys don't want to talk about it. That really concerns me."
Valuntas made a motion to put the resolution on the agenda for the July meeting, which carried unanimously.
ABOVE: A rendering of the Minto West plan.