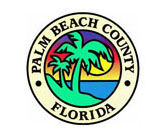 The Palm Beach County Commission on Tuesday adopted a preliminary Fiscal Year 2015 property tax rate of 4.7815 mills for its Truth in Millage (TRIM) submission.
The rate, which is the same as the 2014 rate, is 6.07 percent above the rollback rate. More revenue was generated due to an overall increase in property values.
The Palm Beach County Library System and Palm Beach County Fire-Rescue tax rates also remained at the same rates as 2014, at 0.5491 mills and 3.4581 mills, respectively.
The countywide non-voted ad valorem tax would be $667,348,198, which is $44,241,167 greater than the $623,107,031 in non-voted ad valorem tax of 2014.
Hearing dates are set for Sept. 8 and Sept. 26 at 6 p.m.