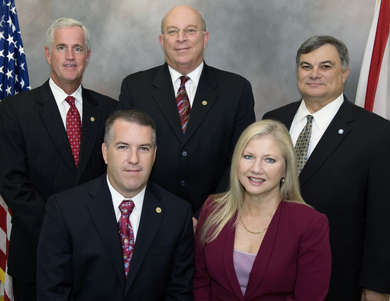 Most Wellington taxpayers will see a higher Acme Improvement District drainage assessment next year, but not the $100 increase initially proposed.
At a meeting Tuesday, the Wellington Village Council set its preliminary drainage assessment at $230 per unit — up $30 from the $200 drainage fee last year, but less than the $300 proposed in the draft budget.
The extra money will still be used to cover additional maintenance expenses to improve flood control, but projects will be focused on those that are most pressing.
The council also set its preliminary ad valorem tax rate at 2.5 mills for Truth in Millage (TRIM) purposes. That is slightly higher than the 2.46 mills recommended by staff, and also slightly higher than the 2.47 mills approved as part of last year's budget.
Once the TRIM rate is set, the tax rate can go down, but cannot go up. Several council members said that they expect to lower it at the formal budget hearings in September.
Staff's proposed millage rate of 2.46 mills was about 7 percent above the rollback rate of 2.3 mills, and provides no ad valorem financing of projects in the Acme Water Control Plan.
The council had postponed a decision on the rates at its previous meeting after hearing its engineer's report, proposing $23 million in water control measures that would require a $100 increase per unit in the Acme Improvement District. The council was not happy with that suggestion and requested alternatives.
Among the alternatives was funding the drainage improvements through ad valorem taxes, rather than the Acme Improvement District, but that idea was eventually rejected.
Councilman Matt Willhite favored the higher tax rate, with the intent of lowering it later.
"Sept. 23 is final adoption of the millage, so if you were to set it hypothetically at 2.5, that just allows us to make sure there's nothing between now and then," he said. "If you set the 2.46 now, you will not be able to raise it should something arise."
Councilwoman Anne Gerwig agreed. "I would support that," Gerwig said. "I think that's what we did last year, based on the fact that we intend to bring it down to 2.46."
Mayor Bob Margolis also favored setting the rate at 2.5 mills, citing legal fees that crop up unexpectedly. "Just to let the residents know, we can go down, but we can't go up," Margolis said. "This is just the first hearing."
But Councilman Howard Coates said he would prefer that the TRIM rate be set at staff's recommendation of 2.46 mills. "I'm going to defer to our chief financial officer, who tells me that 2.46 is what she needs, and if that's what she's recommending, based on that reliance, I don't see any need to go to 2.5," he said.
Vice Mayor John Greene agreed. "The 2.46 is the number that we need," he said. "I still view that as a tax increase. It's not the rollback rate."
Willhite made a motion to accept a preliminary rate of 2.5 mills, seconded by Gerwig, which carried 3-2, with Coates and Greene opposed.
Willhite also made a motion, seconded by Coates, to adopt a preliminary Acme rate of $230 in lieu of the proposed $300 recommended in the engineer's report.
Chief Financial Officer Tanya Quickel said the total budget, including transfers, is $79.21 million, which is an increase of $4.75 million over the current year's budget of $74.4 million. The $79.21 million includes the operating budget of $45.41 million, which funds most services.
Enterprise funds, which cover water and wastewater, solid waste and debt service, stand at $14.63 million, which is down almost $500,000 due primarily to the payoff of utility bond debt.
The capital budget includes government projects of $5.11 million, up about $1.78 million, and utility projects of almost $4 million, down by about $266,000. It also includes transfers of $10.14 million and debt service of $1.23 million, which is down $1.5 million, due primarily to the utility bond payoff.
Quickel said the ad valorem tax revenue is higher due to an increase in property values of about 10 percent, and anticipated increases from a half-cent sales tax, state revenue sharing and electric utility taxes as a result of improved economic conditions, amounting to about $300,000.
Building permit revenue and business tax receipts are predicted to remain stable from the current year.
Other significant impacts on the 2015 budget include a reduced debt service of about $1.7 million, increased water and wastewater costs of almost $1 million and the addition of the Lake Wellington Professional Centre.
The 2.46 mills recommended by staff would generate $14,746,859 in ad valorem tax revenue.
The TRIM rates are due to the county by July 25. The first public hearing on the proposed budget is set for Sept. 9, with the final public hearing Sept. 23.
ABOVE: The Wellington Village Council.