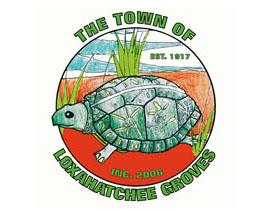 The Loxahatchee Groves Town Council adopted a preliminary budget for Fiscal Year 2015 of almost $2.9 million on Friday, July 18.
That's about 37 percent less than the Fiscal Year 2014 appropriations, with a Truth in Millage (TRIM) rate of 1.5 mills, as recommended by staff.
At an earlier meeting on July 1, the council approved a motion to set the tax rate at 1.2 mills against the recommendation of staff, which cited a state requirement called the "three-mill equivalency" that would result in the town having to raise $1.1 million in revenue through specific sources, according to the staff report.
The budget approved last Friday reflects a budget at 1.2 mills.
It includes about $1.1 million for the general fund, representing 39 percent of the budget; $326,626 for transportation, representing 28 percent; capital improvements of $530,323, for 18 percent; and $427,929 for solid waste disposal, for 15 percent.
The council will conduct two public meetings in September to consider budget and tax rate modifications.