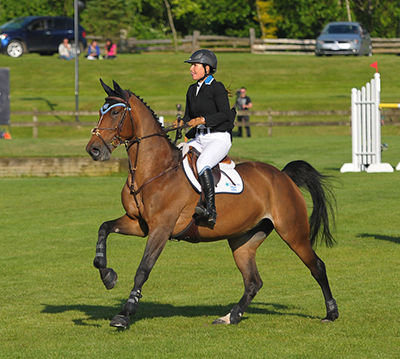 Neue Schule's riders are known in the industry for their success in the arena and innovation out of it. Wellington resident Danielle Goldstein is no exception to this rule, and she has just hit another milestone in her show jumping career as she is now qualified to compete for Israel at the 2014 Alltech FEI World Equestrian games in Normandy, France.
A pioneer for equestrian sports in both the U.S. and Israel, Goldstein is a dual citizen and currently competing her string of horses in Canada before heading to Europe.
Following an impressive winter season at the FTI Consulting Winter Equestrian Festival in Wellington and a spring season competing in Israel, she will now bring a challenge to some of the best show jumpers in the world in France. During her season in Wellington, she collaborated with the Equine Athletics Mission Israel (T.E.A.M. Israel) to put together the first Israeli team at the Furusiyya FEI Nations Cup. In keeping with her history of pioneering for Israel, she will set her sights on being the first medal-winning rider for her country at the World Equestrian Games.
Goldstein has had a number of top finishes during her time in Canada at Spruce Meadows and Thunderbird Horsepark, including top-ten finishes in classes ranging from the 1.35M to internationally ranked CSI 5* Grand Prix. For training her horses and schooling at home and on the road, Goldstein prefers the Neue Schule Verbindend snaffle and Neue Schule Waterford Universal, which fit exceptionally well in the horses' mouths and deliver an unparalleled level of communication.
Mette Larsen of Metlar Performance Saddlery, Neue Schule's U.S. and Canadian distributor, is proud to continue to support Goldstein. "Danielle is an exceptional individual with big goals, and we are thrilled to be a part of her team," Larsen said.
Neue Schule offers a range of high performance, comfortable bits that are ergonomically designed, using the latest in engineering and computer-aided design technologies, incorporating a unique metal alloy with the highest thermal conductivity of any bit on the market. Neue Schule has also made it easier for all riders to select the perfect bit by including informational tags on each product.
For more on Neue Schule, visit www.neueschulebitsus.com.
For more on Goldstein, visit www.starwynfarms.com.
ABOVE: Neue Schule Ambassador Danielle Goldstein and Carisma competing at the Thunderbird Horsepark. Photo courtesy Starwyn Farms