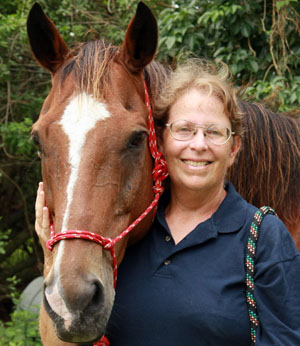 TALES FROM THE TRAILS
If you're free on Sunday, Aug. 24, note this upcoming clinic on your calendar. The Florida Whips will be conducting a carriage driving clinic from 8 a.m. to 4 p.m. at the Vinceremos Therapeutic Riding Center, 13300 Sixth Court N., Loxahatchee Groves.
"We are so thankful that Vinceremos is letting us hold this in their covered arena," said Debra Spark, a Florida Whips member who is organizing and coordinating the clinic. "The driving community is relatively small, and each time we hold a clinic, we hope to add a few members."
The Whips try to offer a different event each month. This clinic offers something for everyone: people interested in training an equine (of any size) to drive, experienced drivers hoping to build confidence in their driving skills, and novices wanting to learn about long-lining and ground driving.
The clinic will offer 45-minute individual carriage driving or long-lining lessons with clinician Scott Adcox from Sarasota, a USEF/FEI competitor in combined driving who coaches drivers from beginner through advanced levels.
The Florida Whips is a statewide equine driving organization offering clinics, pleasure drives, competitions, picnics and opportunities to help members develop and enjoy their driving skills. A newsletter is published 10 months a year.
"We drivers tend to be very friendly and helpful," Debra said. "Driving is something everyone can do, but it's a hard sport to learn on your own. That's why clinics and get-togethers like this are so great. There's bound to be someone there who can help people solve their problems. Safety is a big concern. Some people try to get into driving on their own, have a bad experience, and then quit. We're a good support group to help all levels of enthusiasts learn what to do and how to do it, whether they want to just enjoy pleasure driving at home or compete in shows."
Susan Guinan is the development director of Vinceremos, as well as a member of the Florida Whips. She started driving in 1981.
"I lived in Far Hills, N.J., close to Gladstone, which is the seat of U.S. driving," she recalled. "A friend was doing the Gladstone driving event and asked me to come and help out. I'd only ever ridden, but I ended up getting hooked on driving as well."
Susan has taught some of the Vinceremos horses to drive. They're used for the organization's therapy driving program, and she also competes them in combined driving shows.
"The therapy driving program is a valuable addition to our offerings," she explained. "If a client isn't able to get out of a wheelchair, we can put the wheelchair right on the carriage, and the client can have the same exact experience of driving themselves as anyone else."
Susan said that driving helps clients in a variety of ways. They're not only enjoying the special relationship of communicating with a horse, they also have to learn spatial relationships, when guiding a carriage between two cones, as well as rating speed.
"Driving isn't age-specific. This is something anyone can do, whether they're 12 or 90," she said. "Any age, any experience or lack thereof, any ability. Driving is a great way to have fun with a horse."
Vinceremos is always on the lookout for more volunteers to help out. "Working with us in the therapeutic driving program is actually a pretty good way to learn all about driving," Susan said. "It generally takes a couple of months to get the groundwork solid on a horse before introducing them to a cart. Then it might take another year or two for the horse to become totally relaxed pulling a carriage."
Pulling something, as opposed to being ridden, is a very different experience for a horse.
"It's easier, in a way, as they're not carrying weight. But it looks strange to other horses, as if the horse is being chased," Susan said. "That's something we're always very aware of. All the horses here at Vinceremos are used to seeing all sorts of things — carriages, wheelchairs, walkers. It's no big deal to them; it's just part of their life. Our horses are stars."
Susan noted that driving is a social sport. Most equestrian sports involve just the horse and rider. But if you're driving a carriage, you can invite a few friends to ride along with you.
She is proud that Vinceremos is able to provide the covered arena, so the clinic can proceed no matter what the weather might be.
There will be demonstrations of how to put on a harness, what kind of carriage is best for you, even what sort of horse to get, anything from a mini to a draft horse. Additionally, there will be horses and carriages available, so prospective drivers can actually try driving one themselves, to see what the sport is all about.
The registration fee is $35, and participants are encouraged to discuss what skills they want to work on when they register for their private, 45-minute lesson. The fee includes a light lunch. Auditing is free, but the Whips ask that you e-mail them to let them know you'll be attending. For more information, contact event organizer Debra Spark at (561) 202-5307 or debraspark1@gmail.com. Learn more about the Florida Whips at www.flawhips.org.