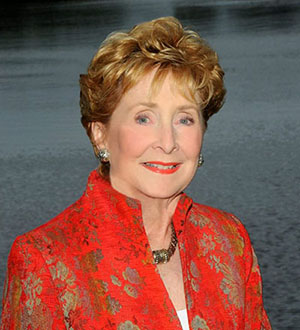 Former Wellington Mayor Kathy Foster is emphasizing her experience and longtime community activism as she faces Melissa McKinlay in the Aug. 26 Democratic primary for the District 6 seat on the Palm Beach County Commission.
The winner of the primary will face Republican Andrew Schaller and independent candidate Michelle Santamaria in November. The seat is currently held by term-limited Commissioner Jess Santamaria, Michelle Santamaria's father.
Foster moved to Wellington in 1979 from New York, where she worked as a teacher. She arrived in the community as a young wife and mother.
"I fell in love with Wellington and was here sitting at the pool and realized that we didn't have any schools," she said. "I couldn't believe they were telling me that my children were going to school in Greenacres."
She organized the other Wellington mothers, and they attended a school board meeting in August 1979. "By the November meeting, we had T-shirts made and we were jumping up and down," she recalled. "We knew what we were talking about, and the first portables were delivered that summer. They had nine portables, and they brought them to Big Blue and La Mirada [Circle], and Wellington Elementary School was born. That was my first involvement in having a voice."
Life was good until tragedy rocked her world one morning when she went to wake her 5-year-old son, Christian, for school.
"He didn't wake up, and he died 10 days later of spinal meningitis," Foster said. "My world spiraled out of control, and I had to try to put the pieces back together. Jerry was 8 at the time, Chris was 5 when he passed away. In the haze of the coming months, one of the few things that really registered with me was watching John and Reve Walsh on TV that summer pleading for information for little Adam."
A Florida case that galvanized the nation, Adam Walsh is believed to have been killed by a drifter who later confessed on his deathbed to the crime. Foster said watching the incident on television moved her deeply.
"I wrote to them and said my son died in my arms, loved and cared for in a hospital, and it brought me to my knees. 'I cannot imagine what you lived through, and if there's ever anything I can do to help you, I'm praying for you, but if I can do anything, let me know,'" she recalled. "And a year later, they called me."
Foster was the social director at Palm Beach Polo part-time, and the Walshes asked whether she would lead a fundraiser to raise money to change the laws regarding missing children.
"You could report your car stolen or a horse stolen," she said. "You couldn't report a missing child for 72 hours because, regardless of age, children in the State of Florida were classified as runaways. Those first four to six hours are considered the critical time for the life of a child."
That fundraiser at Palm Beach Polo raised $25,000, and Foster worked with the Walsh family for the next 22 years doing special events, ultimately working as executive director for the Adam Walsh Children's Fund, later known as the Adam Walsh Foundation.
In 2002, the foundation merged with the National Center for Missing & Exploited Children in Alexandria, Va., and Foster chose to stay in Florida, taking over leadership of Junior Achievement of the Palm Beaches. "I took over as executive director for the next five years and ran programs with 40,000 students in Palm Beach, Martin and Okeechobee counties on economic education in the schools," she said.
During this time, she was sent to Montenegro as part of a United States Agency for International Development trip to help teach women how to open their own businesses. "We spent three-and-a-half weeks in Eastern Europe working with women because all the men had been killed in the Slavic wars and they needed not only the women to start the businesses, but to teach high school children how to start businesses," Foster said.
Throughout this time, she also operated her own small business, K. Foster Designs. Founded in 1983, the firm is still in operation. Her experience as a small business owner led her to become one of the founders of the Palms West Chamber of Commerce.
"I have been heavily involved in the Wellington community since day one," Foster said. "In 1989, the Acme Improvement District was forced by Tallahassee to turn over two of the five board seats to a public election. There were 23 candidates. I was the only woman. I knew the community, and I won with 48 percent of the vote against the other 22 candidates. I ran against the incumbent, and he resigned on TV that night, so I got sworn in the next morning."
Foster served as an Acme Improvement District supervisor for six years, including a stint as chairwoman. She went on to help write Wellington's charter and play a role in the village's successful incorporation drive. Elected to the inaugural Wellington Village Council, Foster served as the village's first mayor from 1996 to 1998, remaining on the council until 2000.
Foster counts the formation of Wellington as one of her top accomplishments.
"I am very proud of the way Wellington turned out," she said. "I spent 11 years committed to helping Wellington become a municipality and, through that process, putting in the proper infrastructure and assuring the diversity of our lifestyles — making sure that we were financially feasible as a community, as well as a place for people to come and raise their families. There was a core group of people who were committed from day one to creating a very unique kind of city, and I think we did that."
Out of elected office for 14 years, Foster said she is running for the county commission because she gets frustrated when she sees things being handled in a manner that is unacceptable to her.
"I think, due to many circumstances, we have not been well represented at the county commission level for multiple years," she said. "We had one county commissioner who wound up in jail because of the private deals he made at the cost of the communities out here. Unfortunately, our present county commissioner has difficulty in his relationships with the six other county commissioners, which I believe costs us… I believe an elected official has to build consensus."
Foster pointed out that she has good working relationships with five of the sitting county commissioners from previous interactions and said she believes that she is the best candidate in the race because of her experience as an elected official, leader in the nonprofit community and as a successful small business owner.
"I have 35 years of living, working and participating on multiple levels in District 6," she said. "No other candidate in the race — and all three are lovely people — nobody has that kind of diversity of experience."
Her top goals if elected include looking at District 6 as a united force rather than as a piecemeal group of communities.
"We have piecemeal development being approved here, there and everywhere, especially along Seminole Pratt Whitney Road," Foster said. "We need, as residents, to decide what our future looks like. We have infrastructure problems as we sit here today with the drainage issues in The Acreage and Loxahatchee."
Growing traffic problems are also an issue. "If you ever drive through Royal Palm Beach and Okeechobee boulevards at rush hour, it's gridlock," she said. "At the present time, 20,000 new homes are in the pipeline along Seminole Pratt Whitney for consideration by the county or Palm Beach Gardens. We have to address the infrastructure problems we have already."
If more development is approved on Seminole Pratt, Foster wants more emphasis on work centers, not shopping or homes, because the traffic from the developments cannot all go east to work.
Another goal is to address the selection of a new county administrator to replace Bob Weisman, who is retiring, and to reorganize the way the county is run in the process.
"We have 13 department heads who are leaving at the same time as Bob Weisman," Foster said. "That is a huge opportunity, as well as a challenge, to look at the way county government has been run the past 25 years and see if there is a way to do it better, smarter and perhaps cheaper."
Another priority is to address infrastructure and employment issues in the Glades. "They are communities that have a long, proud existence," she said. "They need to be at the table for a lot of the discussions in District 6, and they have not been."
Foster believes that the Business Development Board having a full-time person in the Glades is a huge step in the right direction.
"I think with a proactive county commissioner working with the BDB and hopefully working with the county and state for incentives, we can bring development to the Glades area," she said.
Foster said that one issue is that her opponent, McKinlay, says that she has lived in the western communities, but lived outside the area for a while, moving back to the district after announcing her candidacy. "I think that's a huge issue," Foster said.
Other issues include the completion of the State Road 7 extension to Northlake Blvd. Foster noted that McKinlay recently received the endorsement of West Palm Beach Mayor Jeri Muoio, who has led opposition to the SR 7 extension.
The county has struggled recently to fill budget gaps, and Foster said one way to address that is through reorganization with the naming of a new administrator. She thinks one area to look at is pension reform for public employees.
"I think it is unaffordable," Foster said. "We, in the years to come, cannot maintain the structure the way it is. There has to be room for discussion."
Foster said she fully supports the Office of Inspector General but thinks more specific guidelines need to be set so the office does not waste time on relatively minor issues.
Responding to accusations by some that she is tied too closely to the business community, Foster noted that when she helped write Wellington's code, it was geared toward controlling unbridled development.
"Wellington's development codes and comprehensive plan are built for the best interests of the residents," she said. "We made sure that anyone who came to Wellington and wanted to build a project left this community better than it was before they started."
With strengths that include her ability to listen and build consensus, Foster believes people should vote for her because she has devoted 35 years of her life to the western communities in many arenas.
"I feel that I can bring change to the western communities, and I would ask voters to take the time to learn the differences between the candidates," she said.
ABOVE: Kathy Foster