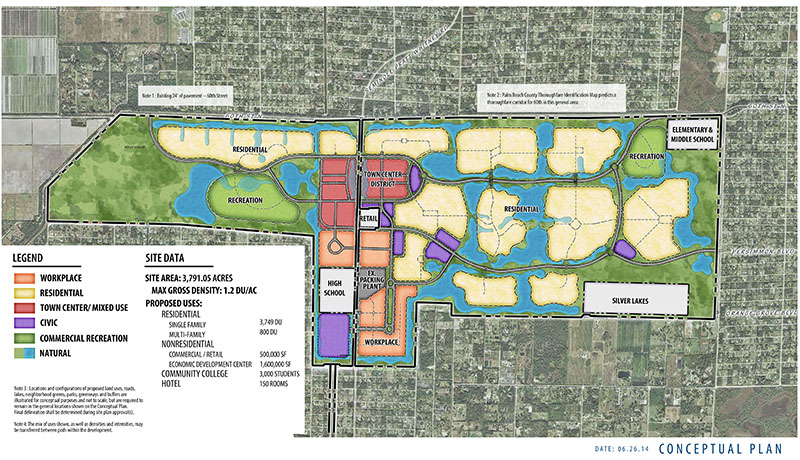 A divided Wellington Village Council split 3-2 on Tuesday, deciding to neither endorse nor oppose the controversial Minto West development proposed on the 3,788-acre former Callery-Judge Grove property surrounded by The Acreage and Loxahatchee Groves.
Minto West developers presented information at the council's request about the project, which they believe will have a positive impact on neighboring communities. The project has garnered strong opposition in the Acreage/Loxahatchee area.
The request, the first part of which heads to the Palm Beach County Commission on Wednesday, Aug. 27, would increase the approved density from 2,996 homes and up to 235,000 square feet of non-residential use, to 4,549 homes and up to 2.1 million square feet of non-residential use.
Minto has argued that its application will help correct shortcomings in the development patterns in the area, including insufficiently developed roads and drainage, and inadequate work centers for the population.
Donaldson Hearing of the planning firm Cotleur & Hearing said Minto is looking for opportunities to collaborate with neighboring communities on ways to find mutual solutions to regional problems.
Hearing described the Minto West site as the "hole in the doughnut," surrounded by about 33 square miles and roughly 18,000 homes on largely 1.25-acre lots that he said had been developed with virtually no planning.
"It's the hope of this development plan to be able to create a center of development to provide a rebalancing of the land uses to help ameliorate a land-use pattern that Palm Beach County has determined, not only with this project but many years before, is unsustainable in the long term," Hearing said.
Hearing also pointed out that county planners had identified the property as a preferred location for a commercial center in previous studies. He added that the current approved land use will have traffic going east and affecting other people because there would be no strong employment base.
Minto's current request includes 242 acres of public parks, 72 acres of civic use and a strong commitment to water discharge and storage, plus 1.5 million square feet of work space, he said.
Hearing bristled at suggestions that compare the non-residential portions to the Mall at Wellington Green. "We're providing about 500,000 square feet of retail to balance 1.5 million square feet of work space, not just logistics and distribution, but workplace opportunities," he said.
Hearing said that Minto's revised plan will also provide east-west connectivity that would minimally affect surrounding communities.
"The revised plan is a substantial improvement with 2,000 less units," he said, adding that the county had asked Minto West to provide more commercial use, which they agreed to.
Several dozen people spoke against the increased density, all but one from the Acreage/Loxahatchee area, most of them saying they had specifically chosen to live there because of the unique lifestyle and a desire to escape from an urban setting, and that they didn't mind driving several miles to work and shop.
Wellington staff supplied copies of letters opposing the increased density from the Indian Trail Improvement District, the Town of Loxahatchee Groves and the Village of Royal Palm Beach.
Councilwoman Anne Gerwig said she sympathized with the speakers but that her responsibility was to assess the impact of the development on Wellington residents.
"I understand people who have different lifestyle choices," she said. "I get that, but my situation is I'm dealing with Wellington. How does this affect Wellington?"
Gerwig said her understanding was that the development would affect Southern Blvd. through Wellington, which the council has little control over.
"I just don't know what we could do here that would benefit anyone, especially since it's a process," she said. "It's going through a planning process with the county. It's certainly not finalized."
She asked village staff about the impacts to Wellington. Planning & Development Services Director Tim Stillings said his analysis had focused primarily on traffic, with two scenarios, one with the ITID connections and one without.
"The greatest impact is the scenario that does not include the Indian Trail roads, in fact it's almost twice as much," Stillings said. "When I looked at the project, I focused more on ensuring that Wellington is at the table in dealing with our residents' mobility getting into, out of and around the village."
Vice Mayor John Greene asked Hearing about the projected build-out of the Minto West project.
Hearing said Minto is asking for a 20-year build-out. "We see a balance of residential and non-residential coming in at the same time," he said. "The retail that we're looking for is not regional retail. It's serving the neighborhood, providing entertainment, providing movies, providing everyday services. The regional aspect of the mall is very much different. We have not asked for regional retail but more local retail."
Greene said from a Wellington aspect, he would be more concerned about traffic impacts on Southern and Forest Hill boulevards, and especially a possible flyover at Forest Hill Blvd. and State Road 7, which has been discussed by the Palm Beach County Metropolitan Planning Organization.
"Those are things that concern me," Greene said. "I don't know that it's prudent to take an official position that impacts other areas, where our interest is truly protecting Wellington. Let's make sure that we have a voice, and if things don't go in a direction that we think is in the best interest of Wellington, then I would take an official position."
Attorney Tara Duhy with Lewis, Longman & Walker, representing Minto, said her clients would welcome Wellington for discussions. She also clarified that the traffic study was for the original 6,500-unit development, and that a new study will be out shortly with only one scenario showing connectivity at Persimmon Blvd. and 60th Street, which she said are identified by the county as county thoroughfare roads.
Duhy said the study showing 6,500 homes does not show a need to make either of those roads four lanes, and added that the study also shows that no further improvements to Southern Blvd. are needed other than the project currently underway.
Councilman Matt Willhite agreed that the council needs to look after the interests of Wellington but said he also thought the village should look beyond its boundaries.
"We look at and represent Wellington and whatever is in its best interests, but we are also stewards of the western communities," he said. "We are a very large municipality, the largest municipality in the western communities, so we are looked upon as a body to help represent everyone in the western communities. When you work with each other, things come together."
Willhite said he believed that not passing a resolution opposing the Minto West density increase would make it appear as if Wellington was defying other communities that oppose it.
As the village's member on the MPO board, he said the scariest proposal that he had reported on was a possible flyover at SR 7 and Forest Hill Blvd., adding that the Minto West project might not be the trigger, but other projects lined up behind it might be.
Willhite added that the council has discussed traffic cutting through the village on Forest Hill Blvd., and that Minto West would increase the problem. "I just can't imagine that you can tell me that Persimmon and 60th are the only two roads that are going to be impacted," he said.
Councilman Howard Coates stressed he was not going to make a decision based on emotion.
"I wanted to hear facts about impact on Wellington, and, quite frankly, I've heard almost no facts tonight regarding a verifiable, sustainable impact on the Village of Wellington," he said. "I don't represent the western communities. I don't represent the county. I represent the Village of Wellington. I'm going to be guided by how our residents are affected by this."
Coates thought the information provided by Stillings was mostly theoretical. "I agree wholeheartedly with those who say we need a seat at the table, but I don't think a resolution is necessary to give us that seat at the table," he said.
Mayor Bob Margolis said he was on the council when Callery-Judge went through the process by which they wound up with an approval for 2,996 homes and 230,000 square feet of commercial use.
"Now I'm hearing that the 2,900 homes made no sense," he said. "I agree with Councilman Willhite. I believe it will have an impact on the Village of Wellington. I agree that we should be good neighbors because that's what the western communities are all about."
Coates made a motion to neither support nor oppose Minto West, which carried 3-2 with Willhite and Margolis opposed.