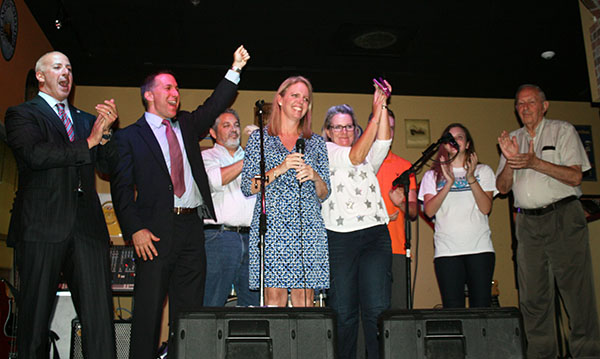 Democrats chose Melissa McKinlay on Tuesday to be their candidate for the District 6 seat on the Palm Beach County Commission.
McKinlay captured 4,430 votes (58.4 percent) to former Wellington Mayor Kathy Foster's 3,159 votes (41.6 percent).
Next stop, the Nov. 4 general election, when McKinlay will face Republican Andrew Schaller and independent candidate Michelle Santamaria for the seat currently held by term-limited Commissioner Jess Santamaria, Michelle Santamaria's father.
McKinlay gathered with friends, family, supporters and volunteers at World of Beer in Wellington to await the results. As results trickled in, McKinlay kept a steady lead, and the crowd was exuberant. Her victory was sealed at approximately 9:15 p.m.
"I honestly was expecting the race to be closer, so my first reaction was a little bit of disbelief by the outcome and the community support that the results showed," she told the Town-Crier on Wednesday.
As a working single mother of three teenagers, she added, running a campaign takes a great deal of hard work, dedication, time, energy and effort, both on McKinlay's part and by her volunteer team.
"My thanks to them for all of their support and everything that they did, especially our firefighters," she said. "They put a small army on the ground to help knock on doors and wave signs and be at the polls for me."
Early Wednesday morning, McKinlay sent out an e-email thanking her supporters.
"Thanks to each and every one of you, last night I became the Democratic nominee for Palm Beach County Commission in District 6. I am so deeply grateful for the support of so many residents, communities, businesses and associations across Palm Beach County and here in District 6. With your continued support, we will bring a fresh new approach to the Board of County Commissioners," she wrote.
One community's support stood out for McKinlay.
"The people of the Glades, they came out in full force," she said Wednesday. "They had so many wonderful volunteers. They welcomed me into their homes, into their churches, just let me take the time to get to know them, and they took the time to get to know me. I'm just really proud of the Glades community."
Besieged by a flood of congratulatory messages, McKinlay was quick to point out that the race is far from over. "We still have one campaign to go," she said. "I hope we can keep that volunteer force moving and be victorious in November."
Participating in a tough campaign taught her many lessons.
"I thanked Kathy for running a good campaign and for making me work really hard on this victory last night," she said. "She was a formidable candidate; she is a good woman. She has definitely done a lot for Wellington and for the community."
Now, McKinlay is preparing for the next race, where she wants to keep up the momentum.
"If we keep working that hard and have all of the community support behind us, then we'll do well in November," she said. "We reached a lot of households and a lot of individual voters. In the primary, you're reaching out to Democratic voters. In a general election, you also have to reach out to Republican and independent voters and explain to them why you're the best candidate. My goal would be to triple the amount of households and voters that we reach."
One of McKinlay's strongest supporters has been State Sen. Joseph Abruzzo (D-District 25). He was on hand to celebrate Tuesday night. "Melissa has a grasp of the issues better than any candidate that I've seen run in a long time. But beyond that, her passion for her family and the community is unparalleled," he said. "She has carried that with her in working for many different groups and organizations for our community, and she's going to take that passion and that experience to the county commission."
Abruzzo said he was very impressed by McKinlay's campaigning skills.
"Melissa ran an incredible campaign," he said. "She won the trust of the voters of Palm Beach County, and I feel really good about her chances in the general election. I'm proud to be her first endorsement in the race."
While many of McKinlay's supporters attended, including her sister, who traveled from Tampa for Tuesday night, one of her teenagers, 14-year-old Macey, had her own deadlines: a math test the next day and homework. While Annika, 12, and Brady, 16, were able to hug their mom at the party, Macey wasn't about to miss out on her turn.
"The one child who wasn't there, when I walked through the door was standing at the top of the stairs ready to give me a big hug," McKinlay said.
Though the teenage years often come with sympathetic nods from other parents, McKinlay isn't concerned.
"They're really good kids. I'm so proud of them. They know that it's a little different. They know they're a little bit more in the spotlight right now," she said, mentioning that their friends have been sending them television clips and commenting that they've been spotted on TV.
She noted that none of it is forced. "When they come to an event with me, or they volunteer with me, it's because they want to, not because mom has forced them," McKinlay said. "I think they're proud of me. They know how hard I've worked."
ABOVE: Democratic candidate for Palm Beach County Commission Melissa McKinlay addresses supporters after the returns came in Tuesday evening.