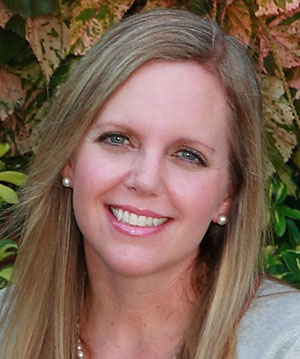 Melissa McKinlay puts the focus on her diverse range of governmental experience as she faces former Wellington Mayor Kathy Foster in the Aug. 26 Democratic primary for the District 6 seat on the Palm Beach County Commission.
The winner of the primary will face Republican Andrew Schaller and independent candidate Michelle Santamaria in November. The seat is currently held by term-limited Commissioner Jess Santamaria, Michelle Santamaria's father.
McKinlay was born in New York and moved to Florida in 1977 at age 6.
"I went through our public school system all the way," McKinlay, noting that she graduated from Florida State University.
McKinlay has a degree in political science and sociology, with dual minors in mathematics and economics. She started her public service career in college as an intern in the Florida House of Representatives. She worked on Bob Graham's campaign in college, and moved to Wellington in 2004 because of the area's high-quality schools.
McKinlay lived in Wellington for seven years, moved to Lake Worth for two years following a divorce and moved to Royal Palm Beach last November.
She has worked for the U.S. House of Representatives, the Sarasota Budget Department and the Florida Department of Community Affairs.
"In Sarasota County, I ran a very successful infrastructure surtax campaign that was passed overwhelmingly by the voters there and provided, in the last 20 years, almost $1.2 billion for infrastructure projects," McKinlay said.
She took almost nine years off from working to be a stay-at-home mother and, during that time, continued her public service by volunteering.
"I'm very active in the Junior League, especially the Junior Leagues of Florida, developing their legislative agendas and moved those forward in Tallahassee," McKinlay said. "I have been advocating for women and children and family issues for nearly 20 years."
McKinlay re-entered the work force with U.S. Sen. Bill Nelson in his West Palm Beach office and, from there, joined the Palm Beach County Legislative Affairs Office, where she has been a legislative aide for the past four years.
She is a single mother of three children, ages 13, 14 and 16. "They keep me very busy when I am not campaigning or working full-time," McKinlay said.
Aside from raising her children, McKinlay cites the work she did to bring the Butterfly House sexual assault care center to Wellington Regional Medical Center among her top accomplishments.
"I worked with State Sen. [Lizbeth] Benacquisto right after she was first elected," McKinlay said. "She asked if I would put together the team for her to get something for Palm Beach County. We have a centralized forensic exam center for victims of sexual assault, and that was a priority of hers. As an aide, I pulled together the team for her. Within one year, we had that facility open with $1.7 million in federal funding and nearly a half million dollars in state funding."
McKinlay is also proud of the volunteer work she has done in elementary schools.
"When I first started with my kids at Equestrian Trails, at that time it was the largest elementary school in the county," she recalled. "It was built for just over 800 students, and it had more than 1,200 at one point. I worked with some members of the Wellington Village Council and the school to advocate to the school board that we needed a reliever school built. They kept putting it off and we kept arguing and kept pushing for it. They finally opened up Everglades Elementary to provide relief to Equestrian Trails."
She is also proud of the work she has done in the Legislative Affairs Office. "I have focused on juvenile justice and homelessness issues," McKinlay said. "I worked on healthcare and education and other child welfare issues. I'm proud that we got some good homelessness legislation in place this year."
Through the Junior League, she also helped get booster seat legislation passed after a long fight.
"For 15 years, as a member of the Junior League, I have advocated for a law that requires children to be put in a booster seat once they turn 4 years old," she said. "We finally got it signed into law this year. I don't give up easily."
McKinlay said she is the best candidate in the race because she is a consensus-builder.
"I'm not coming to this race as anyone who has ever been a part of a divisive issue for any of our local elected bodies or the county commission," she said. "I have great relationships not only with local elected officials, but with the legislature and with our members of Congress. In this district, it's going to be imperative that we have those partnerships because of the funding that we need to do infrastructure improvements."
Her top goals are to create an environment in the district conducive to jobs, especially in the Glades, and create an infrastructure that would make job creators want to come here. "We can't do it right now," McKinlay said. "We simply don't have the water capacity in the Glades right now to even run a manufacturing plant efficiently."
Her second priority is to develop a regional plan for the district. "I do not disagree with my opponent that we need to do regional planning in this area," McKinlay said. "We have the largest tracts of land open for possible development, and we need to make sure that we're doing it thoughtfully."
Another issue is public safety.
"We're all familiar with the crime and the issues out in the Glades," she said. "We all fall victim to thinking that it's more localized and that Wellington isn't affected so much by that, but I had lunch yesterday at the Juvenile Detention Center with a 16-year-old boy who's in there, and he's from Wellington. We need to make sure that not only our first responders have what they need to do their jobs and respond timely to calls, but we also need to make sure that we have prevention programs in place so that our youth aren't ending up in jail."
Things that McKinlay would like to see the county do differently include revising the budget process so that it is more transparent.
"I would like to offer the opportunity for more public input," she said, pointing out that when she worked for the budget office in Sarasota, they had a week of workshops where every department came in and explained their budget line by line.
McKinlay said that she would be a county commissioner open to listening to the voters.
"From talking to members of the public, they feel issues like road improvements have not been listened to over the last eight years," she said. "I don't want to fault the incumbent on that. He came in as a one-issue candidate. He was very focused when he was elected in 2006 on ethics reform and the inspector general. I fully support those efforts and will continue to fully support those efforts, but when you're so focused on one thing, sometimes other things don't get the attention that they deserve."
She said she would also try to bring a fresh perspective to the county commission. "We don't have anyone on the commission who is raising a family at home with kids in the public schools," McKinlay noted.
She was critical of the commission's decision last year to reduce financing for Youth Empowerment Centers.
"These are places where kids can go to keep off the street and stay out of trouble, take tutoring, get GED courses, and before they go home have what could be their last meal 'til they go to school the next day," McKinlay said. "I want to bring that family perspective to the commission."
When it comes to making cuts, McKinlay said she would go through the budget with a fine-toothed comb. "I printed it out," she said. "It's a 1,000-page document."
McKinlay noted that the Palm Beach County Sheriff's Office only gets about 54 cents for every dollar spent in the Glades, and one way to close that gap would be to improve the economy there so it is not dependent on the rest of the county to cover its shortfalls.
"I would like to see all of the county's current needs put on the table and then we rank them and put them in priority order, so that we're funding the true essentials that people need, like clean water, first," she said.
McKinlay agrees with County Administrator Bob Weisman's recent comments that the PBSO's budget growth rate is not sustainable.
"I wouldn't place all of that blame on the sheriff," she said. "The sheriff is providing a lot of services for the county that he doesn't necessarily need to. We have to look at some of those costs he is electing to do versus what he's required to do."
She added that many areas of District 6, such as The Acreage, do not have sufficient law enforcement coverage now.
Regarding Weisman's upcoming retirement, McKinlay said she thought the county commission was wise to begin a national search and put a community advisory board in place to help with the selection.
While McKinlay has the support of some key West Palm Beach officials, she stressed that she strongly supports the completion of State Road 7 to Northlake Blvd.
"I also understand that this district represents part of the City of West Palm Beach, and you can't completely throw out the concerns of the people that you're elected to represent," she said. "There are some folks in West Palm that are concerned about their future water source, and I empathize with them."
While she supports having an environmental impact study done, she expects the project to move forward.
"I have told the mayor that when the study comes back, we move forward," McKinlay said. "Either way, we've got to have that other access for the residents of The Acreage and Loxahatchee."
On the planned Minto West project, McKinlay said she was pleased that the developers had come down from their original proposal of 6,500 homes to 4,549 homes, but thinks the proposed 2.1 million square feet of non-residential use is too much.
On that topic, she noted that the state legislature has put the county in a terrible position with its approval of the Agricultural Enclave Act, aimed specifically to benefit the former Callery-Judge Grove property, the dismantling of the Department of Community Affairs and the enactment of legislation a few years ago that gives Minto West the right to incorporate.
McKinlay said it is important for residents to fight to maintain local control in order to avoid the legislature making local decisions.
She said voters should vote for her because she has the skills and ability to represent everyone in the district. "I can work with anybody, and I would love to do that," McKinlay said.
ABOVE: Melissa McKinlay