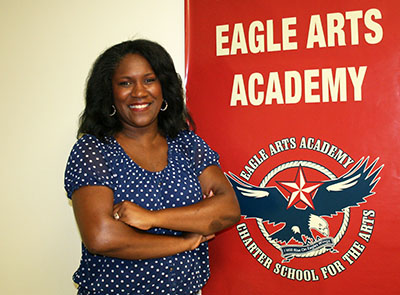 The former Wellington Christian School campus will have a new name and a new mission this month when the Eagle Arts Academy Charter School opens at the site along Wellington Trace.
"It was my very first dream to have a school that marries education with the arts," said Nykowanna "Nikki" Sloan, principal of Eagle Arts Academy. "I've always wanted one. I've always, as a teacher of theater, been interested in it… Because the arts have always been marginalized, and it gets smaller and smaller every year."
When Eagle Arts administrators needed a principal, they called Sloan, who was working in the Orlando area.
"To have a school that's actually going to bring arts to the forefront and marry it with education, was perfect," Sloan said. "I got down here and just fell in love with it. The vision is just perfect."
A theater teacher for 10 years at West Orange High School in Winter Garden, before overlapping into administration as a Students and Family Empowerment (SAFE) coordinator, Sloan was an administrative dean for three years before moving to Wekiva High School for her fourth year as an administrative dean. Then she became the school's assistant principal for four years. After that, she moved to Maynard Evans High School as an assistant principal.
Sloan is in the process of moving her two middle-school-age children and husband from Orlando to this area. Running back and forth to the Orlando area until the move is complete isn't easy, but, Sloan said, "it's so worth it to have the job of your dreams."
Helping to fulfill the dreams of others who adore the arts, Sloan is looking for a few more teachers. As of Tuesday, she had 37 teachers on board to teach the 828 students who were already enrolled, which is close to the projected enrollment of 948. With 48 classrooms, six at every grade level up to sixth grade, and several special classrooms, Sloan is excited to fill the school with laughing, smiling children and teachers.
"We're still looking for some highly qualified candidates," she said.
Sloan needs teachers who are certified in core subjects, and although not a requirement, a "wish list" skill is the ability to bring experience and passion for a specific art, which can be applied toward growing the school and its after-school program.
"We're looking for people who are excited about being on the cutting edge of education, doing something innovative, doing something different, and not afraid to step outside of the box and let creativity do its thing in the classroom," she said.
The classroom environment at Eagle Arts may not be what public school students and parents are familiar with seeing.
"We are taking each subject of the arts and infusing them into the core," Sloan said. "In other words, if a student is working on reading and interpretation of a piece of literature, instead of just reading it, we have technology available for them to actually draft it up in a puppet form. Or we have an ability for them to actually act it out, or we have the ability for them to write a screen scene for that particular piece of literature, and to predict how they think it should end, or to change the ending."
While the school is putting finishing touches on the classrooms, the technology that is planned is extensive.
"The band room is going to be converted to a green room," said music teacher Steve Benson, "a state-of-the-art recording studio, the cameras that CNN uses. They're shooting for November. We're the pilot school of all the film, directing, video, dance, anything that falls into the arts. There's going to be other pilot schools that are following soon."
There will be a dance studio with a mirrored wall and special programs for composing music, Benson added.
First-grade teachers Stephanie Hannifin and Colleen Searing are excited to begin the school year.
"It's exciting that there's a school that's going to bring the arts back into education and meld the two together. It's a natural fit, and they should have always been together, but we've been pulling them apart over the years," Searing said. "School needs to be enjoyable. I think you get the best learning if kids are enjoying themselves."
Hannifin finds the opportunity to combine her passion for the arts with her passion for teaching extremely appealing. "Throughout my years, I was always involved in theater and the arts, so it's really great for me to be a teacher and also incorporate that into learning," she said.
Other teachers, including Benson and Jennifer Lawson, who has taken on the role of facilities/IT director, are formerly from Wellington Christian School.
"We had a lot here. It was like a family here with Wellington Christian School," Lawson said. "Everybody was very friendly. Meeting new people is going to be exciting for the new school. The technology is getting a nose up. Everything is being advanced right now, and it's coming very quickly."
The prospect of a future Mac lab has Lawson, who has been on the campus for 16 years, anticipating a welcome change, along with the future renovation of the playground.
Integrating technology into the classroom to such an extent deviates from previous methods of teaching. "We take what we have in the core of education and just embellish it with all of the bells and whistles of the technology that the kids are already used to," Sloan said. "Our kids that we're serving today, they've been born with technology since day one. It's very difficult to keep a kid like that engaged with our traditional learning styles. We take those learning styles and we give what they are already accustomed to, to keep the engaging environment that is necessary for learning."
Parental support is important to Sloan. "The parent involvement we have gotten so far has been tremendous," she said.
To learn more about Eagle Arts Academy, visit www.eagleartsacademy.com or call (561) 412-4087. Parents and applicants are welcome to e-mail Sloan at principalnikkisloan@gmail.com.
ABOVE: Eagle Arts Academy Principal Nykowanna "Nikki" Sloan.