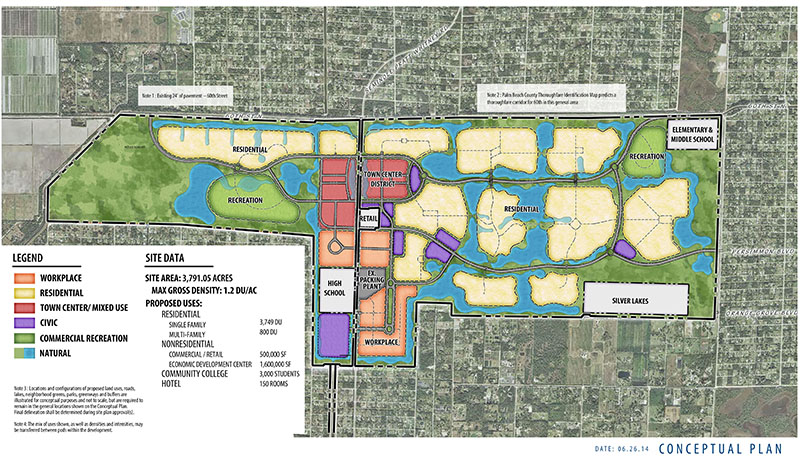 After a seven-hour meeting Tuesday, the Palm Beach County Commission approved the transmittal of Minto's request for density increases at the proposed 3,800-acre Minto West project.
The 5-2 vote sends the project to Tallahassee for review. Commissioner Jess Santamaria and Vice Mayor Paulette Burdick dissented. The project will require further county approvals when it returns in October.
The former Callery-Judge Grove site is currently approved for up to 2,996 homes and up to 230,000 square feet of non-residential use. The latest Minto West plan calls for 4,549 homes and up to 2.1 million square feet of non-residential use.
During the county staff presentation, Principal Planner Bryan Davis noted that the site had been recognized as the hub of the now-defunct Sector Plan, which sought to take a regional approach to development of the western communities in the face of encroaching development, but was ultimately scrapped for lack of agreement.
He pointed out that Callery-Judge had circumvented the regional plan and applied for 10,000 units with a density of 2.5 units per acre and several million square feet of commercial, almost three times what the Sector Plan called for, which had been turned down by the county in 2007.
Callery-Judge also got the Agricultural Enclave Act approved specifically for that site by the state legislature in 2006, which entitled the owner to development approval similar to the surrounding area, and that is what got them the current approval of 2,996 residential units and 230,000 square feet of commercial use.
Davis explained that the current approval of 2,996 units and 230,000 square feet was carefully selected to keep the development below the level that would require Callery-Judge to apply for a development of regional impact approval.
Davis noted that Minto's most recent proposal, which received a recommendation of approval from county staff, was after good faith discussions with the developer, which followed many of staff's recommendations, including 2,000 fewer residential units than its original 6,500, and increased non-residential uses with workplaces to retain some of the traffic within the development.
Roadways and drainage were also discussed for the entire area, resulting in Minto West agreeing to develop major arterials as two-lane rural parkways with landscaping to screen them from surrounding homes.
Although county staff recommended approval, Davis pointed out that the Palm Beach County Planning Commission had recommended denial 12-1.
County Engineer George Webb said that the development, even in its currently approved form, would have a dramatic impact on all roads in the area, some of which are already over capacity, although it has been predicted that Minto West's main east-west egresses will be able to function as two-lane roads.
Although not directly connected to the development, Northlake and Okeechobee boulevards will exceed capacity, Webb said.
He added that Minto West, under its current application, will generate about $55 million in impact fees, while the total cost projected for road improvements is about $110 million.
Minto West consultant Donaldson Hearing said the goal of the developers' plan is to help correct an imbalance of residential, commercial and workplaces in the area, and that they've had countless meetings with residents to try to gain acceptance.
Concessions included eliminating Orange Grove Blvd. as an arterial road, reducing the density and increasing the depth of buffers along the borders.
Attorney Martin Perry, representing a team hired the by Indian Trail Improvement District to protect their interests, said the development as proposed is not consistent with the surrounding area, and that its attempts to correct imbalances of residential and commercial would not work.
He added that approval of Minto West would open the area to more pending development. "GL Homes is sitting in the audience here," Perry said. "They're going to throw that in your face."
Attorney Lisa Interlandi with 1000 Friends of Florida said her group opposes the proposed density increase.
"It's not compatible with the area," she said. "The equestrian community is not compatible with what Minto is proposing. You have a regional problem with all these planned developments. It's way beyond building more roads. Unless you are willing to say you're going to deny all these other projects, you need to look at this comprehensively."
Attorney Ralph Brooks said the commissioners did not have to vote for the increase. "If you do not transmit it, it will automatically be transferred," he said. "You do not have to approve because it already has an approval."
Brooks added that the site's neighbors were not involved in the planning. While there were meetings where Minto's plans were conveyed, there were no negotiations.
"You should not take a plan from a company that bought land out of bankruptcy and proposed a grandiose idea," he said.
Commissioner Shelley Vana pointed out that under special district legislation, Minto West could incorporate and fit 20,000 homes there.
"I don't want to put it in another's hands," Vana said.
Commissioner Steve Abrams asked about the level of state review, and Planning Director Lorenzo Aghemo said the scope is limited compared with that under the previous Department of Community Affairs, which was replaced a few years ago by the Department of Economic Opportunity.
Commissioner Mary Lou Berger pointed out that the county commission will have final approval with a public hearing when it gets back from the state, where the zoning will be considered at the same time.
Santamaria said he thought Minto got a good deal when they purchased the property for $51 million, considering that the 1,200-acre Highland Dunes site, with an approval for 2,000 homes, sold recently for $77 million.
"I feel Minto was able to purchase this at an excellent price without having to increase the density," Santamaria said. "There's plenty of money to be made without additional homes and commercial."
Santamaria added that greater population also brings increased crime, not only to the development, but the surrounding area, which had not been discussed.
Commissioner Hal Valeche said he would support transmittal because it will happen anyway, but felt that the die was cast when the original development was approved. "The current plan is much better, and the marginal impacts are worth the positive impacts," Valeche said.
Vana made a motion to approve transmittal, which carried 5-2 with Santamaria and Burdick opposed.
Berger pointed out that her vote was only to approve transmittal, and that she will need more information before she could support final approval.