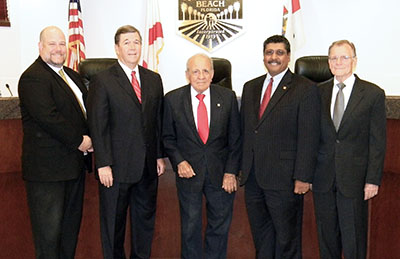 Before a room full of about 50 Police Athletic League boxing program supporters last week, the Royal Palm Beach Village Council postponed its decision on whether to retain village control of the program or turn it over to the Palm Beach County Sheriff's Office in order to add a third full-time detective to the village at no additional cost.
Vice Mayor Dave Swift, who presided over the Aug. 21 meeting in Mayor Matty Mattioi's absence, explained that each year, they review the PBSO contract for inefficiencies and what might be needed to improve effectiveness.
"We look at what we are getting for our money," Swift said. "Currently, in this particular contract for the PAL program, there's $120,000 to run the program. When you break that down, I think there's 33 people from the village who use that program. You divide that by $120,000, and that's $3,600 per child."
He added that there are 19 non-residents in the program, being paid for by Royal Palm Beach taxpayers.
"That's a very large amount of money compared to the other programs that we have. I'm hoping you will help us work through this," Swift said. "How can we keep the program? How can we reduce cost? We're here to workshop this with you and see if we can come up with a good solution."
Village Manager Ray Liggins said the village's current annual contract with the PBSO is for almost $7.2 million, the same as last year, but one of the changes proposed is to remove the PAL deputy and replace him with a detective.
The change would result in discontinuing the village-sponsored boxing program, but Sheriff Ric Bradshaw has offered to continue the program part-time under the countywide PBSO boxing program, if the village would allow continued use of the facilities at the David Farber Training Center.
If the council is not willing to allow the PBSO use of the center, the village would probably move its martial arts program into that space, which would free up space at the Royal Palm Beach Recreation Center, Liggins said.
He noted that the martial arts program had 168 children go through the program in the past year. "The main difference in the programs that we're running and the PAL programs is that their programs are free, but they do come at the greatest cost per kid," Liggins said.
Other village-sponsored recreation programs, either run directly or through a provider, cost much less to operate.
"All of those programs, based on the cost paid to sign up for these programs, pretty much pay for themselves," Liggins said, except for maintenance of the facilities. "I felt as your manager, the residents would be better served with a detective instead of continuing this program."
Swift asked why the village needs another detective on staff, and Liggins said that the village's PBSO District 9 substation has two detectives, who have been effective in the cases they investigate, but smaller crimes such as credit card fraud have not been addressed.
"They know that by solving the smaller crimes, they will have less of the larger crimes," Liggins said. "They do an excellent job with that, and that's how I feel the Village of Royal Palm Beach would be best served for next year."
Swift noted that there has been an uptick in credit card fraud complaints.
"Thieves target seniors directly, trying to get credit card numbers from our residents, so this is a problem that we've had and we do need some more staff, so we need to look at this issue," he said.
Liggins said that if the PBSO was given use of the training facility, it would continue the program with a part-time instructor. However, he did not have specific details on the proposal.
Councilman Fred Pinto said that if the PBSO was willing to continue the program, he did not understand what the issue was. Liggins said the item under consideration was whether to amend the PBSO contract, and he would also need permission to provide the space for a PSBO-run program and to specify that it would be part-time.
Councilman Richard Valuntas said the PAL program existed for years before the PBSO took over policing in the village, and the council had included the program as a term of the contract for the past eight years.
Valuntas said that it was his understanding that the crime solvability rate in Royal Palm Beach is already quite good. He added that the PAL program is unique in that it's free, and that if he'd had it available to him as a child, he would have participated.
Valuntas added that the village is in the eighth year of a 10-year contract and that if council members want to change it, they should address it at renewal time.
Liggins replied that he had discussed having a third detective with PBSO Capt. Paul Miles, who saw the benefits of the idea.
Miles said that typical districts have a detective sergeant, which the village does not have, who looks at the cases and assigns them as they come in. That officer also looks at solvability, and cases with a lower solvability factor do not get assigned.
"District 9 is growing, and the cases are increasing," Miles said. "That's why I went to the village manager in my projected outcomes and said, 'We're going to need that third detective.'"
He added that both his detectives were out sick in the past week and he did not have anyone to assign to cases that occurred during that time.
"It's very difficult to run a detective bureau of the magnitude that we're getting to in Royal Palm," he said. "Are all the credit card cases getting assigned? No, they're not. The fraud cases are going through the roof. Every vehicle burglary, every residential burglary, those type of cases are all assigned, but some of these financial crime cases with no leads, we can't assign all them because we don't have anybody to assign every case to."
Miles said he thought that Bradshaw had made a generous offer to keep the PAL boxing program on a part-time basis, and that he had intended to recommend a third detective in next year's budget, but if the council was going to discontinue the full-time boxing program, he would recommend assigning a third detective now.
Councilman Jeff Hmara said he felt uncomfortable making a decision without all the details of the possible compromise.
Liggins said they would need to have something in place by Oct. 1 for final adoption of the budget.
"We have budget hearings coming to the council on Sept. 4 and Sept. 18," he said. "There may be changes that we need to make to the current budget to accommodate something different than what we're talking about."
Hmara made a motion to postpone a decision until Sept. 18, which carried 4-0.