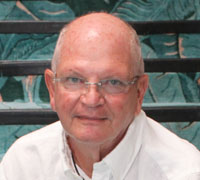 Lirim Jacobi, a well-known local restaurateur, recently opened Amici Brick Oven Pizza in the Village Commons in West Palm Beach. Situated in a former Starbucks, Jacobi's latest addition to the Palm Beach dining scene features 25 delicious gourmet pizzas, as well as truly authentic and special Italian dishes from age-old family recipes.
In addition to the wonderful pizzas, other menu standouts include grandma's spicy meatballs, incredible house-made lasagna and much more, to satisfy the palates of Italians and those who wish they were Italian!
I will start with the yummy pizzas, which are cooked in a 500-degree brick pizza oven. The ingredients are imported from Italy, from the flour to make the pizza dough to the fresh mozzarella on top, along with San Marzano tomato sauce. This dedication to high-quality ingredients and this attention to detail makes the difference that puts the "gourmet" in Amici Brick Oven Pizza's pies. In addition to the 25 selections, which are offered in two sizes — 12 inch and 16 inch — you can create your own pizzas, choosing from more than 40 nifty toppings. At Amici Brick Oven Pizza, whatever pizzas you create will be decidedly delicious!
Executive Chef/General Manager Troy Sheller brings the old-world Italian flavors to Amici's with his inventive culinary repertoire, along with his mother's and grandmother's recipes, which will ensure that your dining experience will be memorable.
The old world is not only reflected in the food, but also in the decor, with stucco and brick walls, polished concrete counter tops and the option of courtyard dining under the stars. This open-air setting, by the fountain, is as close to Italy as you will find in the Palm Beaches.
I was impressed to find one of my favorite wines, Montelpuciano DiAbruzzo Castronova ($9/$34). My family was from Abruzzo, Italy, and we make the best wines.
There are 15 wines along with 25 draft and 40 bottled beers to pair with your dinner. I was further impressed with the delicious pizza. Selecting a pizza was so difficult that Troy suggested we try his favorite. "Prosciutto with Amore" was a delicious combination of prosciutto, arugula, roasted roma tomatoes, parmesan, fresh basil, olive oil, San Marzano tomato sauce and imported mozzarella. Motto benne!
When it came to appetizers and salads, we opted for the Amici homemade meatball ($7.95), one of grandma's original recipes, served with house-made tomato sauce and topped with ricotta — very Italian, very good! The crispy calamari ($8.95) was super tender and delicious! Other noteworthy appetizers include the brick oven roasted wings, the buffalo wings, the fried mozzarella and the hot yummy garlic rolls.
There are five salads, all with homemade dressings, starting at $5.95. I selected the Amici village salad, filled with mixed greens, fresh tomatoes, peppers, onions, chickpeas and olives.
When it comes to pastas, all I can say is "lasagna, lasagna, lasagna." Wow, this multi-layered house-made treat was incredible. We will go back just for Amici's lasagna — this dish was only $10.95, and it was one of the best dishes we've sampled in years! Also worthy of your consideration is the rigatoni bolognese or the baked rigatoni — whatever you choose, enjoy!
A swell selection of panini, burgers and ciabattas are also featured, along with three taste-tempting desserts ($4.95). We tried the tiramisu, the chocolate cake and, my all-time favorite, the ricotta cheesecake. We are still trying to determine which was the best, and decided it was a three-way tie!
Amici Brick Oven Pizza is open Sunday through Thursday from 11 a.m. to 11 p.m. and Friday and Saturday from 11 a.m. to midnight. The restaurant features two daily happy hours, from 4 to 7 p.m. and 10 p.m. to close, where patrons get half-price drinks for domestic beer and for a glass of house wine. The restaurant also offers a special happy hour menu with a terrific selection of gently priced small plates.
The restaurant offers delivery within a five-mile radius for a $2 fee, with a minimum order of $10. Diners can order both take-out dishes and delivery online.
Amici Brick Oven Pizza is located at Village Commons, 801 Village Blvd., in West Palm Beach. For reservations, or additional information, call (561) 242-8888 or visit www.amicibrickovenpizza.com. Please tell them that the Phantom highly recommended you visit!
PS: By the way, Jacobi is proud that they are going to donate a percentage of the profits from the pizza sales each month to a different local charity. Diners are asked to post their favorite charity on the restaurant's Facebook page, and the charity receiving the most votes will be the recipient of that month's donation.
Joe Nasuti, the Phantom, is a freelance dining, travel and entertainment reviewer for the Town-Crier and YourNews.com.