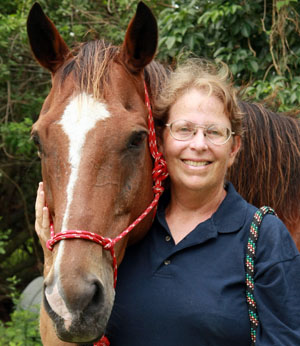 TALES FROM THE TRAILS
Kerensa Muller's life seemed destined to lead her from her home country of Holland to her current home, a lovely farm in Deer Run complete with rolling pastures, a large barn and a regulation dressage ring.
"Horses were always in my life," Muller said. "I only wanted to ride. For my tenth birthday, my parents finally signed me up for lessons. I rode with the local pony club. I worked my butt off, cleaning stalls and doing whatever else to afford to keep riding. At one schooling show, a judge told me I had talent. I was 16. That's when I decided I wanted to make my living doing dressage."
Her parents figured she would outgrow it. She didn't. At 18, instead of going to college, she attended the Dutch Riding Academy.
Muller began competing and met Carole Grant, who operates Equistride International, a Michigan-based training facility. Grant represented the United States at the 1982 World Equestrian Games. She earned two gold medals at the 1983 Pan-American Games. She is also the recipient of the Whitney Stone Memorial Trophy, presented by the United States Equestrian Team for a distinguished international career in the sport and for being a sport ambassador.
Grant teaches clinics and also makes annual trips to Europe to buy horses for her clients, which is how she and Muller met. "She needed a working student, so I moved to Michigan," Muller recalled. "I went with her back and forth to Florida each year. Then, something in me changed. I realized that riding wasn't too secure a way to make a living. What if something happens and you're unable to ride? You have nothing to fall back on. I decided to go to college. I got a master's degree in psychology, taking classes in Michigan and also in Florida throughout the year."
Eventually, Florida won out.
"For the last year of college, I had to stay put, either in Michigan or in Florida. Icy Michigan or warm Florida. I chose Florida," Muller said. "But horses were still in my head, so after graduating, I was still riding and competing for various owners. I finally bought my first horse in 2008, a Dutch Warmblood named Vienna, a lovely bay mare with lots of chrome. I got her as an investment, figuring I'd train and sell her, but unfortunately she got injured in the pasture. By then, she was already part of the family, so I decided to keep her as a broodmare."
Muller's own family had grown by then. She was married and had two daughters, who both ride. They bought their farm in Deer Run a year and a half ago. In addition to riding and boarding, Muller enjoys training horses and teaching riders, from ones with Olympic dreams in their heads to backyard horse owners who simply want to improve.
"I really try to get to the core of each rider," she said. "I take all of their experiences into consideration, including their mental state.
Many older amateur adults are suddenly dealing with fear factors which they didn't have as younger riders. I help them acknowledge their fears and understand their limits in order to help them move on."
Muller works to get horses and riders performing as a team.
"I like pointing out how far someone has come, what they've accomplished, rather than telling them how far they still have to go," she said. "I do teach basic classical dressage, but I also enjoy helping hunter/jumper riders improve their flatwork. I love working with eventers. That's a lot of fun. If you get a good score in the dressage phase of a three-day event, it can really help set you ahead."
Muller is excited about the advent of Western dressage, which she sees as opening up dressage to a whole new group of riders. She even has a 74-year-old student starting in that discipline.
Muller said that the ideal combination is having the correct rider on the correct horse, so that each one feels confident and comfortable.
"A good horse for an amateur rider is one that is sensitive but sensible, allowing for the rider's mistakes without getting angry or frustrated," she said. "And a rider should have perseverance and be willing to take the time and do the work to eventually master each skill. You can't skip any steps. There's no fast way to get there."
Horses are sensitive to the rider's energy, she explained.
"They view rough corrections as punishment, which makes them afraid to even try. Negative tension never works. It shuts down any kind of communication," Muller said. "If you want a quick fix, then I'm not the right person for you. If you want to take the time to learn how to ride correctly, then give me a call."
Muller is glad her daughters, now 12 and 17, share her passion, but she hopes they don't plan to make horses their livelihood.
"It's a hard business," she sighed. "It's not like other sports at all. If you play tennis, you always can control your racquet. When you have horses, they're living creatures with their own moods and dispositions. There are days when you're going to be disappointed, no matter how great they are. But don't get me wrong. I love doing this. I get up every morning and love what I do. It doesn't get any better than this."
For more information, call Muller at (561) 758-8101 or e-mail her at kmuller3@yahoo.com.