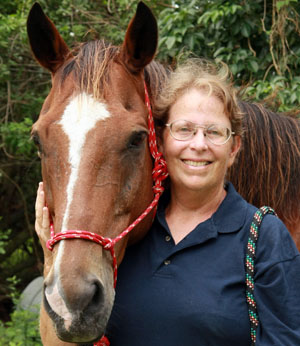 TALES FROM THE TRAILS
Many years ago, I taught English and writing at what was then Palm Beach Junior College, later Palm Beach Community College, now Palm Beach State College. Teaching is something I enjoy, and some of my students were extraordinary. One of them was Bettina Holland. Not only did she have a gift for writing, but she often wrote about her horses.
Years later, I ran into her at a local show and observed that she rode as well as she wrote. We chatted, catching up on our lives, and I discovered she was now married. The last name had changed, but everything else was just as friendly and upbeat as I remembered.
Fast forward, and once again I was in touch with Bettina Scherer, who has added another skill to her résumé: driving. Bettina is the past southeast regional director of the Florida Whips, a statewide group of driving enthusiasts.
Like many people, Bettina was bitten by the horse bug early in life, although she got into the sport in an unconventional way.
"I grew up on Long Island, and there were a lot of really great polo matches at West Hills and Huntington," she recalled. "So I started playing polo when I was 12 at the Meadowbrook Polo Club in Brookville. I didn't play at a high level, but it was a lot of fun."
At which point, we got totally off the subject of polo and reminisced about the Brookville horse community of yore, for that was where I kept my very first horse, many moons ago. But I digress.
"I got to thinking that having one horse would be a lot better than riding a bunch of horses that belonged to some else," Bettina continued. "I bought an off-the-track Thoroughbred, took a ton of lessons and started showing in the hunter/jumper classes."
Bettina moved to Florida in 1984. Later, she was a working mother, and still riding. She had a nervous mare who needed a pasture buddy. She looked around and found Cabbage.
"Cabbage was an older, 12-hand gray Welsh pony," Bettina remembered. "Buying her was the best $400 I ever spent. She needed a job, and she was too small to ride, so the logical choice was driving. I did three weeks of long-lining and ground work with her, and she seemed like she had done it before."
So, Bettina borrowed a cart and harness from a neighbor, hooked her up and drove.
"I was completely ignorant of how dangerous that could've been, but it ended up working out great," she said. "I was hooked, and I wanted to learn more about driving. I saw an ad that the Florida Whips were holding a clinic at the Jim Brandon Equestrian Center, and I went. I met Peggy Belvin, and she was wonderful. She taught me so much, especially about the correct way to fit a harness and a lot of safety tips. That was in 2008."
Bettina began attending Florida Whips meetings and functions. When Cabbage got too old for driving, she bought another Welsh pony: Rio, a 13.2-hand chestnut gelding. He and Bettina got on so well together that in 2012, they won Preliminary Pony at the Live Oak international show in Ocala, one of the biggest combined driving shows in the United States. Drivers, trainers, coaches and owners from all over Europe and North America compete at Live Oak Plantation for national championships and, often, placement on the U.S. combined driving team. In 2013, Bettina and Rio returned to Live Oak and won Intermediate Pony.
"My success is due almost entirely to the Florida Whips," Bettina said. "This club is
structured to help anyone progress in the sport, whether they're a beginner just getting started, or more experienced and wanting to move up in the show standings."
After their success in the show ring, Bettina sold Rio to Boots Wright, who has won several combined driving national championships, including the 2005 World Pony Championships in England, where she represented the U.S. Rio is now half of a matched pair.
"It was the perfect place for him," Bettina said. "Now, I have two horses which I both ride and drive, a Dutch KWPN gelding and a Dutch-Warmblood cross."
It's kinda different from those little Welsh ponies.
"When you're driving, you obviously can't use the same body language you do when you're riding," Bettina explained. "You don't have your legs, weight or butt. But the rest is the same. You have your hands, your voice and your whip. You have to really pay attention. Horses love pulling. It's a different kind of challenge."
Bettina competes in combined driving, which is the equivalent of a three-day event. There's a dressage phase, a marathon instead of cross country and cones instead of stadium jumping.
"Dressage is dressage, whether you're riding or driving," she explained. "It's all about correct gaits and smooth transitions. It's very technical. I love the discipline of it. The marathon is the most fun. You try to complete the course in the optimum time with the least amount of penalties. The courses go through water, around trees and boxes. It's a blast. The cones are about precision, driving between cones with balls on top of them, not hitting any cones and knocking off the balls."
Bettina said the best way to explore all the driving options is through a club like the Florida Whips. Frequent clinics, usually one each month, are the perfect way to learn all the basics or improve more advanced skills. And you don't have to be a member to attend.
"Everyone is welcome to audit or participate," she said. "This is a great bunch of people, and coming to an event is a fine way to start networking. They also put on shows and competitions throughout the state, a good steppingstone for higher-caliber shows. Whether you're driving a mini, a draft horse, something in between, or just thinking about starting, the best place to start is with the Florida Whips."
For more information, visit www.flawhips.org.