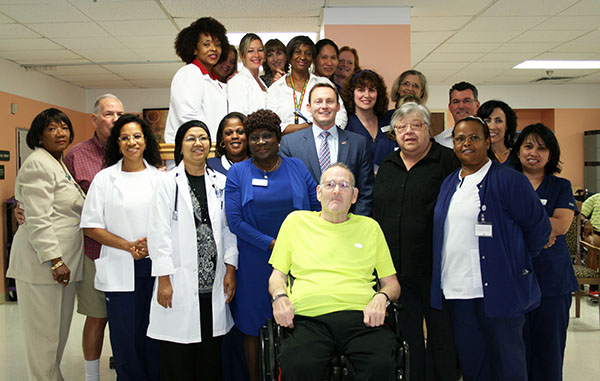 U.S. Rep. Patrick Murphy (D-District 18), visited the Royal Manor Nursing Home in Royal Palm Beach on Tuesday, Sept. 23 to speak to residents and patients about senior issues and concerns.
Murphy, who is in a tough re-election campaign against Republican Carl Domino, received a warm welcome from patients and administrators as he toured the facility before engaging in a roundtable discussion where residents gave their perspectives.
Patricia Gibbs asked Murphy about Social Security from both a business and personal perspective.
"Why is there no discussion of elevating either the maximum or the minimum?" she asked. "Why don't they talk more about funding it? Our generation paid for the previous generation. Why shouldn't the next generation do the same thing?"
Without missing a beat, Murphy agreed with Gibbs. "You're exactly right," he said. "That's a lot of what we've focused on, in my office, and what I've said continually. We need to balance the budget, there's no question — but don't do it on the backs of veterans or on the backs of seniors… The fact is, with Social Security, it is 100 percent sustainable to the year 2033."
Gibbs advocated for more support for rehab facilities, one of the services available at Royal Manor.
"I don't know what people would do if they didn't have rehab," she said. "I'm alone; I don't have children or anything. All you could do is send me home to die. When you get home healthcare, it's a half-hour, maybe every day if you have an incision or something, but when you're as sick as I was, you need someone within 60 seconds to help you. I just can't imagine you taking away from veterans or from anyone."
Murphy noted how difficult it can be to find accommodations for Alzheimer's patients, mentioning that his grandmother was recently diagnosed with dementia. "It has been very difficult finding the right facility to treat her, and the rehab," he said, sharing his own struggles with choosing where to seek treatment for a loved one.
Nola McIlven came to Royal Manor, having tried four other locations after suffering a stroke. "I spent 100 days here, and if you want to look at me on the day I came in and the day I went out, you'd say, 'Who's that girl over there?'" she said. "I really, really worked hard on it. I still have a lot to go. I'm walking by myself. I'm living at home. I came in by myself, all the way here, and it's because of the 100 days I spent here with these people."
Before posing for pictures with residents, Murphy addressed the room.
"This congressional district is home to the third-largest amount of seniors in the entire country, and I'm the youngest member of Congress — go figure," he said. "Taking care of our veterans, taking care of our seniors, must be my number-one priority. My title is 'representative,' so it is my job to be the voice of my constituents… It's really important to me that I get an opportunity to come listen to what's working."
Royal Manor, the Royal Palm Beach Health and Rehabilitation Center, combines skilled nursing care and services with a specialization in physical therapy. It is located at 600 Business Parkway in Royal Palm Beach. For more information, call (561) 798-3700.