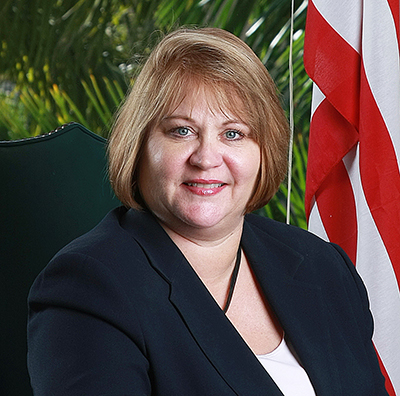 The Wellington Village Council gave final approval to its 2015 budget Tuesday, but reduced the size of the raises that had been requested by its legal staff.
Councilwoman Anne Gerwig questioned the proposed salary increases for the new in-house legal department established by the council 18 months ago.
"I know that we are dealing with a new department, and you've done a great job establishing it," Gerwig said to Village Attorney Laurie Cohen. "One of the reasons we discussed going in-house was to save money."
Gerwig said she thought the proposed increases for the legal staff — 17 percent for the village attorney, 14 percent for the assistant attorney and 12 percent for the paralegal — were disproportionate when compared with other staff members' raises of no more than 2 to 3 percent.
"I know that we got a bargain, and we discussed that at the time," Gerwig said. "I feel that we did a really good job at working at it, and I said at the time, 'Come back in a year and let's talk about an increase' because I didn't feel that this council would go any higher than the price we had listed."
Cohen was hired in April 2013 at a $150,000 starting salary.
Gerwig said Cohen had also hired a paralegal that was above the stipulated price range, but she was hired because of her high qualifications and experience.
Vice Mayor John Greene shared Gerwig's concern, but also pointed out the quality of work going through the department. "Those percentages, I did have some concerns, as well," Greene said. "I'm not sure I'm comfortable at those levels."
Councilman Matt Willhite agreed. "I absolutely think we're getting great work out of our legal department," he said. "I still think there's room for growth, but I express those same concerns."
Willhite pointed out that while Cohen and her assistant attorney are a separate legal staff, the paralegal is on the village staff.
"That's even harder to accept because all the other general employees are getting 2 percent with a potential 1 percent," Willhite said. "This would be a potential $8,000 increase in salary, plus the 2 percent and 1 percent potentially. But if you look at the lawyer, it's a $25,000 increase, which equates to a 17 percent increase, and then, when you add the 3 percent potentially on there, it equates to about a 23 percent pay increase in one year."
He had advocated bringing legal staff in-house despite criticism that it would end up costing the village more.
"When you throw those additional increases on there, it shows what some people said would happen," Willhite said. "We're getting great value out of our legal department, but it is a little difficult to accept those percentages. I would consider breaking that up a little bit."
Councilman Howard Coates, himself an attorney, said ordinarily he would be opposed to the size of the salary increase, but that the council had pushed to bring Cohen aboard at the lowest rate possible.
"I knew at the time we were getting a bargain," he said. "I don't believe that the increase puts her above what would be considered the average out there for municipal attorneys at her level in villages or cities this size."
Coates said he did have concerns about giving a raise to the paralegal who was hired from the private sector.
"I don't think it's fair to hire anyone from the private sector, and they take the government job with the expectation that they are going to be brought back near the level where they were in the private sector," he said. "I think that's the wrong expectation when taking employment with a municipal government."
Cohen said that the raise would bring the assistant attorney up to an industry average, which would be about where she should be, particularly with her expertise.
"In my mind, with respect to the assistant attorney, it's not out of the norm," Cohen said. "She has definitely been an asset to the department and can do a lot of project work that I can't get to."
Cohen agreed that the paralegal is at or near the top of her salary range for a municipal employee, but has 22 years of municipal experience.
"She does a fantastic job reviewing the plats and titles and dealing with issues that she takes off my plate," Cohen said, adding that she did not want to risk losing those employees to a higher salary offered by someone else.
Coates said he had been concerned about bringing legal in-house at the risk of paying more than a contract service.
Chief Financial Officer Tanya Quickel said the total proposed legal budget is $923,500, with outside services around $400,000.
Coates said he felt the budget had already reached the threshold that it was starting to cost more for in-house legal services.
"My concern is, where does this stop?" he asked. "We're going to be at the point where we have a higher core budget than when we took the first step of going in-house."
Mayor Bob Margolis agreed with Coates.
"When we hired you, it was at the lowest amount for an attorney that we were looking for," Margolis said. "This raise is not just for a year, it's for a year and a half. One thing I know is that with some limited experience serving as a municipal attorney, you have taken the ball, and everything that comes out of your office is professional and on time."
Margolis did agree that he has seen good staff leave, in many cases because of salary.
Gerwig said she was concerned about the public perception of the raises, and pointed out that Cohen's raise would bring her to about the same level as the attorney for West Palm Beach, which is a significantly larger city. "This is a big bump, and this is a really good salary," she said. "I can tell you, the private sector has not recovered and people are still out there going, 'Wait a minute, I have not had a $25,000 raise in 10 years.'"
Greene made a motion for a 10 percent raise for Cohen, an 8 percent raise for the assistant attorney and strictly the standard 3 percent raise for the paralegal, rather than the larger raises requested. The motion carried 5-0.
ABOVE: Village Attorney Laurie Cohen