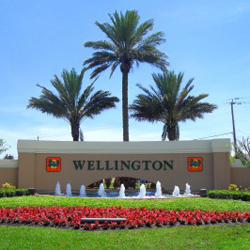 The Wellington Equestrian Preserve Committee is working on a survey to post on the village's web site to ask residents what they want to see in the equestrian overlay master plan as the committee goes through a process to update the document.
At a meeting on Thursday, Sept. 18, Wellington Projects Manager Mike O'Dell asked for the committee's direction to begin the work.
O'Dell said the village has been trying for a long time to establish a clear vision for the future of the equestrian overlay.
"I think the challenge for you all is that you're not dealing with a blank slate," he said. "You're dealing with property that has been developed and has been around, and it has been an evolution. There's lots to do and many hurdles to overcome."
Communications Specialist Sue Yap gave a demonstration of the village's web site at www.wellingtonfl.gov and how to access information.
"We're working on trying to streamline that," O'Dell said. "One thing we're trying to do is create a location for the equestrian master plan process so they know where to go and find that information."
Yap said she is working with O'Dell to create a survey format to be posted online.
"I know you have members of the community who cannot be here all the time, and you want input from them, so we are actually working together to release online surveys, and they will be featured on the front page with a link," Yap said, adding that the survey will be easy to use and will work with all computers.
O'Dell said he anticipated that they would create surveys as the Equestrian Preserve Committee reaches milestones in the reworking of the equestrian master plan.
"I think this is a great tool for people who are only down here seasonally," Board Member Linda Smith-Faver said. "How do we let them know that this exists?"
O'Dell said the village has Channel 18, but that village staffers are working on other ways to get the word out. Yap also pointed out that they might want non-equestrian input as well.
Faver said seasonal equestrians complain that the committee makes decisions when they are not in town. "Unless we make an effort to contact them, they don't necessarily know what's going on, so this is a great step in the right direction," she said.
Yap anticipated that more people will make use of the web site as the word gets out.
Committee Chair Linda Elie asked whether people answering the surveys would be able to sign them and indicate where they live.
Faver said she would like people to keep their anonymity if they wish, and Yap said responses could be limited by computer address so that people would not be able to stack opinions.
Committee Member Houston Meigs asked how the surveys would be formulated, and Yap said she would ask for questions from members and build the survey.
Yap pointed out that almost 900 people responded to the budget challenge that was posted on the web site.
O'Dell said the first part of the workshop series will be an introduction to the equestrian element of the comprehensive plan and its purpose, goals and objectives; then they would have representatives of the equestrian venues come in and talk about their goals and visions.
"The month of October is pretty much queued up with the venues coming in and talking about their vision and what they see going on," he said, explaining that in November, they would return to a more specific discussion of the comp plan.
Growth Management Director Bob Basehart explained that the comprehensive plan is the first step in the permitting process.
"Every community that regulates land use in the State of Florida, whether it be a town, a city, a village or the county, has to have a comprehensive plan," Basehart said, explaining that the requirements for it are regulated by Florida law.
He said certain elements are required, such as land use, transportation, housing and infrastructure, but Wellington is one of the few municipalities in Florida with an equestrian element.
"There are going to be things in the equestrian master plan that really don't fit with the current goals, objectives and policies in the master plan, so we're going to be looking at changing some of those," Basehart said. "One of the requirements with state law is consistency. It all has to work together."
Meigs said the committee members would need to be familiar with linkages to other regulations in order to make meaningful changes.
"We need to understand those linkages as we get started on it, not when we're halfway through," he said. "We need to understand the implications, too."
O'Dell said he had laid out a rough schedule for the committee's review.
"We wanted to give you an overview of some of the questions and things that we've been talking internally about," he said. "We've been looking at the equestrian element within the comprehensive plan."
O'Dell said some of the elements of the equestrian master plan as it is now are more like statements than goals and objectives.
"The homework part of this that I have for you is, what are the components that you think make up the equestrian lifestyle?" O'Dell asked. "Why are we trying to preserve this equestrian lifestyle? What is the equestrian community, and what is the equestrian lifestyle that we are trying to preserve?"