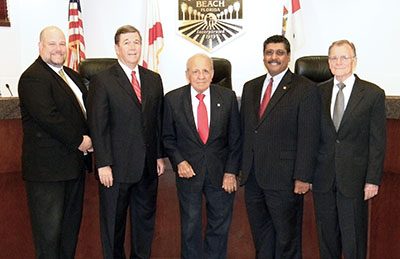 By Briana D'Andrea
The Royal Palm Beach Village Council gave approval last week for broker Douglas Kirlan to market a residential community at the village's 151-acre former wastewater treatment plant site at the north end of Crestwood Blvd.
However, the council asked to see plans with slightly less density than the 400 homes proposed.
In 2010, the parcel was listed as public ownership but deemed surplus property. A proposal to put non-residential uses there, such as an office park, met with strong community opposition. The property ended up being slated for use as a future single-family home development.
"We did that with the intent of turning this over when the market was ready to be developed. So now that time has come," Village Manager Ray Liggins said at the Thursday, Sept. 18 meeting. "We're owners of the property, so we can dictate what we want."
Vice Mayor David Swift said he received a number of calls regarding the property. "One person said we've talked to developers, and this is what they want. I have not talked to any developer about this particular project," Swift said.
The council has three goals in mind for the parcel.
"We wanted the property to be residential, we want it be compatible with the surrounding homes that are there, but we also want to maximize the value proposition of the property," Councilman Fred Pinto said, adding that he would like to see larger home lots. "I would not want to see any 40-foot-lot homes. I could see the market pushing for that."
Swift agreed. "In the end, the density of the proposed tract is going to be compatible with the surrounding area, which it is," he said.
Liggins said that the council needs to give clear direction to the broker. "We do need to give potential purchasers a fair idea of what our vision is for the property," he said. "Not providing that clear vision may affect the value of the property and the ability to have a final closing."
Kirlan reassured the council that what was being presented was only conceptual.
"A plan such as this will be part of our marketing package, so that we can show the building community the direction that we want to go in — the kind of layout and lot count that we think is appropriate and compatible with the neighboring communities," he said.
The current proposed plan calls for 400 total units, split among three sizes of single-family homes.
Ken Tuma, of Urban Design Kilday Studios, presented the idea of 75-, 65- and 55-foot-wide by 120-foot-long lots, with an overall density of 2.64 dwellings per acre.
"The density of this is very compatible to the surrounding densities of the area," Tuma said. "When you look at the comparables in the area, Saratoga is 2.7 dwelling units per acre."
The conceptual gated community features lakes and a public park next to the nearby H.L. Johnson Elementary School.
"What we think we're presenting you is a single-family product that's compatible with area in units per acre and in lot size," Liggins added.
But Pinto said that he is concerned with the number of units in the community. "The number 400 is a little high, and I was thinking something closer to 300, maybe not more than 350," he said. "My thought was have more amenities for the people actually living in the community."
Kirlan countered that there is a huge financial difference between 300 units and 400 units. "We're not jamming in the properties," he said. "If we do go less, it could cost us some dollars, but we want to reach that happy medium."
Councilman Jeff Hmara, who lives near the area, expressed his concern about the amount of traffic the new development could generate.
"What kind of an impact can we expect from a 400-lot development on Crestwood Blvd., and what is that likely going to do to me as I drive out?" he asked.
Liggins said the proposed development follows all traffics rules and meets all standards.
The project will have to go through all of the necessary public hearings and committees before final approval.
"We'll go to market, then we will go to contract. Once the contract purchaser is in place, then we will go for a different zoning change, and then that will be public process," Liggins said. "We will go through the planning and zoning board and then to the council for the first reading on the zoning. The zoning will go from public ownership most likely to RS-3, with potential for exception as a [planned unit development]. Then we're planning on going to closing and then an adoption of that zoning sometime after we close."
Councilman Richard Valuntas said he thinks that there should be a maximum of 400 units. "I would suggest that for marketing purposes, anything that is possible for a low of 300," he said. "I wouldn't want to see it go any lower than that; and a maximum of 400, I wouldn't want to see more than that."
Liggins said that will be taken into consideration.
"I think if what we're looking at doing is mixing more of the 65-foot lots in with the 55-foot lots. I think it'll be somewhere in the 380 number or somewhere thereabouts," he said. "I would not want to take units off for the sake of taking units off. It really has a lot more to do with the configuration of land, how big the retention pond would be, how much wetlands you have on the property. We have a very developable piece of property."
Swift said it is important to be on the same page as the public, but was happy with the initial draft. "I'm flexible; I think this is a good first step," he said.
Also last Thursday, the council unanimously approved final adoption of its budget for fiscal year 2014-15. The council approved the operating millage rate necessary to finance the budget, which is 6.79 percent above the rollback rate of 1.798 mills. The final rate of 1.92 mills for the general fund was unchanged from last year.
The adopted budget goes into effect Oct. 1 and runs through Sept. 30, 2015.
ABOVE: The Royal Palm Beach Village Council