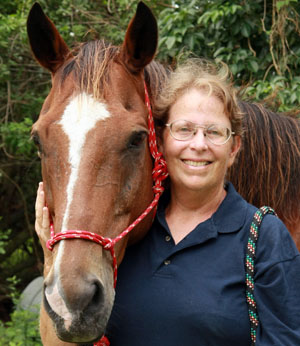 TALES FROM THE TRAILS
Tucked away on 175 very quiet, very private acres, Sunshine Meadows Equestrian Center has long been a well-kept secret, but not for much longer. Consultant Steve Wolf has big plans for the venue in suburban Delray Beach.
"In the past, Sunshine Meadows primarily catered to harness racing trainers," Wolf explained. "And there's still a good amount of that going on today. We have three tracks, maintained daily, and open every day: a one mile, a 5/8th mile and a half mile Euro track. But we're really looking to open the facility up to a much broader range of equestrian activities."
He said that the facility can accommodate a wide range of equestrian sports.
"Our magnificent grounds accommodate hunters, jumpers, grand prix, dressage and Western horses and riders. We offer summer camps, lessons, leasing and other great amenities, especially for young riders just getting started," Wolf said. "The entire 175 acres is open for trail riding and hacking out. I love that we have no paved roads. There's no traffic. This is a very safe place for horses and riders, a silent paradise that we're making a bit more public."
The grounds include two hunter/jumper rings, a pony ring, two open riding rings, a show ring, two FEI regulation dressage rings, bridle paths and trails for hacking and pleasure riding, four round pens, 18 hurricane-safe CBS barns with enough stalls to house 650 horses, 45 safe strap paddocks, a full-service kitchen, laundry facilities, on-site staff housing, plenty of jumps of every type and lots of trailer/van parking.
Some of the organizations located there include Arlington Farms, Carriage Hills Farm, Equines & Equestrians, Golden Gait Stables, Laurel Lane Farms, Tan Line Stables, Tulocay Farm, the Boca Riding Club, the Aberdean Riding Academy, Dean Bogart Performance Horses and AMP Stables. Private trainers, vets and blacksmiths are always welcome.
"The recent Tyler Klees Clinic, held Oct. 11-12, is just the beginning of what we hope will be a lot of shows, clinics and unique events covering a wide variety of riding disciplines," Wolf said. "One of the unique events we'd like to promote is called RUS, which stands for Racing Under Saddle. Most people think of Standardbreds pulling sulkies when they race, but they can also race while being ridden. This is very big now in Europe, with a lot of huge, expensive purses. It's growing here in North America as well. There are some events held up north, May through November, but we have very limited opportunities in the south. We'd like to start some exhibition races here so people can see what it's all about."
Another big event is an upcoming equestrian flea market, which will be held on Sunday, Oct. 26 from 10 a.m. to 3 p.m.
"So far, we have 53 people who have signed up for booths to sell their stuff, and more are still signing up," Wolf said. "Spaces cost $20 and are free to nonprofit charities. This is going to be an annual event, held on the last weekend before Halloween. Starting next year, we're going to tie it in with costume classes and a Halloween show."
Other events include a blessing of the animals, open to any sort of animal, and a New Year's Day party for the horses.
"Many breeds, such as Thoroughbreds and Quarter Horses, declare a horse's age starting on Jan. 1, so we thought having a big birthday bash would be fun," Wolf explained. "In November, we're also starting monthly meet and greets at the track kitchen. Anyone is welcome to attend. We'll be highlighting new products,
services, ideas and vendors. It's a great way for equestrians to see what's available and what's coming down the road."
Oddly enough, the owner is also named Steve Wolf, referred to as "Big Steve" to differentiate from consultant Steve Wolf. "Big Steve" also owns the Delray Equestrian Center and Palm Beach Downs.
"Big Steve is very big into philanthropic causes," Wolf said. "He's very community-minded and is always willing to give back and help out charities or good causes. This is the perfect venue to host any kind of fundraising event."
Scott Miller is the racing and events coordinator at Sunshine Meadows. "I'm the one who does a little of everything, whatever's needed," he smiled. "Pick up the trash, drive the golf cart."
Miller has plans for additional events. Toward the end of March, Sunshine Meadows will host two horse auctions, one for sport horses and one for Standardbreds.
"We're also participating in TIP, the Thoroughbred Incentive Program. These classes are free to registered Thoroughbreds and really gaining in popularity," Miller said. "We'll be holding these shows in January, March and April."
Sponsored by the Jockey Club, TIP encourages the retraining of Thoroughbreds into other disciplines upon completion of careers in racing or breeding.
TIP sponsors Thoroughbred-only classes and divisions, high point Thoroughbred awards at open horse shows and competitions, a Thoroughbred of the Year award and a Young Rider of the Year award. For more information, visit www.tjctip.com.
"There's a lot for equestrians of every stripe, every ability, every discipline to do here at Sunshine Meadows," Miller said. "We're hoping to be the venue which fills the middle niche, a place where everyone feels welcome. Not everyone has the financial resources or the talent to show in Wellington. We're there for the everyday, backyard owner, the rider starting out and wanting to put on some miles and gain experience. This is a place for families to come together, relax and have a good time with their horses."
Sunshine Meadows Equestrian Center is located at 16668 Winners Circle Drive in suburban Delray Beach. For more information, visit www.sunshinemeadows441.dreamhosters.com, e-mail sunshine meadows2@bellsouth.net or call (561) 495-1455.