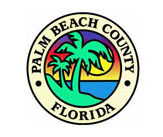 The Acreage Landowners' Association conducted a candidate forum at the Acreage branch library Monday, and among the attendees were the three candidates seeking the District 6 seat on the Palm Beach County Commission.
The forum let each candidate — Democratic nominee Melissa McKinlay, Republican nominee Andrew Schaller and independent candidate Michelle Santamaria — have a chance to make an introduction and answer questions.
The winner of the Nov. 4 election will replace term-limited County Commissioner Jess Santamaria, Michelle Santamaria's father.
Moderator Sandra Love Semande began the forum by asking the candidates about their qualifications and visions for the future of the western communities.
"I have more than 20 years of experience in all three levels of government — federal, state and local," McKinlay said, noting her grassroots work for women, children and families, and stressing that she is the only candidate in the race raising a family in the district.
"My vision for the western communities is to improve the economic atmosphere, especially in the far western reaches of our community, and in terms of The Acreage, just to make sure you all receive the attention and resources I feel you have not received over the last eight years," she said, adding that her goal is "to make sure that every single part of this district has equal presentation."
Santamaria provided her background as a criminal prosecutor and trial attorney with a master's degree in business and an undergraduate degree in finance. She developed a program to help witnesses communicate in court, and within two years, it was picked up by the Federal Bureau of Investigation.
"My main priorities as being your county commissioner are to focus on two umbrella goals, which really cover everything. One is protecting our quality of life. Growth and development is going to happen, but it needs to be responsible, intelligent and compatible growth," she said, adding that transparency in government and getting proper input from the community are also key priorities.
Schaller noted that his lifestyle is more in tune with The Acreage community. "I own a horse farm. I live in an ag-exempt property. My daily driver is an F-350 Dually. I get the lifestyle," he said. "I live here because I want to. I did not come back here to run for a job. I am not going to take a 300 percent increase in pay. It is a cut in pay for me to do this job, which I welcome."
Schaller created an electronic banking company 20 years ago and also discussed his business philosophies.
The three candidates were asked about the county's comprehensive plan focused on current development plans and their future impacts. All three stressed the need to have a plan for how to deal with development.
They all supported the completion of State Road 7 to Northlake Blvd., with Santamaria concerned about the health, safety and welfare of residents, and Schaller focused on the timing. McKinlay brought up an unspoken issue.
"I know there has been some question, especially from this community, about the support I have received from Mayor [Jeri] Muoio and some of the city commissioners in West Palm Beach, so I'm just going to address that head-on," she said. "This district represents part of West Palm Beach. Just like Acreage [residents have] felt that they haven't been represented over the last eight years, I'm not going to run as a county commissioner and ignore part of the people who I've been elected to represent, so I'm proud to have their support."
Though McKinlay has Muoio's support, she pointed out that she has Indian Trail Improvement District Supervisor Michelle Damone's support as well, representing viewpoints on both sides of the issue.
Regarding land and zoning changes requested by developers, Schaller is staunchly against increases in density. McKinlay prefers local control over growth management, while Santamaria believes communication is key.
"Together, we can work on this on the front end of development and on the back end of development," Santamaria said. "If we can get your input on the front end, we can avoid problems on the back end."
Santamaria's suggestions included getting people involved by having monthly forums, doing video recaps, asking people how they feel, posting meetings online and providing educational materials to get people involved.
The candidates agreed that additional services are necessary for The Acreage and the surrounding area.
"I believe there needs to be more of an equality out here," Schaller said. "The same protection of lifestyle needs to go on out here that goes on at the metropolitan areas."
Schaller focused on services and lifestyle, whereas McKinlay listed needs including a permanent fire station, not one in a strip mall, as well as more law enforcement, a community center and other infrastructure supports such as water and road improvements, flood protection and drainage.
Santamaria agreed with the need for better law enforcement protection. "When your home is burglarized and you're waiting and you don't know if the perpetrator is still in there, that's concerning," she said, referring to stories she has heard about in which it took more than an hour for a response.
Another question dealt with accepting campaign contributions from individuals or groups seeking land and zoning changes for increased density.
"I think it's really important that we don't have those conflicts," Santamaria said. "It's a lot easier just to not accept those things, and there's not a conflict of interest and nobody's going to question whether or not there is. It's better to have peace of mind than have any possible hint or speculation or have people say things."
Schaller said it is easy and to just look at his campaign finances, which he said do not show special-interest contributions, contributions from various other states or from Washington, D.C. "I am what I am, on my own, with all of you," he said. "I am not controlled or beholden to any special interests, and there isn't a dime from any developer in my quote 'war chest.'"
McKinlay noted that she needed to take many contributions to run her campaign, but will not be beholden to special interests.
"I have taken campaign contributions because I am not in a financial position to self-fund my campaign, nor is my family in a position to fund my campaign. I've taken contributions from everybody across the spectrum. That does not mean I am beholden to anybody," McKinlay said. "People who have an interest in this district for a long time have not felt that they've even had the door open to allow them to come in and have discussions with their county commissioner. The only thing I've told anybody is that I will be fair, I will be honest and I will give everybody a chance to tell me what their opinion is… Unfortunately, in this day and age, it does take a financial account to run a campaign. That's just the way it is."
To learn more about the candidates, visit www.votemckinlay2014.com, www.andrewschaller.com and www.michellesantamaria.com.